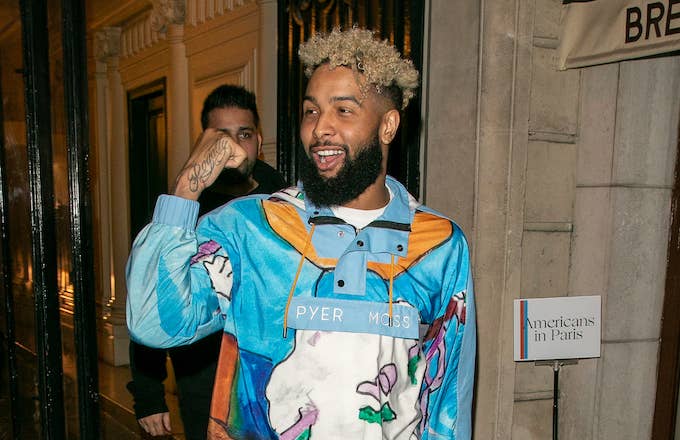 This offseason has already been insane and it hasn't even really started. If reports are true, however, this news will be hard to beat on the totally unexpected scale: the Giants have reportedly traded their superstar wide receiver Odell Beckham, Jr. to the Cleveland Browns. 
Mike Garafolo reports that the Browns acquired the All-Star for their first round draft pick, a late third-round pick and safety Jabrill Peppers. The deal can not be finalized until Wednesday at 4 p.m. ET. 
The decision to trade Beckham comes after a season in which the wideout routinely criticized his fellow offensive players on the Giants. After not catching a touchdown in the first four games, Beckham didn't hold back how he felt about quarterback Eli Manning. 
"Like I said, I feel like he's not going to get out the pocket," Beckham said. "He's not - we know Eli's not running it. But is it a matter of time issue? Can he still throw it, yeah, but it's been pretty safe and it's been, you know ... cool catching shallow [routes] and trying to take it to the house. But I'm, you know, I want to go over the top of somebody."
The public call-out of Eli's play led Giants owner John Mara to essentially say "shut up and play."
"I wish he would create the headlines by his play on the field as opposed to what he says and what he does off the field," he said. "I think he needs to do a little more playing and a little less talking."
In spite of this, Beckham didn't regret his decision to shade the signal-caller.
"I don't regret anything that I said. If it took that for us to come together as a team like we did. I can take that every single time," he said in a follow-up interview. It's clear that his words stuck in the craw of Giants higher-ups, though, as they opted to trade away their most-talented player not named Saquon.