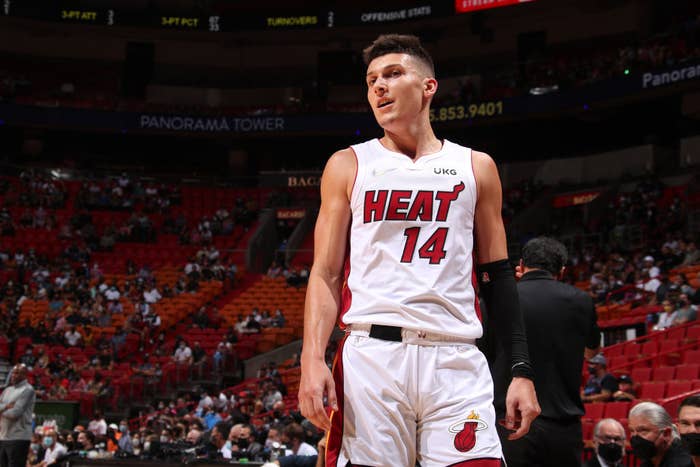 All Tyler Herro can do is laugh and lament the missed opportunity. 
Jack Harlow's lead single off his debut album that's named after the Heat sharpshooter dropped last year, but Herro—as you'd expect—heard it way before you or I or 99.9 percent of the hip-hop listening public. Herro just wishes he pushed for some kind of writing credit because collecting a few royalties from the track that peaked at No. 34 on the Billboard Hot 100 chart would be pretty sweet right now.    
But, real talk, there ain't too much the Kentucky product can really complain about as he enters his third year in the league. After spending chunks of the offseason with his family, when he wasn't throwing the plates around like never before, the Heat reserve is invigorated and, kind of his new physique, Herro's teammates expect big things out of the guard who poured in 15.1 PPG in 54 games last season.   
"That's my guy. He's going to be huge for us," Heat forward Jimmy Butler told us last month. "Special talent. The world loves him as they should."
Funny you should say that, Jimmy, since the world is about to get an intimate look at what it's like to be Herro. Debuting October 10, Herro will star in a docu-series produced by Overtime, called "Super Herro Summer," that captures his coming and goings during the most recent offseason where he bulked up big time, became a father, and got a chance to unwind for basically the first time since he entered the NBA as the 13th pick in the 2019 draft. Think of it as the ultimate behind-the-scenes look at the life of the 21-year-old sensation. 
"You just really get insight of how hard we work in the offseason," says Herro. "Really just getting able to see my family at a different level. Really just be on the inside of what we do on a day-to-day basis." 
We caught up with the Heat reserve before training camp opened to talk about what we can expect from the series, why he bulked up, whether he still listens to "Tyler Herro," and why it was so important mentally to take a break from basketball this past summer. 
(This interview has been edited and condensed for clarity.)
I saw that picture of you on IG showing off the new muscles. What steroids are you taking these days?

[Laughs] I've been eating weights for real. I've just been lifting weights for real. I spent a lot of time in the weight room this offseason. Almost every day, getting there and being really consistent on that side of my development. I'm really excited to put that muscle into use this year. 
Is that something the Heat asked you to do or was that something you felt you had to do? 

A little bit of both. I definitely wanted to add weight and strength to my game. I feel like that can help me in different areas and the Heat felt the same. So we kind of came up with a plan of what to attack this summer and we did really, really well in that regard. Stayed really consistent throughout the whole summer.
You became a father recently. How's fatherhood going to change your perspective as an NBA player since you're obviously a young guy?

It really changed my whole life, my whole world, how I see things. Really just being able to look at things in a different lens now that I'm a father and I have a daughter. I'm really just excited to be able to see myself mature throughout this season and get ready to raise my daughter and be there for my teammates as well. 
The Heat did a little revamping of the roster. Bringing in Kyle Lowry, most notably. Give me an idea of how you think they put things together heading into the season.

Pat [Riley] knows what he's doing. It's always about getting ready to win a championship and I think our roster is ready to compete late in the playoffs this year. So I'm really excited to get the season started with the new guys. Kyle you mentioned, PJ Tucker, Markieff [Morris], and a couple of new additions that we added. So I'm excited to see how we gel together. 
What did you guys really need infusion-wise after last season to get back to where you were in 2020? 

I think really all we needed was a break. We went to the Finals the year before, no one really got any off time to just decompress and have an offseason to prepare for the next season. Then the guys that we added the toughness and defensive presence that they bring, that alone is good enough for what we have over our 82-game season and late into the playoffs.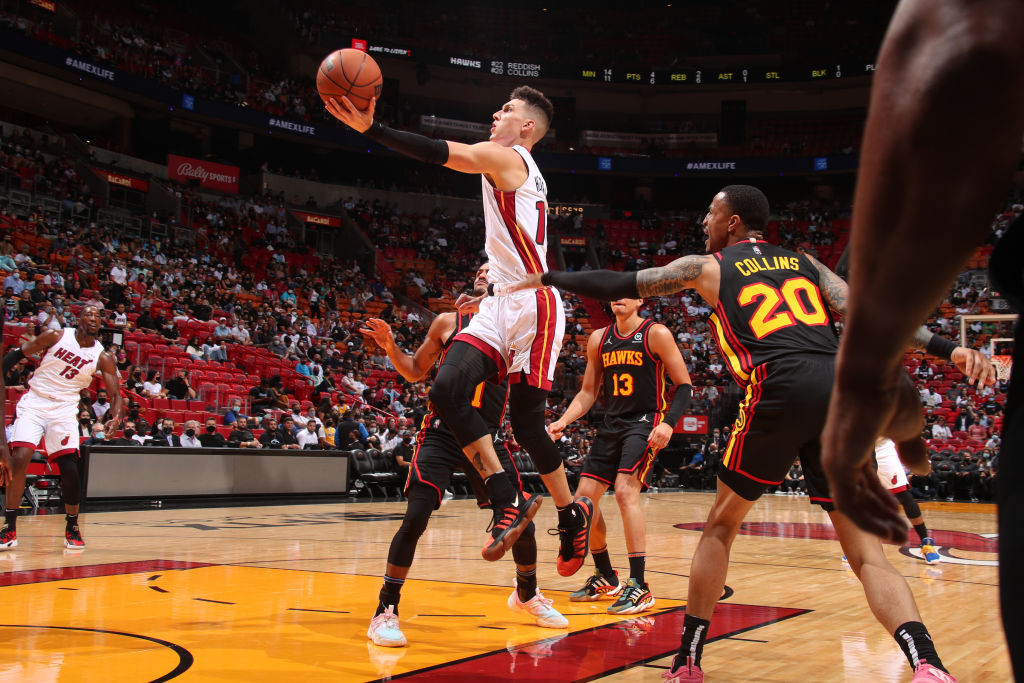 Have you gotten tired yet of hearing the song "Tyler Herro"? 

I really don't play it that much, for real. So Jack sent me that song like whiles back before it was dropped. So I've been playing it for like two years, I feel like. I don't really play it anymore. 
Do you get any royalties from the song? Did he hook you up with any credits? 

[Laughs] I don't think so. 
He did you dirty.

Tell me about it. 
What can fans expect to see with this Overtime series?

Really we just went around and recorded my offseason. We did my workouts, spent time with my family. Obviously we went to Milwaukee, my hometown, recorded that. Went back to Kentucky, my college I went to. So really you just see inside my whole offseason and how I got prepared and got ready for Year 3.  
How much apprehension did you have with letting cameras follow you around?

I've been with Overtime for a while, since I was in high school. They're good at having the cameras almost be a fly on the wall and just let me have my space and do my thing. I appreciate Overtime and they really did a good job giving me and my family space.