Ballin' Like It's March Madness: Which Rapper Has the Most Game?
Sixteen rappers. One tournament. Let's find out who can ball better than the rest. Is it Cam, Master P, The Game? Will we have a DJ Khaled upset? Vote now.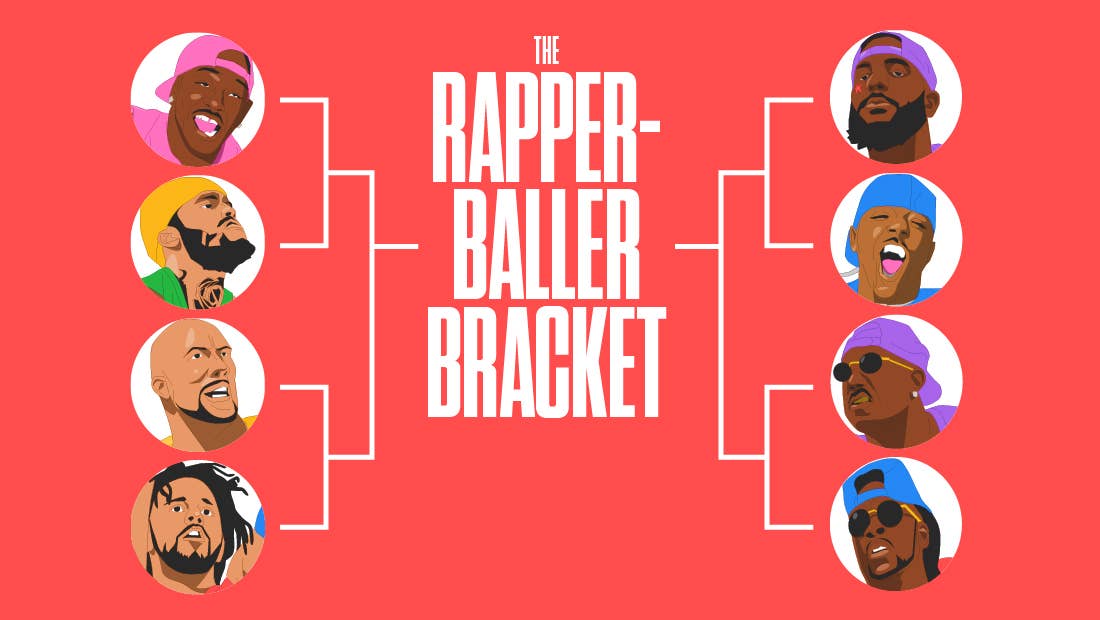 Complex Original
Rapper-Baller Bracket Elite 8 Lead Image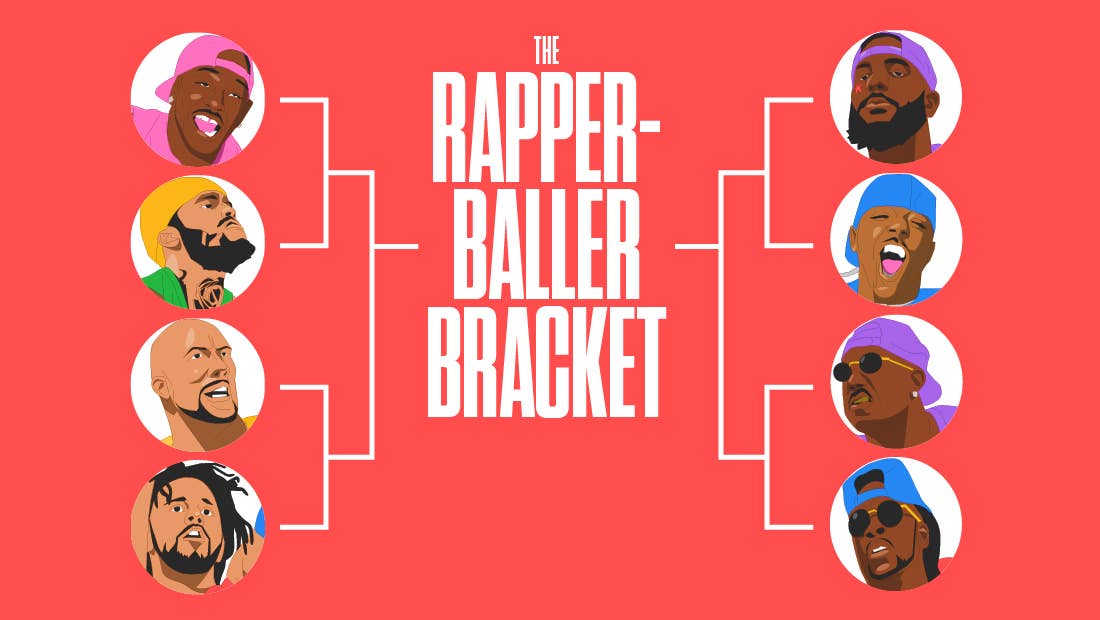 Every baller wants to be a rapper and every rapper wants to be a baller. It's a saying that's actually true—the only thing more rampant than basketball references in the rap game are the guest features on More Life.
But can any of these MCs actually ball? And who's the best out of the bunch? 
If you've been paying attention, you know a number of rappers actually can play. Since we're ballin' like March Madness, we've identified 16 of them to coincide with the start of the Sweet 16. As the NCAA Tournament rolls into its second weekend, we thought it would be fun to mythically match these prominent baller-rappers up in a bracket format and see who comes out on top. 
Just like the NCAA Tournament selection committee, we had to make tough decisions as to who made the field and who wasn't worthy. Bubbles were burst, but we feel confident that we identified 16 high-profile rappers who at various points in their life have balled at a level that warrants acknowledgment. Or at least, in the case of the lower seeds, we've seen enough of them on a court to know what kind of game they're bringing. So take a look at the eight matchups, vote, and move them along to the next round. In the end, we'll crown a new champion of the rap game who will break your ankles, knock down a J, and stunt with a triple-double Russ face. 
---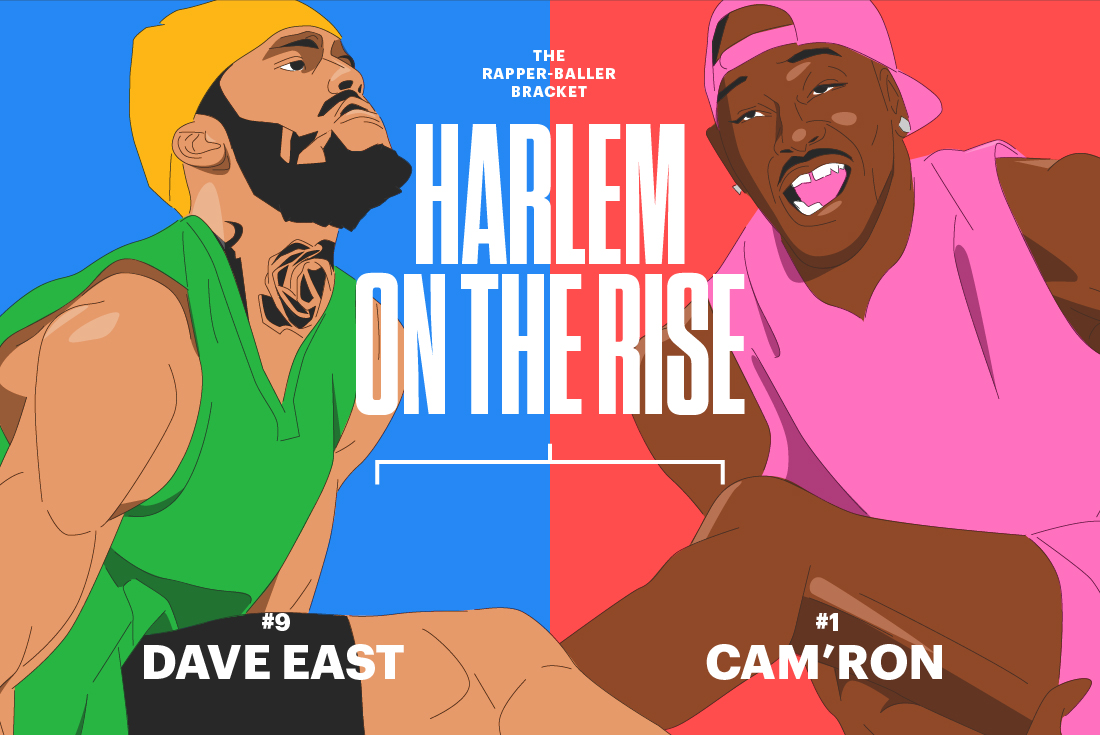 This is one of the toughest matchups yet. Dave is tall, young, and athletic while Cam is over the hill by basketball standards. But I feel like veteran savvy can survive and advance. Killa still has that jumper and all OGs have sharp elbows. I could see Cam displaying some old man strength in the paint for a couple easy points. Cam should be the favorite because he isn't Speedy.
---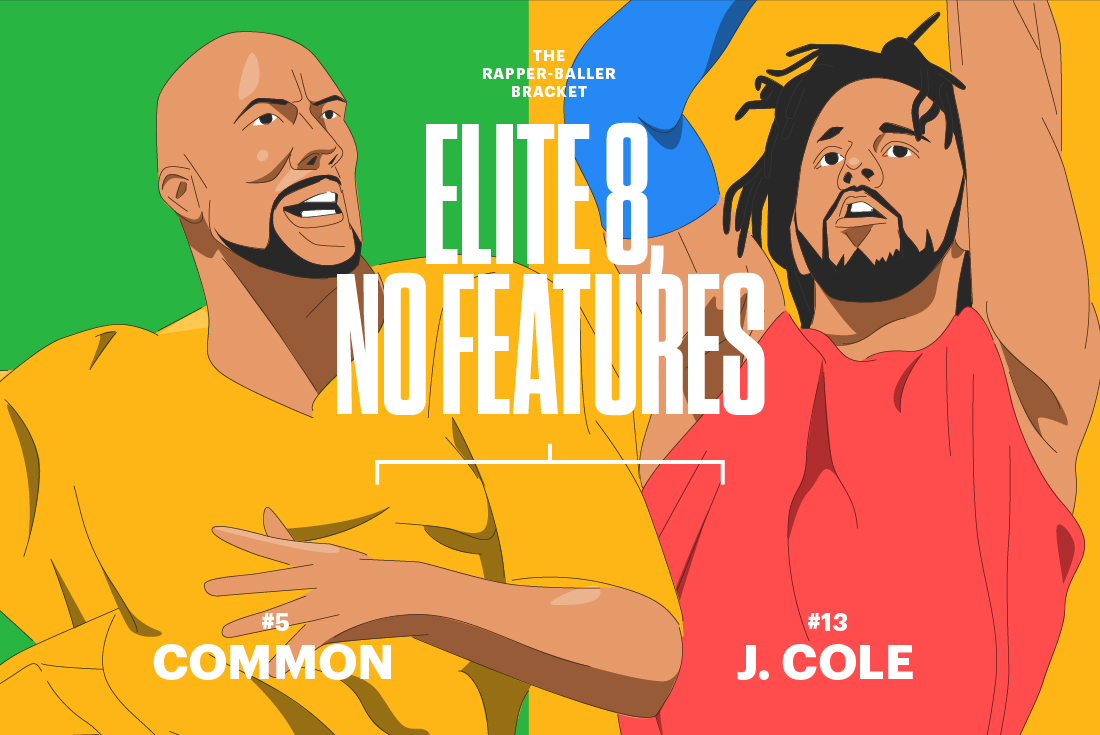 I'm not an athlete, but I play one on TV. That could be the motto of both these rappers—Cole is prone to giving his projects basketball-themed titles; one of Common's earlier acting roles was as an injured NBA player in Just Wright. In terms of actual skills, it's safe to say Cole was decent once upon a time. He was a starter for his high school team. But we know Common has a baller pedigree. 
---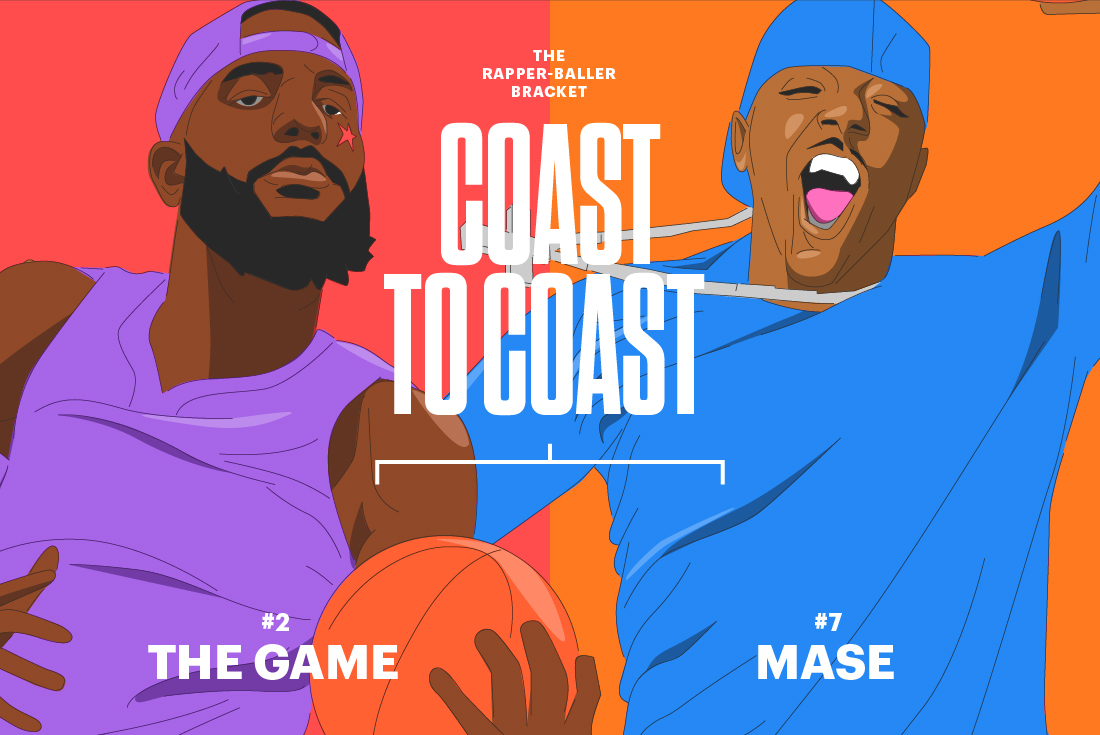 "Yo, the reality of it all, everybody can't ball" Ma$e once rhymed on "Do You Wanna Get $?" And while the Harlem native was talking about his stacks and not his handle, the line obviously applies to the hardwood. We know Ma$e can ball. But we're not sure he can keep up with The Game. Because if the The Black Wall Street shot caller comes out firing from the outside like we know he's capable of, we have our doubts Ma$e could keep up since these days we know he's all about his bacon. 
---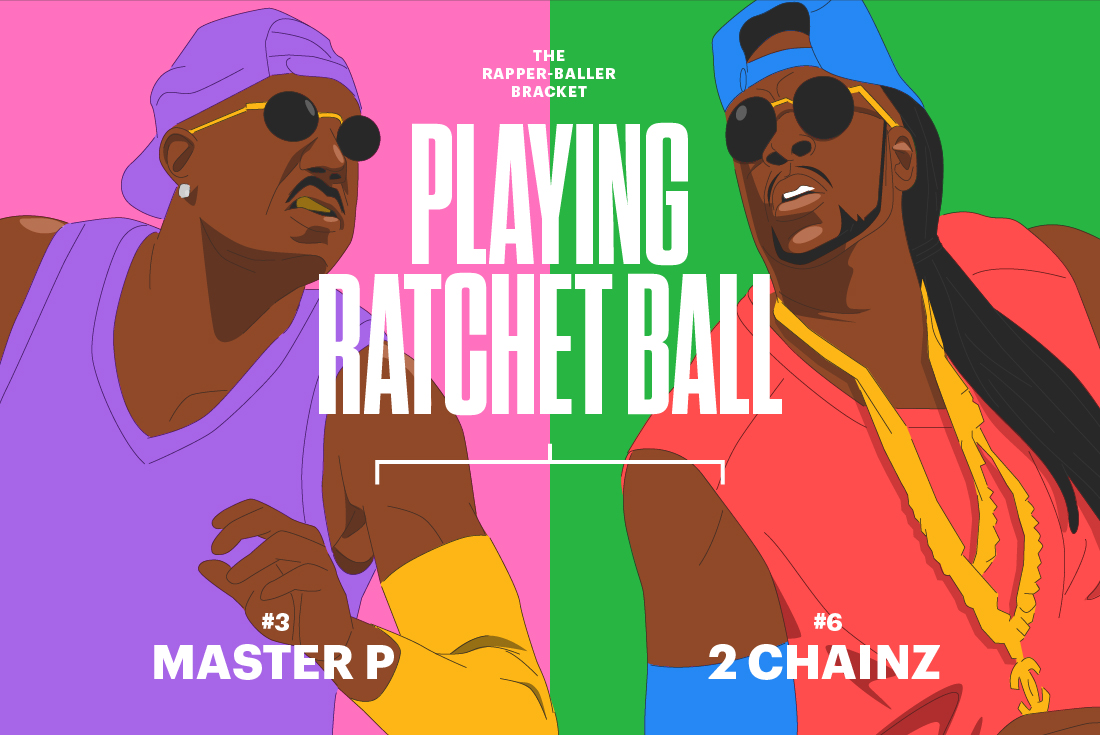 On the surface, this seems easy. Master P has actual NBA experience—if only in the preseason—and 2 Chainz doesn't. But 2 Chainz did play college ball, he is an inch taller than the 6'4" P, and, at 39, he's seven years younger. Right now P is trying to get on with the hometown Pelicans as an assistant coach, while 2 Chainz is getting merch from the Hawks as well as answered challenges from Hall of Famer Dominique Wilkins. Maybe the deciding factor can be their shoes: 2 Chainz recently got a makeup from Ewing, while Master P's Converse became a notorious Lloyd Banks punchline.
---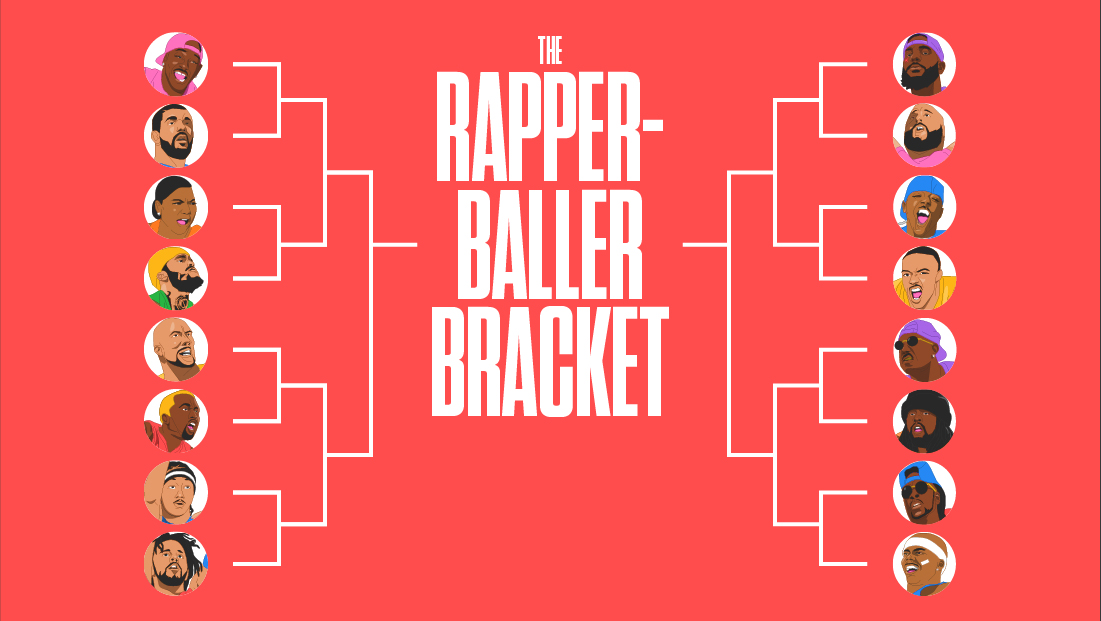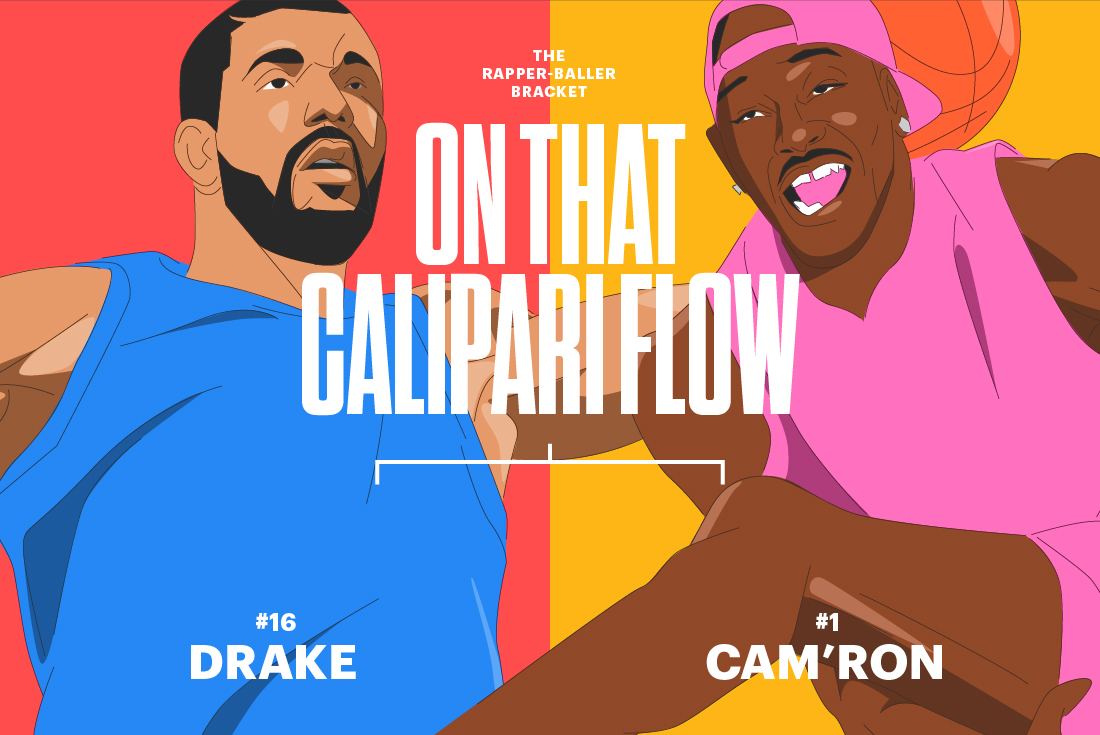 Killa was once one of the better players on one of the best teams in NYC when he was in high school. There are videos, pictures, and newspaper clips of a skinny, bald-headed Cameron Giles catching wreck in a Manhattan Center for Science and Mathematics uniform. He even went to Texas to play JuCo until he was kicked off campus for committing crimes as he famously rapped about on his 2000 track "Sports, Drugs & Entertainment." (Click here to see video of him fucking around with Vado getting buckets.) No. 16 over a No. 1 upset here. Cam would easily wash Drake in a one-on-one. Drizzy is one of those guys who comes to the park with brand new gear and the latest Jordans, and then shoots airballs.   
---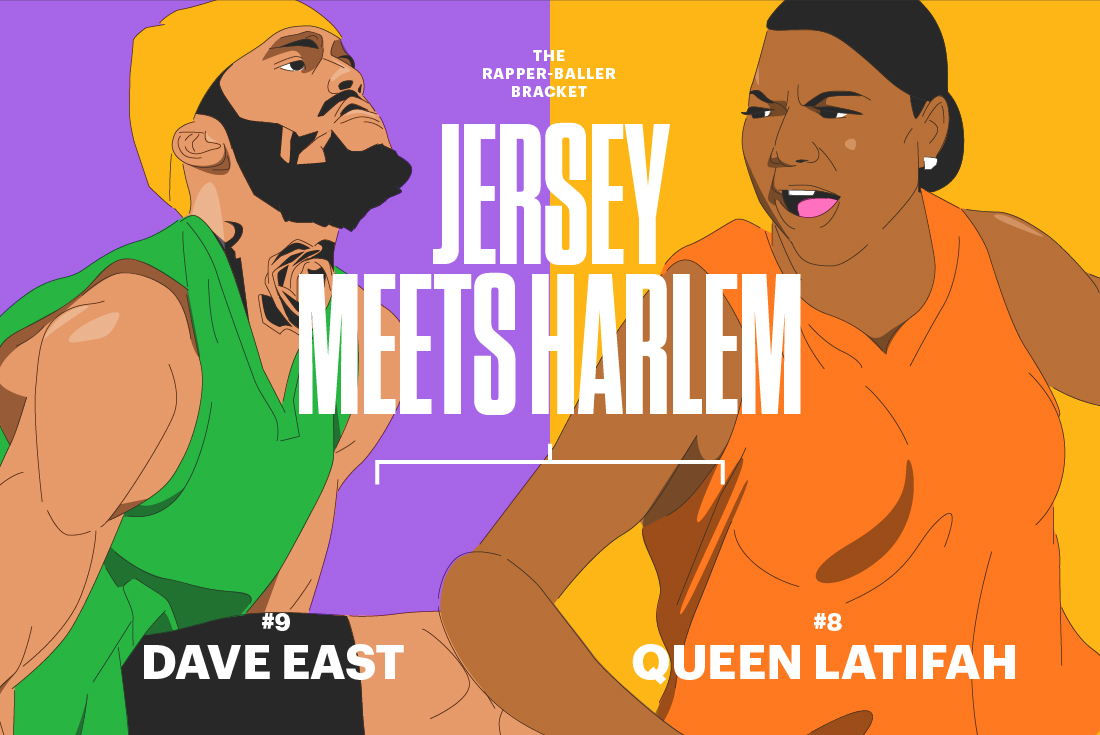 Queen Lah once said she got a soccer ball for a gift as a kid—and promptly used it to shoot layups. Young Dana Owens became a power forward, playing ball from seventh grade to freshman year of college, and her high school team won back-to-back championships. She even flexed her skills a few times on her iconic '90s sitcom Living Single. Not bad, Queen. But Dave East legit could have made it to the league, or at least overseas. He played on a number of AAU squads, where his teammates included Kevin Durant, Michael Beasley, and Ty Lawson. He went on to play for two Division I schools before being, uh, distracted by the lifestyle you often hear in his raps. In fact, he recorded his 2011 mixtape American Greed at Kevin Durant's in-home studio. (He's also 6'5", which might explain why he beat Complex's own Speedy Morman in a lopsided game of 1-on-1.)
---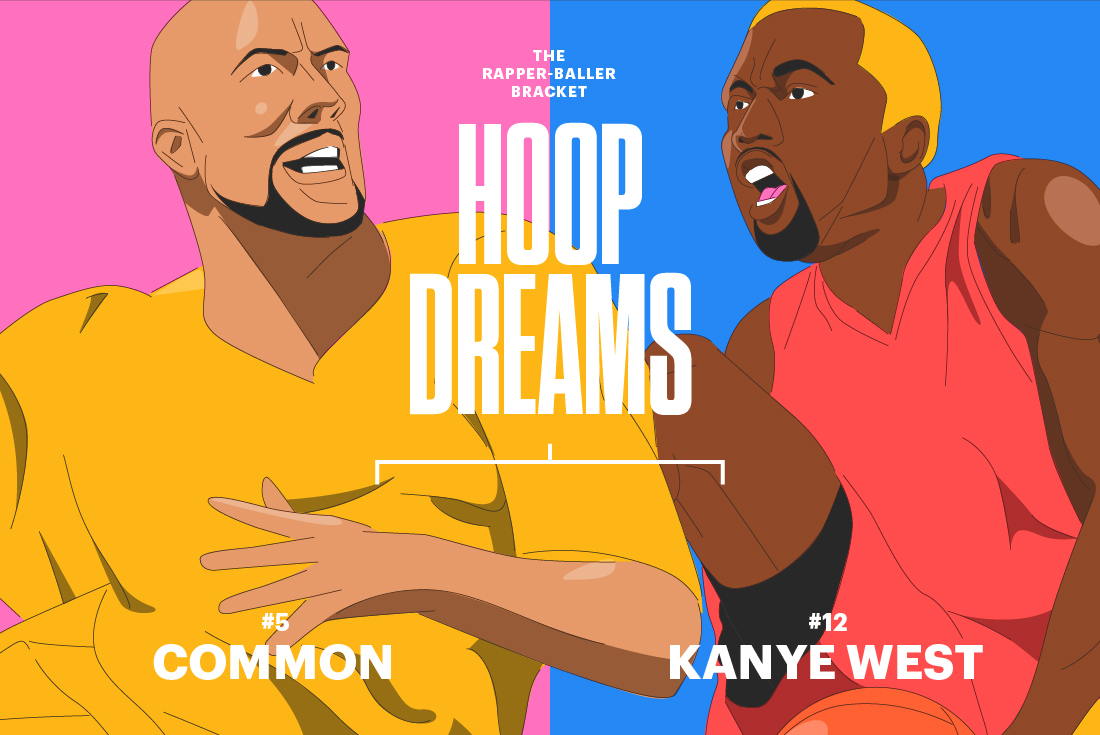 Two of Chicago's finest MCs have undoubtedly balled against each other at some point, but they possess different skill sets. Common has appeared in numerous NBA Celebrity All-Star Games, starred in the awful basketball movie Just Wright, is the son of a former ABA player (the Pittsburgh Pipers' Lonnie Lynn), and used to be ballboy for the Bulls back when Michael Jordan was ruling the NBA. Kanye, on the other hand... Well, if you've been paying attention, we gave you a scouting report on how to beat Yeezus himself on the basketball court. And basketball was a big part of his time in Hawaii crafting the masterpiece My Beautiful Dark Twisted Fantasy. Kanye would probably be the first to admit he's a better rapper than baller, but if you're going to run with him, know that Yeezy won't be a liability. And he just might surprise you. 
---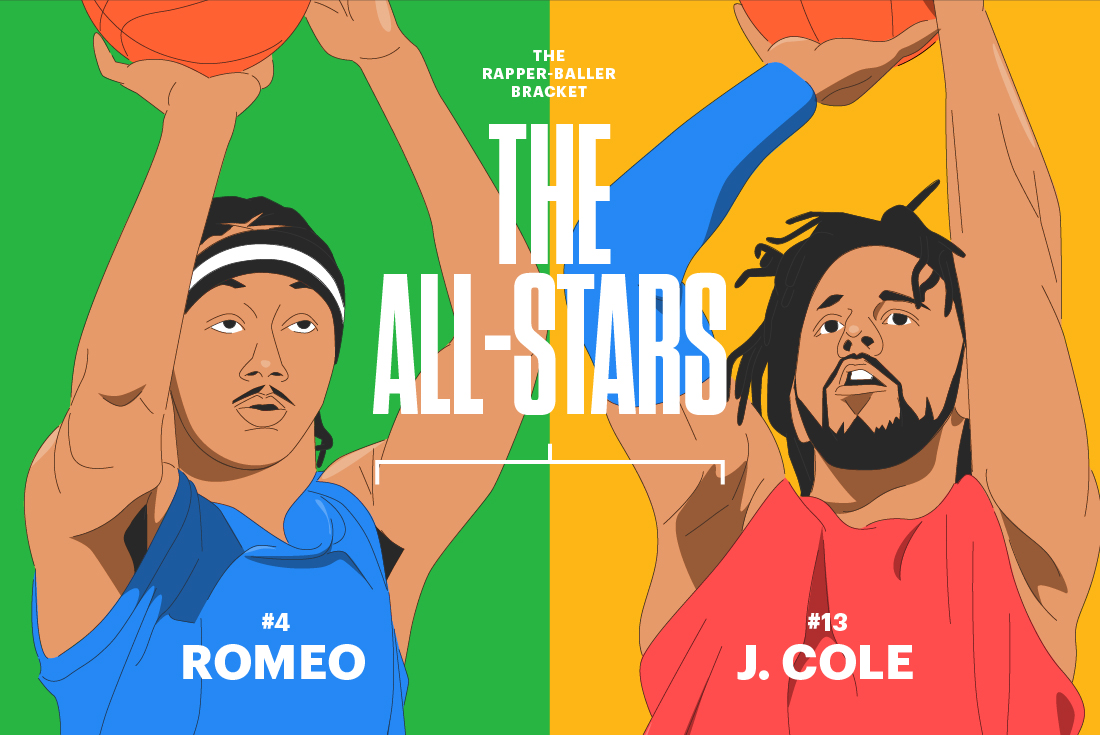 It's safe to say Romeo is a better baller than rapper. On the other hand, J. Cole might be a decent player, but we know he loves to rap about the game—his debut album was titled The Sideline Story, for godsakes. Of late, Romeo has been guest-starring on Empire. But in between rapping and acting, the youngster managed to lead his AAU team to two national titles. Meanwhile, J. Cole was cut from his high school team twice, then tightened up and became a starter his senior year. Romeo had a short-lived career as a USC Trojan, playing point guard on scholarship his freshman year; Cole was almost a walk-on at St. John's. Post-college, Romeo has played in three NBA Celebrity All-Star Games. But in J. Cole's only appearance, he finished off an alley-oop from Kevin Hart—not too many non-athletes can claim that. However, the case for Romeo to win this matchup might rest on this alone: He once beat a player by the name of James Harden in a 3-point contest.
---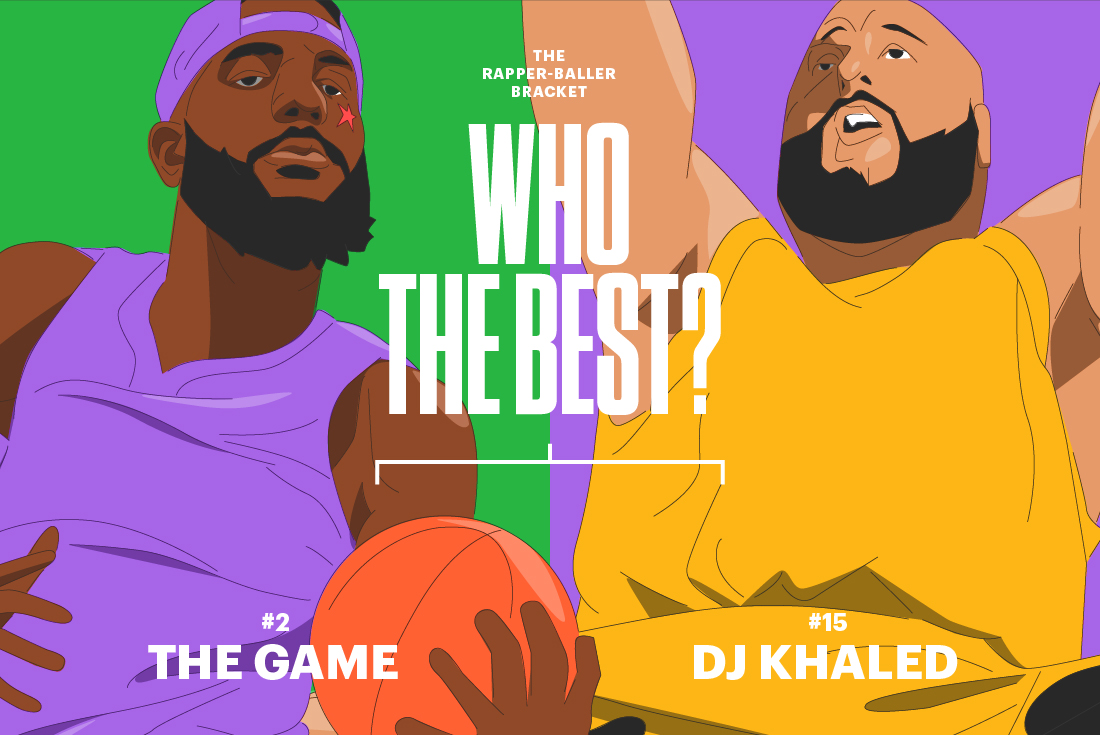 Have you seen DJ Khaled pull up from three? Have you seen his handle? If you have, then you know the man who holds all the keys will have a tough time keeping it close with The Game. The L.A. native suited up for his high school squad, Compton Domiguez, and claims he was headed to Washington State on a Division I basketball scholarship until he was caught with drugs. It's kind of become this big urban legend, even though it's largely been debunked ever since the university denied he ever enrolled in the school. But that doesn't mean he wasn't recruited and seriously considered for a free ride to the Pac-12 school. So, a portly DJ or a badass former D-I caliber baller who will flame you if you look at him the wrong way—who you got? 
---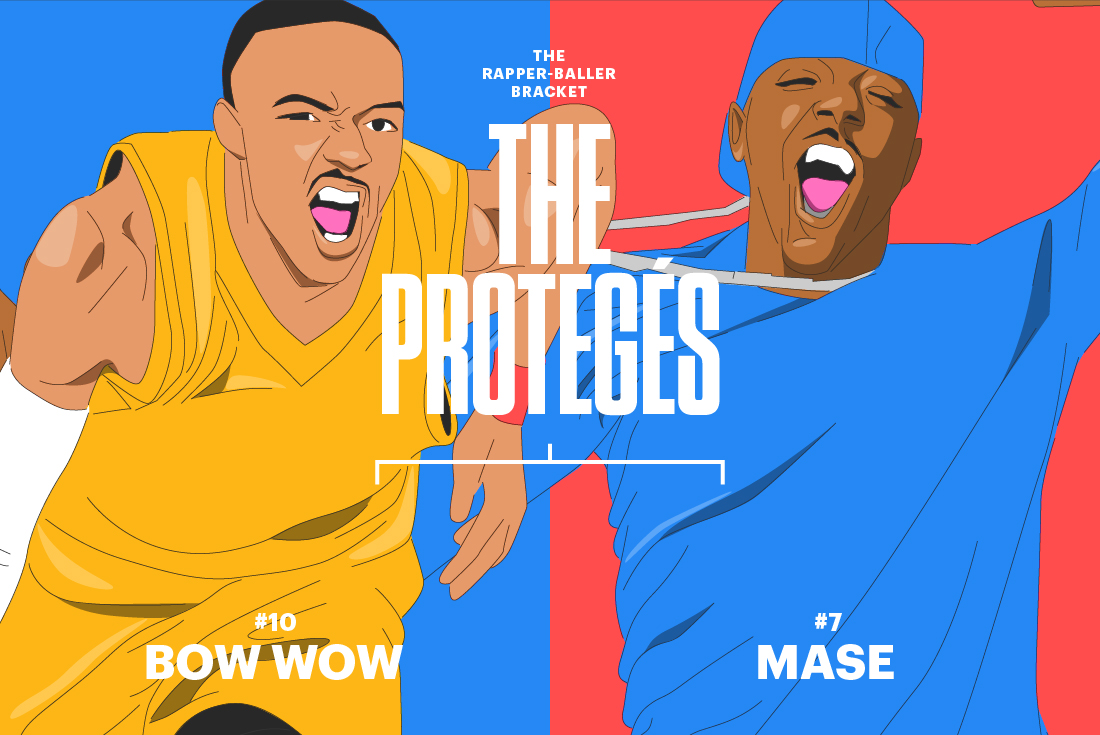 Ma$e played on the same high school team as Cam and had aspirations of being an NBA player until rap came along. Bad Boy put an end to his hoop dreams, and could you blame them? We're not sure if Ma$e still has some ball left in the tank. We're even less sure that he'd lose to Shad Moss (Bow Wow), even though Shad Moss (Bow Wow) once played a basketball player in a movie and probably still has those sneakers lying around. Shad Moss (Bow Wow) also once challenged Kobe to a game of one-on-one and lost a $1,000 to charity. Would Ma$e lose a game on purpose for charity? We don't think so.
---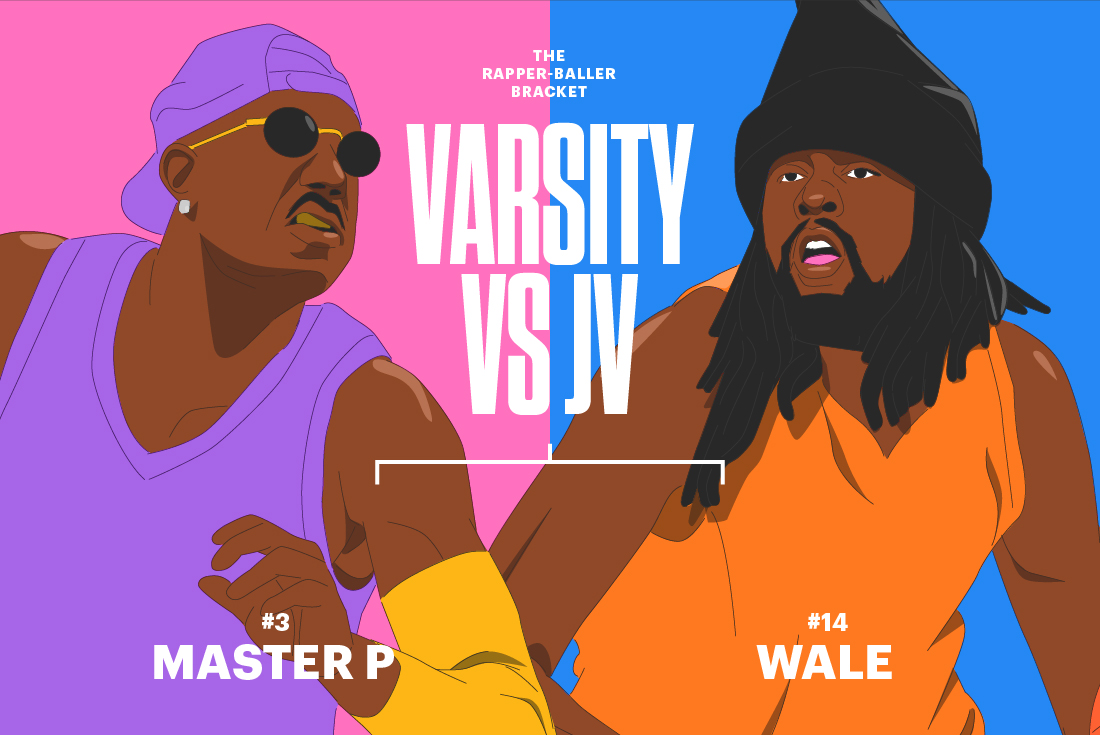 Many rappers have been known to big-up their own athletic prowess without the receipts to back it up. Meanwhile, Master P, who stuck to a different kind of ballin' lyrically, was a guy with actual NBA bonafides. While his contemporaries stocked up on throwbacks, he got jerseys with his own name on the back and pulled pre-season stints with the Hornets and Raptors. As for Wale, he's got the edge in terms of lyrical hoops references, and he's played in a ton of celeb games. But P would still probably make him say...well, you know.
---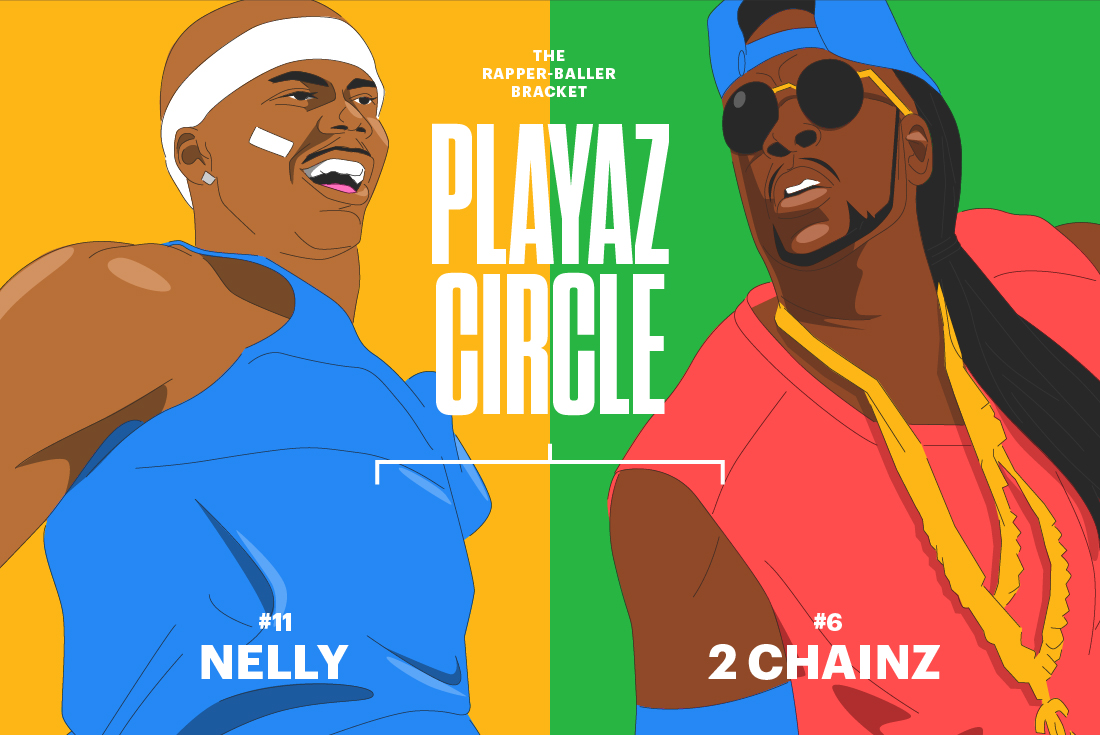 Before 2 Chainz—even before Tity Boi—there was Tauheed Epps, a rail-thin 6'5" guard at College Park, Georgia's North Clayton High who was talented enough to get a look from Memphis as a potential replacement for some guy named Anfernee "Penny" Hardaway. He hasn't played organized ball in a while, but he can still shoot—although not quite as well as Dominique Wilkins—and he has a shoe coming from Ewing. Nelly the 5'8" St. Louis native was also an elite athlete in high school, although his main sports were baseball and football. Still, he didn't get all of those Air Force 1s for nothing.