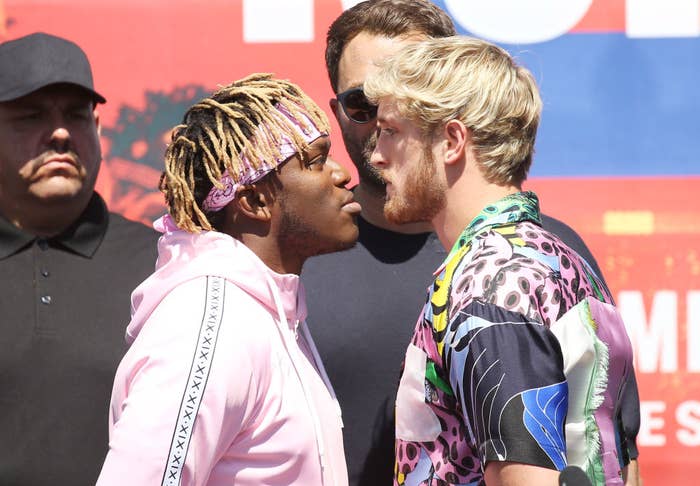 Word is there's a big boxing match going down approximately 8 miles from my place Saturday night in Los Angeles. The main event between two international superstars is expected to sell out Staples Center. Streaming service DAZN, the home to some of boxing's biggest stars like Canelo Alvarez, Gennady Golovkin, Anthony Joshua, and more, will produce the telecast that they hope attracts a million viewers or more. 
For someone who loves boxing and is lucky enough to write about it occasionally here and cover some of the biggest fights over the past five years, I'll let you know that I won't be anywhere near downtown Los Angeles Saturday. Nor will I be tuning into the main event from the comforts of home. Nor have I even entertained the idea of doing any stories leading up to showdown between YouTube stars Logan Paul and KSI. 
Because for a sport that I love that's largely considered an afterthought and (at times rightfully) derided by many, I refuse to actively participate in the promotion of something that feels so contrived and condescending to boxing's loyal and proud fans. The whole thing is a joke. 
this garbage Saturday night in the main event? Between two YouTubers who have zero boxing credentials and would get annihilated if they ever stepped in the ring with a real fighter? You're telling me this is a good look for the sport? 
What other conclusion can you draw when one of the sport's biggest broadcasters, relative newcomer DAZN, decided to make a showdown between two amateur fighters known for their YouTube channels the main event of a card just for the sake of attracting new subscribers? I guess in the grand scheme of things it's not a terrible idea to try and attract a new, younger audience by staging a fight between two guys with a bunch of followers who do whatever the fuck they do on their platform and maybe, just maybe, you'll hook a few of them on the fight game and they'll be fans (or more importantly customers) for life. 
But there's gotta be a better way than this, DAZN. You gotta have more respect for the sport than this charade. 
I've been hit up by numerous publicists and PR firms in the last few weeks pitching stories on either "fighter" and I've emphatically declined because I refuse to give any shine to this farce of a fight (even though, technically, this kind of is giving them shine). Publicists, handlers, and those with a stake in the card have crowed that both content producers have been training with former professionals for months and are taking this rematch (of a previous fight I gave precisely zero fucks about and didn't even know happened) seriously. They want to put on a show and I'm sure they're being extremely well compensated by DAZN for this. Good for them. They're entertainers and, I guess, will entertain an audience. 
But how can someone that actually wants to see the sport thrive, cares about its long term health, and enjoys writing and covering it—because the real, legit boxers themselves are so unique, honest, brave, and refreshingly different from many other professional athletes in the NFL and NBA—write with a straight face about a fight between two guys squaring up for the first time without headgear?
I can't do it. I refuse to do it while many boxing writers have tepidly written about it, carefully wading into the debate of whether this is a good look for the sport. I wish DAZN didn't feel the need to do this because it's another embarrassing blow for boxing as it, unfortunately, continues to take unnecessary shots—many of them its own doing—in the never ending struggle for mainstream relevancy in a supremely crowded sports scene. 
But this is shaping up to be another bad look for the sport that's suffered a succession of them this year. Last week, DAZN embarrassed the sport by delaying the start of the Canelo-Kovalev fight in Las Vegas until after the UFC match ended in New York. Boxing continues to struggle to make the fights fans really want because of the political bullshit of the sport's promotional structure. And worse, there have been an unfortunate number of ring-related deaths in 2019 that highlight how dangerous boxing forever remains. Guys put their lives on the line every single time they step into the ring and few sports have the ability to lift up their athletes, who often come from absolutely nothing, to levels of prosperity. Sure, it comes at a price when you're getting your head pounded. But fighters know what they're signing up for and I've always respected the honor—the lines the sport refuses to cross—that makes it so different compared to other popular combat sports. 
So I say all the above to say that boxing isn't a joke. Despite more broadcast money flowing through it than ever before, it remains fragile and continues to fight for the kind of respect I think it deserves but seemingly never captures. The idea of letting two social media sensations headline a major promotional card in one of the sport's most important cities, and in the middle of a fall season that has featured some awesome fights between, you know, actual boxers who aren't fighting to impress their followers, is an absolute fucking joke. 
I have no idea how many people will tune into Saturday's showdown—I'm sure enough since they both, I've been told, have tons of followers. Congrats on that, guys. As a boxing fan and someone who covers/writes about it, I probably should root for it to do well. We've seen the sport put on spectacles before. I covered one in 2017 between Floyd Mayweather and Conor McGregor. But at least that was held between two legit combat athletes—you know, two trained professionals. DAZN hopes enough random millennials and tweens tune into Saturday's telecast early enough to see a really good up-and-coming lightweight titleholder Devin Haney fight. He's a future star in the sport. Same goes for respected super middleweight Billy Joe Saunders, who will defend his belt. But I doubt the audience that wants to see these influencers fight will give a shit to see real fighters fight. 
I'll tune into the undercards Saturday and then turn it off when it's time for the main event. Maybe then I'll finally get a chance to watch the replay of one of boxing's best pound-for-pound fighters, Naoya Inoue of Japan, win the World Boxing Super Series bantamweight final that DAZN streamed Thursday. I also eagerly await Deontay Wilder's return to the ring later this month in Vegas. And in December we get the massive rematch between Joshua and Andy Ruiz Jr., Terence Crawford's back in action, and there's a really, really good lightweight fight between Richard Commey and Teofimo Lopez that I can't wait to see.
But this main event garbage Saturday night? Between two YouTubers who have zero boxing credentials and would get annihilated if they ever stepped in the ring with a real fighter? You're telling me this is a good look for the sport? 
Call me a boomer, but this ain't it, chief.