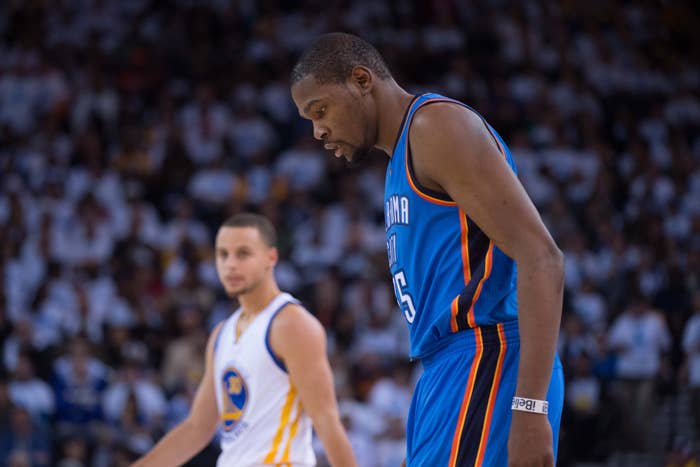 Kevin Durant, Stephen Curry, Klay Thompson, and Draymond Green all on the same team? 
It sounds a dream come true for Golden State Warriors fans and a nightmare for the rest of the NBA that legitimately might happen if you believe Yahoo! Sports' Adrian Wojnarowski. 
In his latest report to send chills up the spine of those who follow the league, Wojnarowksi writes that Golden State is "the most intriguing destination" for Durant—2016's most coveted free agent—and if the 2014 NBA MVP left Oklahoma City, "the Warriors are the significant frontrunners to sign him."
The Warriors have a billion-dollar arena on the horizon in downtown San Francisco, expensive seats and suites to fill, a monster of a local television deal to feed. Golden State's core is young, and Durant's disposition fits the Warriors' culture. He has won his scoring titles. He needs a legacy and believes fully that has to include multiple titles. He doesn't want to wait for a new team to form around him, which is why it will still be hard to lure him from the Thunder.
It all makes for spectacular speculation, but could the Warriors seriously fit Durant under the salary cap? Most fans would automatically says it's impossible, but Yahoo! Sports lays out a labor intensive scenario of how it could be done. Basically, if you're a Golden State fan and you're cool with trading Andre Iguodala and Andrew Bogut separately, saying goodbye to Harrison Barnes, and making a few other low level roster moves that wouldn't break the bank, Durant could be a Warrior. Is there a Warriors fan that won't sign up for that? 
Durant will have plenty of other teams going after him this summer, like the Lakers, Wizards, and Heat. But if Curry and Green—Golden State's two top players—lobby hard for him, as Wojnarowski speculates, it would be hard for Durant to turn them down. 
Perhaps no Warriors player would sacrifice so much on a personal level, yet Green is unflinching in his support of signing Durant, league sources told The Vertical. He's expected to be a tenacious recruiter of Durant for the Warriors' contingent. 
Durant isn't considered a sure-fire gonner from Oklahoma City this summer, but he's after something specific that only a few organizations, like the Warriors, could offer him immediately. 
Durant has always been looking for reasons to stay. He adores the Oklahoma City community and holds a fondness for the franchise, but Durant is chasing championships, chasing a legacy.