Let's be real here—the Raptors had to win that game.
There was a narrative pushed by many pundits and fans alike that the pressure was squarely on the Warriors, and more specifically Steph Curry, entering Game 3 of the NBA Finals. And it was utter bullshit.
With the series tied at 1, Klay Thompson demoted to spectator just before tip, and Kevin Durant still out but inching closer to a return, the Raptors had to have Game 3. We the North had to invade the Bay, impose its will on the depleted defending champs, and take advantage of the good luck the basketball gods had bestowed upon them after giving one away in Game 2. The Raptors did their best to downplay it—"I mean, you can't really worry about any of that stuff, right? Like, every one of these games is critical," Raptors coach Nick Nurse said after the game—but the reality screamed otherwise.
Behind Kawhi Leonard's 30 points, Danny Green's lights-out shooting from beyond the arc—he hit six of 10 threes to finish with 18 points—and Kyle Lowry's Finals arrival with a 23-point, 9-assist performance, Toronto took care of business. The Raptors left Oracle Arena Wednesday night 123-109 winners and owners of a 2-1 series lead in the NBA Finals. In a pivotal game that was so severely slanted in Toronto's favor, if the Raptors hadn't won, who among us wasn't ready to go all Paul Pierce on 'em and declare the series done—D-O-N-E DONE?
we should all be thankful Toronto saved us from the NBA Finals serving as yet another automatic Warriors coronation.
Because if the Raptors allowed the underdog Warriors—I don't care what the closing line was, the squad Golden State ran out there did not deserve to be favored by three points—to take Game 3, we would've been lucky if this year's Finals made it to Game 6 back in Oakland.
There's no way you could convince me that Toronto could recover from blowing a golden opportunity against the mediocre Warriors in Game 3 to win Game 4. Not with Thompson held out Wednesday so he can be ready to (hopefully) rip nylon again on Friday. Not with KD's return looming large. And not with the Warriors' confidence riding high from picking up a game they really had no business winning. If the Warriors had somehow won Game 3, they would've been primed to rip off two wins in a row to close things out. All "the Warriors blew a 3-1 lead" jokes aside, when a championship-savvy squad smells blood, they usually take care of business.
Curry, of course, did his best to carry the Warriors on his back, authoring an utterly brilliant performance by scoring 47 points to go with his 8 boards and 7 assists. "Steph was incredible," Steve Kerr said after the game. Only a fool would clown Curry for not carrying the Warriors to a win, since his teammates couldn't match his energy. Draymond Green finished with 17, but DeMarcus Cousins had no bounce, Andre Iguodala wasn't a difference-maker, and defensively Golden State was a train wreck. But what did we really expect from the Warriors when two of their top defenders (and scorers, obviously) couldn't go?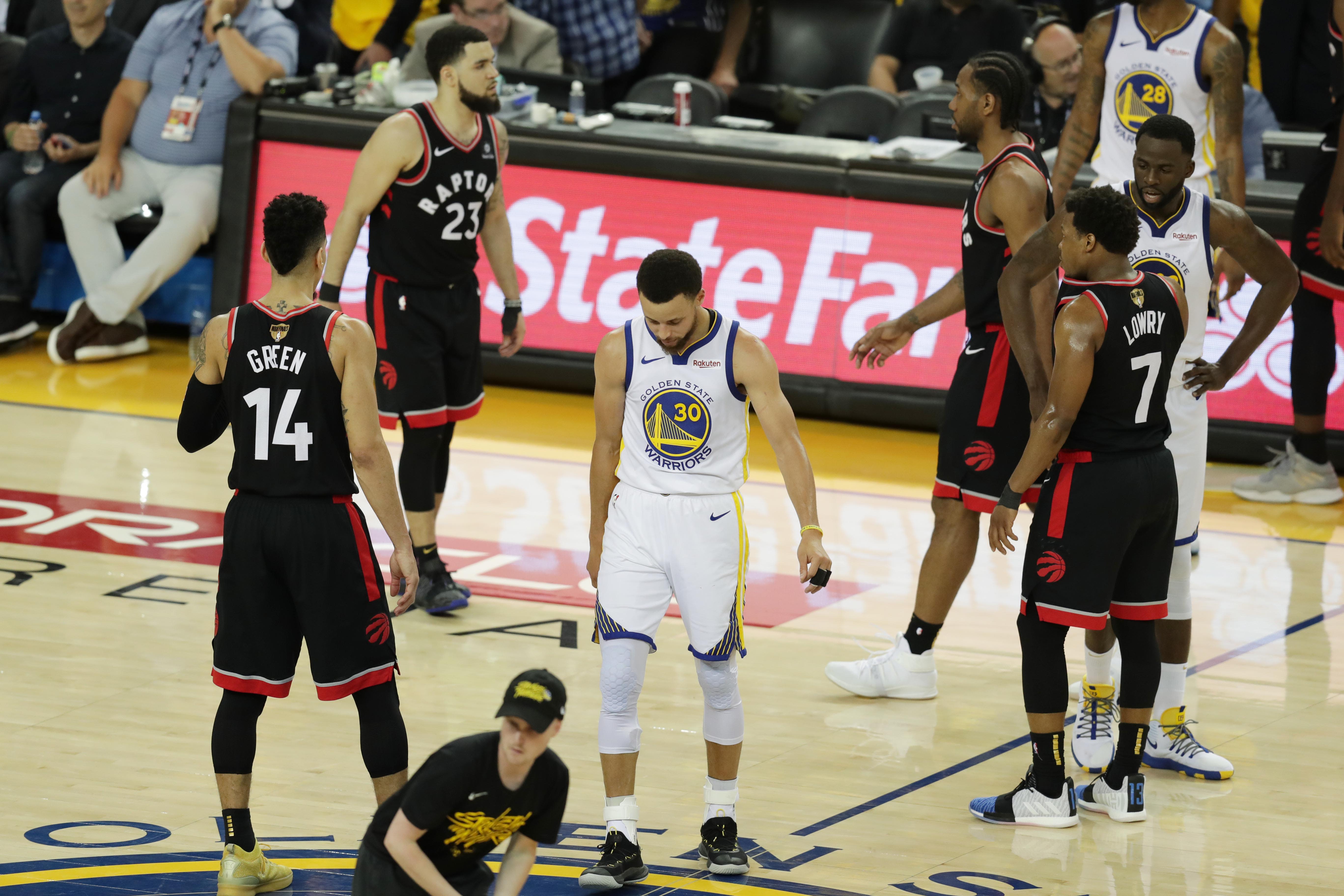 Kerr explained why Thompson was an extremely late scratch, saying it was about protecting the player from himself. The Warriors desperately missed him, but sometimes you have to lose the battle to win the war. Having a slightly healthier Thompson for Games 4, 5, and 6 sounded better than running a suspect Klay out there and praying he didn't completely destroy his hamstring.
"The whole point was to not risk a bigger injury that would keep him out the rest of the series. That was the decision we made, and I feel very comfortable with it," Kerr said. "I never would have forgiven myself if I played him tonight and he had gotten hurt. The good thing is Klay has done well the last two days. He's got another two days to heal, and hopefully he'll be out there Friday."
At least Wednesday's result makes for a much more dramatic NBA Finals. I know I'm not the only one who thinks it's great to see the defending champs in some serious trouble, facing turmoil like never before. It's cliché to say, but Golden State is going to have to dig down deep if they want to keep the dynasty rolling. And it's going to be fascinating to see what chess moves are made in order to secure their place in history.
Curry told us last year that the Warriors' third title in four years was by far the hardest one yet. I hope we get the chance to talk to him again during the off-season if the Warriors can pull it off one more time because I guarantee he'll change his answer. Even though it kind of feels like the Warriors rolled through the Western Conference playoffs, the reality is the Clippers made them work hard in the first round, and Durant has been down for the count since Game 6 of the Rockets series. The Raptors are the most complete team the Warriors have faced in their five NBA Finals, and getting three wins over the next four games ain't going to be easy—even with Thompson and KD back in the lineup. But I'm still not betting against a team that has always played great on the road in the playoffs.
"Everybody wanna see us lose," Green said after the game. "So I'm sure people are happy they're hurt. We just got to continue to battle and win at Toronto, win Game 5, come back to Oracle, win Game 6, and then celebrate. Fun times ahead."
Ultimately, Game 3 should be forgettable. The Raptors outplayed the undermanned Warriors, and Toronto, quite simply, did what it had to do. It helped that the Raptors couldn't miss from three and kept everyone in check except the greatest shooter of all time. The game wasn't dramatic—and other than Lowry mixing it up with a fan, it was bereft of controversy—but we should all be thankful Toronto saved us from the NBA Finals serving as yet another automatic Warriors coronation. If they lost Game 3, there would've been no coming back from that.