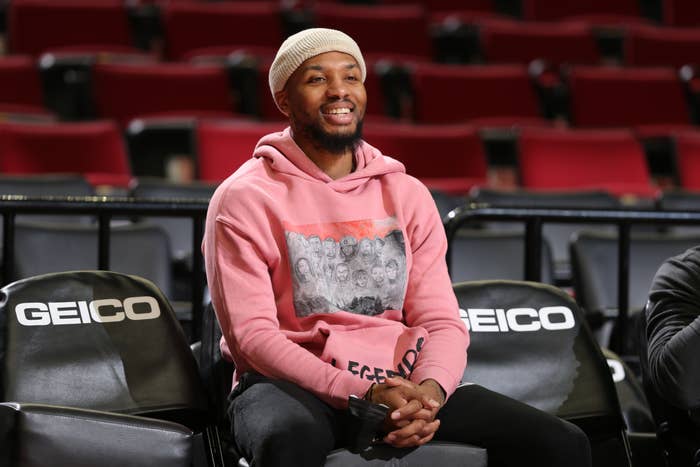 Rampant rumors and endless speculation are part of life in the NBA when you're a superstar and your team is struggling. Damian Lillard knows that better than anybody. And pegging the precise number of hypothetical transactions and gossipy reports Portland's franchise player was linked to in the months, weeks, and days leading up to last week's trade deadline would be like trying to count all the grains of sand on a beach. Good luck coming up with an accurate number.
But an accurate assessment, post-deadline, of Lillard's commitment to the only team he's played for over his 10 seasons in the league? For those still wondering, or holding out hope that he wants out of Portland? Especially after the organization completely revamped the roster?
That we can provide with 100 percent certainty. Because we asked him for an update. 
"I'm loyal to what I believe," Lillard tells Complex Sports. "I do love living in Portland. I do love playing for the Trail Blazers. But I've built this. I've been part of this for 10 years. I've been part of the change here and us being a successful franchise. I know what means something to me in my heart. And that's winning a championship here." 
Considering the Blazers look way different now compared to a few weeks ago—most notably shipping out Lillard's sidekick and close friend CJ McCollum—you get why people would wonder how much tolerance the 31-year-old Lillard has to stick it out in the Pacific Northwest. NBA stars in their 30s often look for the easiest route to a title. 
But that's not how Lillard's built. And while Dame Time has some downtime—he's on the mend following abdominal surgery, an injury he finally was forced to address in January after dealing with it for the past four seasons—Lillard would also like to address something near and dear to his heart: equity in youth sports. As an activity-obsessed kid whose best friends in life came from the ball fields and blacktops of his native Oakland, Lillard knows all about the benefits of sports. But when it comes to access—to facilities and financial support—the playing field remains uneven.
"I understand how important it is for kids to have that opportunity and I also know how many things get in the way of kids having that opportunity," says Lillard.
We talked to the six-time All-NBA player via Zoom Tuesday about his support and participation in a new Gatorade campaign aimed at breaking down barriers in youth sports. But while we had him, we also touched on a few other things basketball fans might be wondering. Like the potential to hear new music from Dame D.O.L.L.A., why losing McCollum still stings, and why he remains committed to the Trail Blazers. 
(This interview has been edited and condensed for clarity.)
To kick things off, what part of Gatorade's "Fuel Tomorrow" initiative attracted you the most to speak on it?
This wasn't a campaign that was just about getting kids and getting people to buy something or come support something as much as it is about supporting kids and providing opportunity for kids. When I was a kid, it was needed. It was something that was necessary. There are so many barriers that prevent kids from participating in sports, to play on teams, to meet friends, and just form those bonds and change your life. A lot of my best friends in my life now I met as kids, or kids I met at the park playing basketball, playing baseball, playing flag football. My extended family that I call my uncles and aunties are the parents of the kids I played sports that when my parents had to work and couldn't give me a ride, this was my transportation and they fed me. Things like that. Those are the kind of bonds and people that I've learned from and shaped by. All of these things through sports.
So the campaign is about service, doing something for so many kids—I know the level of impact that it can have for all these kids. From experience and being somebody who has gone through it and reaped the benefits of being an athlete and playing sports and meeting people and people becoming family and people playing a role in being as successful as I am, I wanted to actively participate in this campaign.
What barriers prevented you from, not necessarily participating, but maybe participating and thriving playing sports as a kid? And how can you help kids overcome some of those barriers with this campaign?
The first thing I think of is a facility. It costs to find somewhere to train at. You need someone to train you. You have to be able to get to a place to train. You have to have people invested in you, you know what I mean? I think that's what this campaign is. It's an investment into so many kids that need it. But specifically to me, some of the barriers, playing on an AAU team. Getting on a team. The money it costs to get a plane ticket. To get your team shoes. To get your team to the point where they can get into a tournament where there's going to be college coaches instead of a bunch of local tournaments. There's a lot of things that get in the way. Maybe your parents have to work and there is no local facility or the facility doesn't have certain equipment to train or you don't have anywhere to go shoot or play basketball or play football. There's a lot of things that get in the way. And like I said, I know that from firsthand experience. 
You helped voice the commercial that accompanies this campaign along with Candace Parker. From what you were reading and saying, what hit home the hardest?
I think what hit home the most to me was being able to see the footage before I read it. I think when people see it visually, the words hit harder. In my head, I have a dream. This is it. This is the opportunity to kick something off for somebody. I think it'll reach people, it'll touch people, and the energy of what they see, I can see it opening the minds of kids to the possibilities of what they can be and be inspired.
Want to transition a little to basketball while we have you. It's been a unique season for you and I don't know if "unique" is the appropriate word. You've never missed this amount of time before professionally. How trying has this season been for you?
It's been tough. I had surgery for an injury I had maybe been dealing with for four years. It got worse over time. It was easier to deal with, then it got a little bit harder. Just coming into the season and being unhealthy and still trying to find a way to get it done, that's where it started. Then our team wasn't having a lot of success. Eventually you get to the point where you realize that my mind wants my body to do something my body can't do right now and facing the fact that I was unhealthy was a tough thing because I've never been unhealthy in my 10 years in the league. It was tough, but I felt like at this point in my career, I had to make a decision for the coming years and not be, I guess, consumed by right now. Especially with the amount of success we were having—or weren't having. It just made sense for me to make it a chess game and make that decision based on what I wanted the future to look like and as far as my health and putting my best foot forward and giving our team a real chance to do something.
Speaking of the team, with the revamped roster and the upheaval in the front office, the team you play with when you're back on the court is going to look a million times different than the one you last suited up with. What positives do you pull from all the changes?
It's tough because I form real friendships with the people that I play with. I don't do nothing that I don't feel like is authentic to me, with me. All of these guys are my friends, especially CJ. I've been playing with CJ for nine years and we spent a lot of time around each other, with each other—you know, in the summer, on vacation, dinner, whatever; we train together, we've done everything together. Sat next to each other our whole career on every flight. You know, that's the toughest one for me to deal with. But I think at this point, the biggest positive from all of it is the amount of flexibility we've given ourselves to make real improvements to our team. And that on top of some of the really good talent that we were able to hold onto and added. We've added some good players and still have flexibility to go out and make our team better than it's been in a while. I think that's the biggest positive, but that's still to be determined, whether we can go execute that. 
When I spent time with you in Portland for a story in 2019, loyalty and commitment was the theme. You've shown a dedication to Portland that few guys show to any given city or community in the NBA. Why are you still so committed to the city of Portland?
I think any time you say you love something or care about something… it's not always going to be peaches and cream. You don't know when that moment or breakthrough is going to come. Especially if you've done things the right way for so long, which I have. I've treated people the right way, I've done things the right way, I haven't skipped steps. My process, which is why I've been able to get better each year of my career. I think something that's important people realize is that it's a business. Everybody's like, "Oh this person's loyal, that person's loyal." They kind of throw that word around loosely. But, for me, I'm loyal to what I believe. I do love living in Portland. I do love playing for the Trail Blazers. But I've built this. I've been part of this for 10 years. I've been part of the change here and us being a successful franchise. I know what means something to me in my heart. And that's winning a championship here. That's why I'm so committed to that. And that's my personal feelings. That's being loyal to how I feel and how I operate. It is what it is. That's what I want to see happen and I remain just committed to that as long as that's the goal, that's the plan.
Finally, on a lighter note, has all your downtime allowed you to be more creative with your music?
Yeah, I've recorded a lot of new music. I've been like a retired player. I wake up in the morning, I go to rehab, do my work, do my conditioning, and stuff like that. I come home, with my twins, with my son, we eat lunch together. Pick them up from school. Just normal stuff. I think if I didn't have those things bringing me the amount of peace it brings me, and love—just being a dad and a husband, and seeing my mom and seeing my brother, just on the daily without being out of town—I'd probably be going crazy not being able to play right now. All of those things have filled up my time with so much love that I've just been taking it a day at a time, man. And I'm feeling good and feeling happy about where I am.