Chris Brickley, Trainer to Carmelo Anthony and Other NBA Stars, Is Living the Basketball Junkie's Dream
Ask Chris Brickley why guys like NBA superstar Carmelo Anthony use him as their personal trainer of choice and he'll tell you it's not about the drills.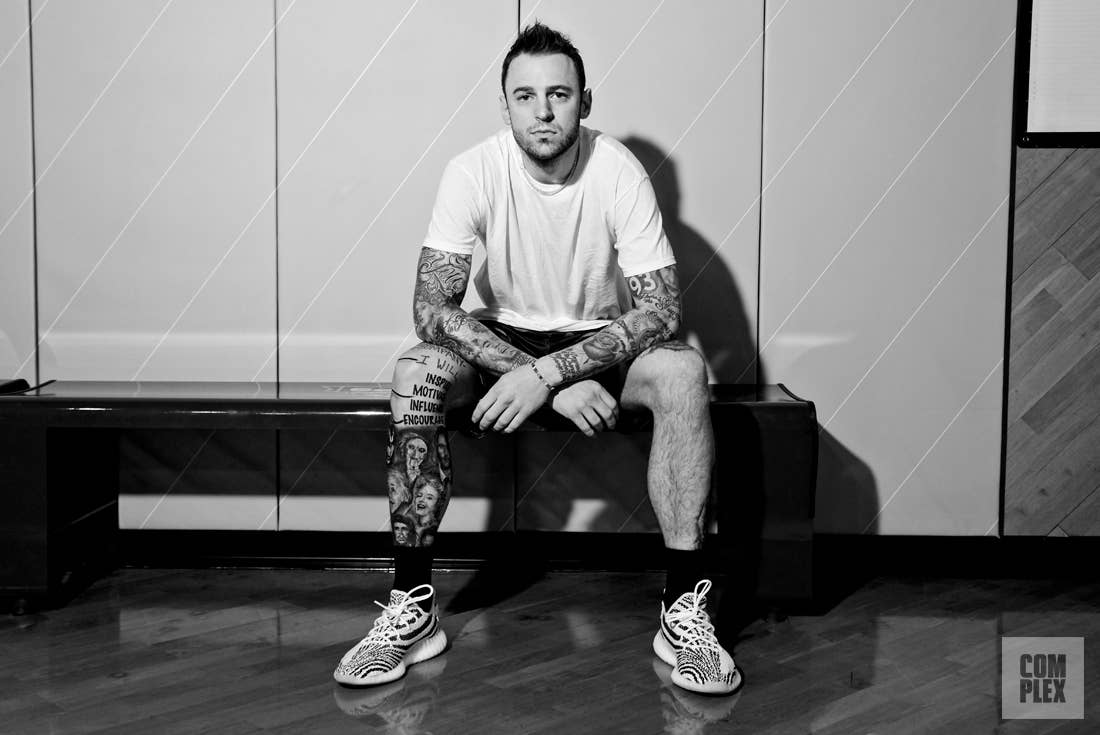 Complex Original
Chris Brickley Cabrera Original 1 2017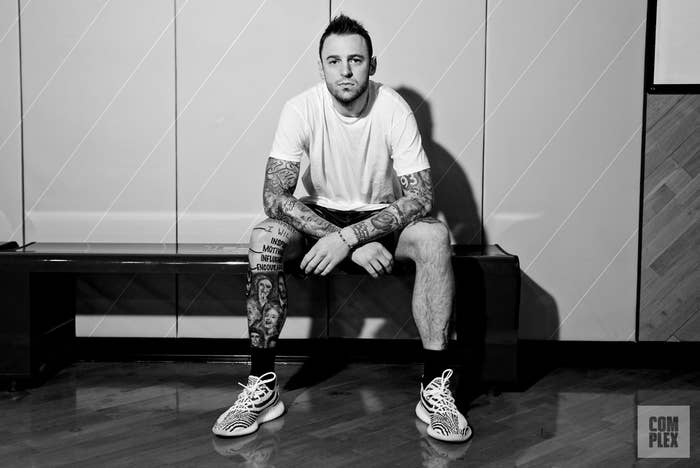 Chris Brickley isn't going to bullshit you. Ask him why guys like Carmelo Anthony, C.J. McCollum, and D'Angelo Russell use him as their trainer of choice and he'll tell you it's not about the drills.
"At the end of the day there's only so many you can do, right?" says the former Knicks assistant coach. "There's only a number of things these players are going to actually do. The only way a player's going to listen to you is trust. You need to figure out what motivates them."
Even if his name doesn't sound familiar, chances are you probably saw one of his videos. Because unless you went off the grid completely this past summer, the 31-year-old's Instagram videos of the NBA's elite playing pickup games in New York City went viral. Or maybe you saw the one he posted of Anthony getting after it on a late July night that basically kicked off the whole Hoodie Melo craze. But even if this serves as your introduction to the man NBA royalty works out with while they're in New York, know that Brickley's life hasn't been the same since the crazy summer when he was profiled by several outlets like The Undefeated, GQ, and Business Insider, morphing from self-starter to it NBA trainer.
"Toward the end of the summer I would have 20-25 NBA guys in a single night asking if they could work out or come to an open run," says Brickley. "I didn't expect it to get to the point it got to."
It got to the point during the first week of September—Fashion Week in New York—that Brickley gained 10,000 followers on his favorite social media channel as he broadcast those epic games featuring LeBron James, Kevin Durant, Melo, Russell Westbrook, Chris Paul, James Harden, and so many other notable NBA players. "You just never knew who was going to be in there," says Anthony.
The stars were all in town to enjoy city life a few weeks before training camps opened, but still needed to get time in the gym. Brickley was the guy they hit up to see if they could work out with him and get his blessing to run with the big dogs the next day. "He's the one guy that put them together," says Wolves forward Taj Gibson.
Things got so crazy, as word spread via social media, that Life Time Athletic, the facility on 42nd Street in Manhattan where Brickley holds many of his workouts, stopped providing tours. People tried to catch a glimpse of greatness by faking their interest in a membership. 
"There was one moment...that day James Harden, Russell Westbrook, Chris Paul, Melo, Kenneth Faried, Serge Ibaka…there was 20 NBA guys playing in the open run," says Brickley. "Then I remember we'd normally have 5-10 people and they'd come with the players to watch the run. Then the run started and I look into the bench on the side and there's hundreds of people, looking through the windows and trying to get in. I was like, this feels like Madison Square Garden and I'm in a little gym right now."
He captured video of it and later would edit and share it with the world. But it's still kind of nuts to count how many elite ballers came through that week, many of whom Brickley considers not only clients but friends. They all have his number, or it's been passed along from other players who vouch for him. Anyone can hit him up whenever they're in NYC to ball or get their conditioning in.
Precisely how Brickley became the go-to trainer for so many stars has its roots back in college. Ten years ago, he never imagined this would be his life. Brickley thought he'd follow in the footsteps of his college coach at Louisville, the disgraced Rick Pitino, and take over a high school team or a college program. The seed for training was planted right after graduation when J.R. Smith visited his brother Chris on campus. The younger Smith was one of Brickley's boys on the team and when J.R. was looking to get a workout while in town, Brickley confidently told J.R. he could train him.
"It was nerve wracking," says Brickley. "I acted like I had been doing this for a minute but he had no idea. If I had never had the pride to say, 'hey, I'll work you out,' I don't know if any of this would have happened."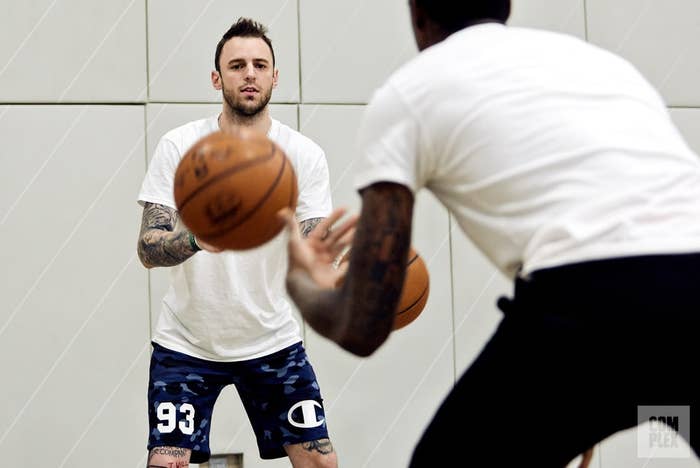 Brickley eventually worked his way from a graduate assistant's job at Ole Miss to become the youngest assistant coach in Division I at Farleigh Dickinson University in Jersey. Then he snagged an assistant coaching job with the Knicks. They kept seeing him around the practice facility working with the Smiths and hired him four years ago. During his time with the Knicks, Brickley became close with Anthony. The two bonded through the grind of NBA campaigns and offseason workouts. Despite the security of a contract, Brickley left the Knicks this past April. "Through that process I kind of fell in love with the player development thing," he says. He walked away from the Knicks with a ton of contacts and connects he accumulated over his years in the league. Most importantly, he had Anthony as his No. 1 client and the power of a Carmelo co-sign.
"For some reason, people look up to Melo and working with him has helped me along the way with building relationships," says Brickley.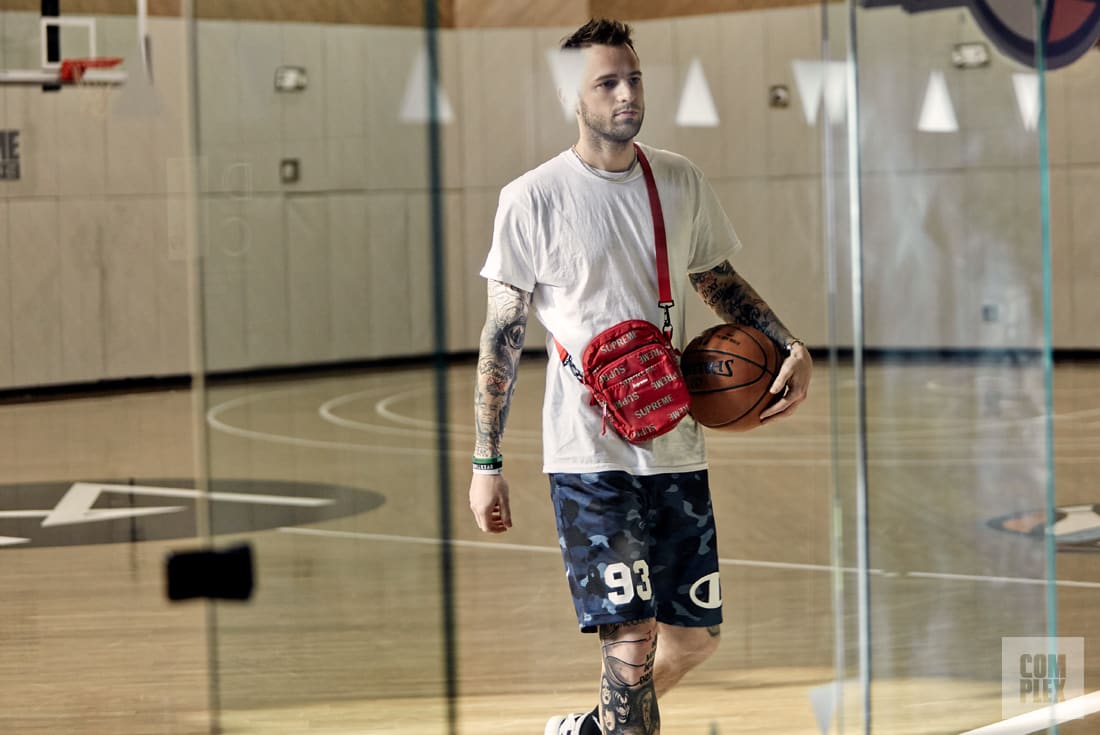 The reason his client list has ballooned to almost 40 deep—featuring the likes of Kevin Durant, Enes Kanter, Tim Hardaway Jr., and other bold-face names—is because he can relate to the players in ways other trainers can't, he says. Brickley's heavily tatted up—he sports two sleeves and has ink all over his legs. He's big into fashion and streetwear—he has his own clothing line, Color Blind. Every pair of kicks you wish you had he regularly rocks. He's got celebrity friends, like Chris Brown, and rolls in the same social circles as many players. Most importantly, he knows how to motivate the modern baller.
"He's young. He has a different perspective on the game for each individual player," says Anthony. "He's just somebody that I wanted to take under my wing; we sit down and talk and figure out our plan and now everybody has seen our plan and play out. We've been doing it for a long time."
No two clients train the same. Brickley likes to take a deep dive into a player's psyche other trainers might balk at. He needs to know answers to the most important questions like is a player in the league because of money or because he's trying to impress girls? Is he trying to score a huge contract or just make a team?
"Once you build that trust it's up to you to keep the trust and genuinely care about them and not about anything else," says Brickley. "And I really take pride in putting everything else in my life aside and being there for the players."
Being based in NYC, which isn't exactly a hotbed for NBA trainers, is a huge plus. Living in the same building as Life Time, with access to the Carmelo-designed gym, is big considering how hard court time is to come by in the city. But just because the offseason is over doesn't mean he's been taking it easy. That means watching film of his clients on a nightly basis. He'll take notes and text guys tips and suggestions of things to work on.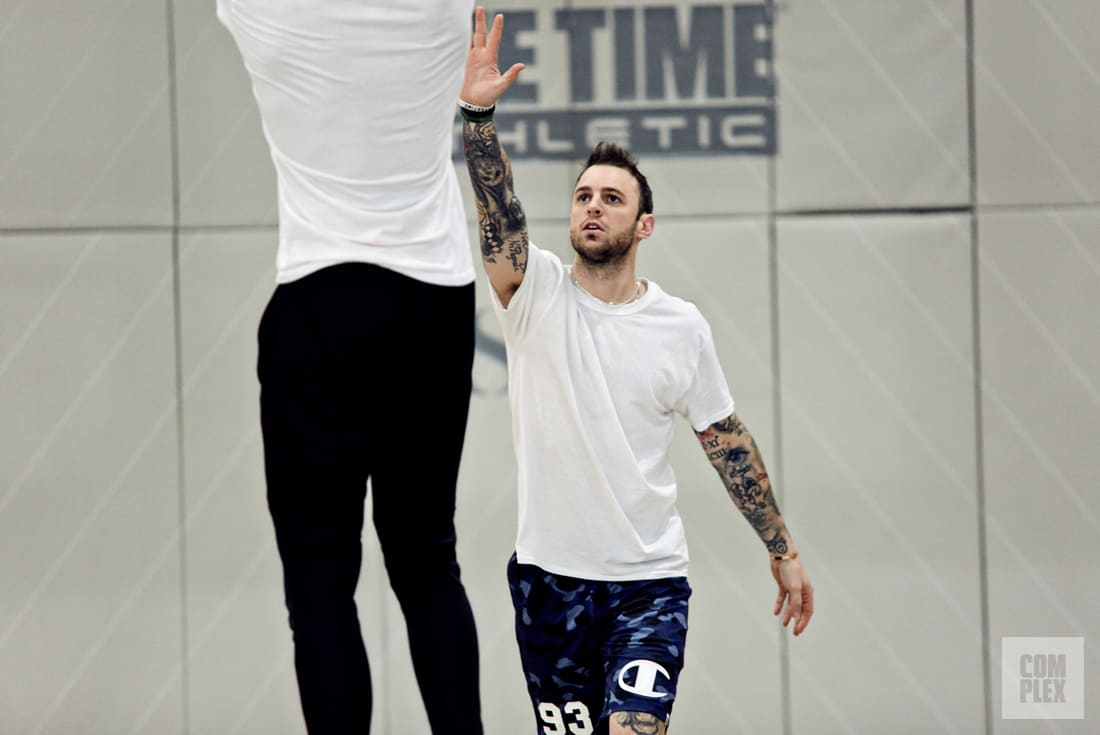 "I'll try and watch every clip of every player I work with and at night I'll text them after the game," says Brickley, "and just have a productive conversation with what they need to get better."
While he declines to say how much he charges clients, know he's not putting these guys through one- and two-hour workouts pro bono or offering up his in-season services for free. It's a business—his life—and he takes it seriously. The question is can he translate the summer's success—and the roughly 200,000 followers he gained on Instagram—into something lasting. Brickley's anxious for the offseason to arrive, but in the meantime he's going to start making the rounds of college campuses and NBA arenas, introducing himself to the right people who might not be familiar with him. The next move is to get a pre-draft camp set up under his Black Ops Basketball, LLC brand where he can work out as many lottery picks as possible next spring. The basketball junkie is living an even better dream than the one he imagined.
"At the end of the day, the goal is to help [players] and if they feel like they're being helped you hope they keep coming back," says Brickley.
And no matter what happens in 2018, he'll always have Melo.
"We'll make it next offseason," says the future Hall of Famer. "It's not something that's going to be a one-time thing."