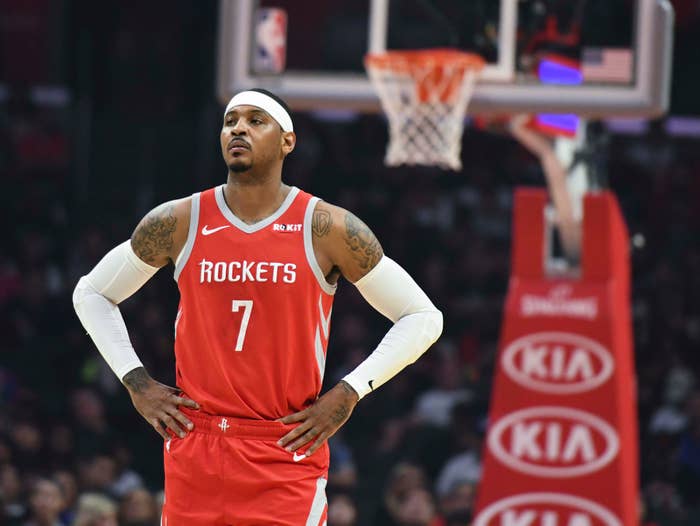 Call Carmelo Anthony washed all you want, but if you ask me, writing off the future Hall of Famer as done, finito, finished would be premature and probably idiotic.
We all know now that Anthony's time in Houston is on the verge of coming to an end. ESPN reported this past weekend that Melo had probably played his last game with James Harden, BFF Chris Paul, and the rest of the Rockets, because he just hasn't fit well with them as the No. 3 scoring option and, real talk, he just hasn't been good. Stephen A. Smith, in a hilarious clip, called him "bad" recently. And, honestly, Stephen A. is right.
We won't look at the traditional stats to paint the picture of what kind of player Anthony has become at age 34. The advanced metrics are the ones that tell a better story, and we'll start with his Value Over Replacement Player rating that currently sits at -.2. That means Melo isn't playing all that better than a freely available player any NBA team could plug into their roster. His PER sits at 11.5, significantly lower than the league average of 15, and his +/- is -10.9. Now, all that being said, it's way too early in the season to weigh these numbers heavily considering Klay Thompson also carries a -.2 VORP 13 games in, so take those with a grain of salt.  
But the eyes (usually) don't lie on the basketball court, and Melo hasn't been passing the eye test. For numerous reasons, it didn't work in Houston, mostly because there was a redundancy in Carmelo's skills with the Rockets and the deficiencies in his overall game. Still, not fitting in with Houston is definitely a gigantic red flag. It seemed, at least initially, like a great situation for Melo, even if he was teaming up with Mike D'Antoni, who he famously clashed with during their days in New York. All Melo had to do was score, not take too many long twos, grab a few rebounds, and the marriage in Houston would work. But 10 games into his tenure, it just hasn't. The Rockets (5-7, 12th in the West) are sputtering with expectations through the roof. Melo isn't the biggest reason for the record, but he doesn't look like he'll be part of the solution.
The case, however, for not giving up on Anthony still being an effective NBA player can be made. It starts by him willingly fitting in and morphing his game to become a respectable bench player/highly valued scoring option to close out games. Hell, there's a really high profile team that could totally use him down the stretch of games that has also gotten off to a rougher than expected start.
The Lakers are turning things around after a really shaky start, but if you've watched enough of their games you know they need more scoring from the perimeter and way more reliable options late in the game. Why can't Anthony be that guy?
As gifted of a scorer as we've seen in the NBA in a long time, let's not forget that Anthony is 19th all time on the NBA's scoring list. He can still stroke it (his eFG% this season is still in line with his career average) and can stretch defenses. We all know he's limited in a lot of areas of his game. Regardless, put him on a number of NBA squads and he'd be the No. 2 scoring option at best, and almost assuredly no worse than No. 3. You're telling me that some team, any team can't find a spot for him? If Vince Carter is still on a roster at 41 and contributing, why can't Anthony fit in somewhere?
Of course, Carter's situation and what he brings to the table for the Hawks is a much different story than Anthony's. Melo hasn't shown he's willing to just fit in. He wants to be needed. But he's also been blinded by shiny toys and seemingly pretty situations. One well-respected NBA observer I talked to about Anthony said, "He's going places that's looks like his style instead of a place that needs his skill set." And if Anthony is going to prioritize playing for a contender moving forward, that's going to narrow his choices. But, as mentioned above, there is one that could definitely use his skills down the stretch of games in a city that he's been known to call home during off-seasons. As a bonus, he'd get to team up with another one of this NBA BFFs.
Why couldn't Anthony and the Lakers work considering how LA could desperately use help scoring down the stretch and closing out games? The Lakers don't really have a closer—a traditional, rip your heart out, get-a-bucket-when-you-really-need-it closer. LeBron James isn't that guy. He'd rather distribute down the stretch. Yeah, he can hit a big shot, but he's not a closer in the Michael Jordan vein (we shouldn't still be debating this). Neither is Kyle Kuzma. Nor is Brandon Ingram. There's nobody on the roster with a closer's reputation like Anthony.
The well-respected NBA observer I talked to loves him in Los Angeles because the "Lakers need a fourth quarter player and someone to open up the outside," and he'd be their "No. 1 option the last four minutes." The Lakers are turning things around after a really shaky start, but if you've watched enough of their games you know they need more scoring from the perimeter and way more reliable options late in the game. Why can't Anthony be that guy?
We haven't seen definitive reports that the Lakers are interested in Melo once he gets released from Houston, but it's fun to fathom and speculate. Yes, Anthony's been bad in his 16th season in the league, but the skills of the 10-time All-Star are redeemable in the right situation and if he finds it, why can't he rewrite the narrative on the last few years of his storied career? I wouldn't give up on him. He's not completely washed. We know he ceased being a superstar about two years ago following his last season with the Knicks. Last year's run with the Thunder wasn't particularly pretty. His brief time with Houston will be forgettable. But Anthony's run as an effective NBA player shouldn't be over. The right time and right place is all he needs to give some squad big buckets. Still.