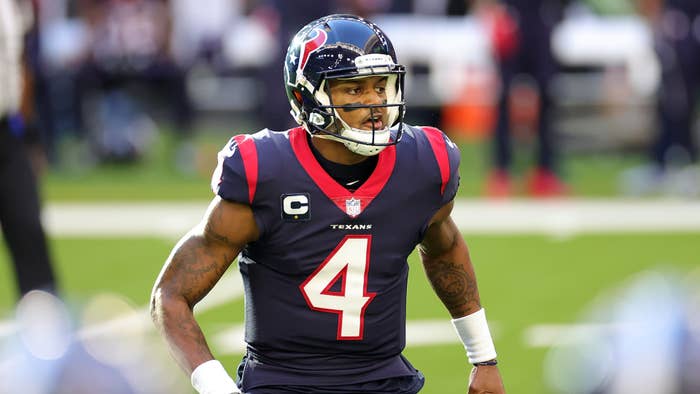 UPDATED 3/23, 9:45 a.m. ET: Attorney Tony Buzbee told Houston's FOX 26 that Deshaun Watson is facing a total of 14 assault lawsuits. The total number of claims has also increased to 24, which are all being examined by Buzbee's frm.
"Most of the cases allege the same, or similar, conduct," Buzbee said regarding the civil complaints that accuse the Houston Texans quarterback of multiple incidents of sexual misconduct.
UPDATED 3/19, 12:40 p.m. ET: Watson's rep David Mulugheta shared a message on Twitter Friday speaking generally about victims' stories and their veracity.
"Sexual assault is real. Victims should be heard, offenders prosecuted," he wrote on the first line. On a new line, he continued: "Individuals fabricate stories in pursuit of financial gain often. Their victims should be heard, and those offenders also prosecuted."
"I simply hope we keep this same energy with the truth," Mulugheta concluded.
Aaron Reiss of the Athletic tweeted Friday that Tony Buzbee will now provide legal representation for 12 women against Watson. "Beyond those 12, he said his firm has spoken to 10 additional women about Watson," Reiss wrote.
See original story below.
UPDATED 3/18, 10:45 a.m. ET: A female masseuse is the latest woman to file a lawsuit against Deshaun Watson, claiming that he forced her to perform oral sex on him in December of 2020.
As TMZ reports, the woman claims that Watson reached out to her on Instagram to set up an appointment. During the massage, he allegedly told her to massage his "inner thighs" and "inner glutes," before he got "more aggressive." She says she eventually blacked out from fear and defecated on herself.
The unnamed woman is suing for sexual assault, civil assault and intentional inflection of emotional distress.
Watson has yet to respond to this latest allegation.
See original story below. 
Deshaun Watson took to Twitter on Tuesday night to deny allegations that he sexually assaulted a female masseuse after Houston attorney Tony Buzbee said that he filed a lawsuit against the NFL star through his Buzbee Law Firm.
Speaking to Fox 26 Houston, Buzbee alleged that Watson "went too far" while getting a massage.
"As a result of a social media post by a publicity-seeking plaintiff's lawyer, I recently became aware of a lawsuit against me," Watson wrote in response. "I have not yet seen the complaint, but I know this: I have never treated any woman with anything other than the utmost respect."
Watson added that the attorney "made a baseless six-figure settlement demand," which the NFL quarterback said he rejected.
You can read Watson's full statement, in which he says he's looking forward to "clearing my name," below.
Earlier on Tuesday night, Buzbee announced that he filed the civil suit against Watson. Buzbee did not provide details of the allegation in his statement.
"This case we just filed against Watson isn't about money—it's about dignity and stopping behavior that should be stopped, NOW! Stay tuned for details," Buzbee wrote on Instagram. "LET ME SAY THIS. I'm a Marine. I'm not easily intimidated."
On Wednesday, Buzbee returned to IG to say that he plans to file three more lawsuits alleging assault against Watson. 
"My associate, Cornelia, and I will file the second of what is now four cases on behalf of women against Deshaun Watson today,"  Buzbee wrote. "The cases allege assault."
Watson, who's 25, has been in the news as of late over his request to be traded from the Houston Texans.