Alleged Screenshots Show Amar'e Stoudemire Trying to 'Meet' Knicks Fan Over Criticism
"Yo. Meet me in person. I want to chat with you," Stoudemire allegedly wrote.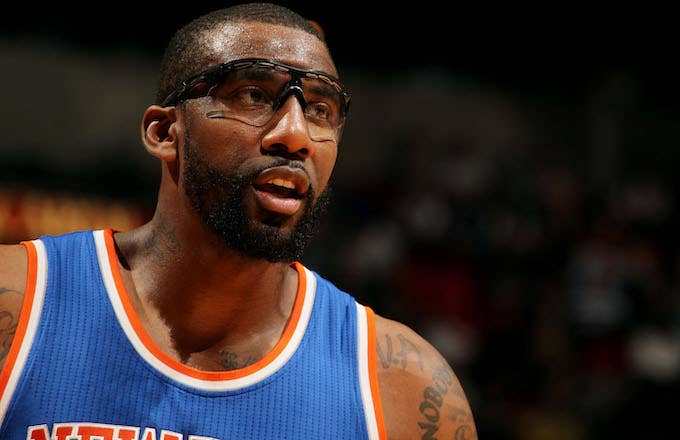 Getty
MIAMI, FL - FEBRUARY 9: Amar'e Stoudemire #1 of the New York Knicks stands on the court during a game against the Miami Heat on February 9, 2015 at American Airlines Arena in Miami, Florida. NOTE TO USER: User expressly acknowledges and agrees that, by downloading and or using this Photograph, user is consenting to the terms and conditions of the Getty Images License Agreement. Mandatory Copyright Notice: Copyright 2015 NBAE (Photo by Isaac Baldizon/NBAE via Getty Images)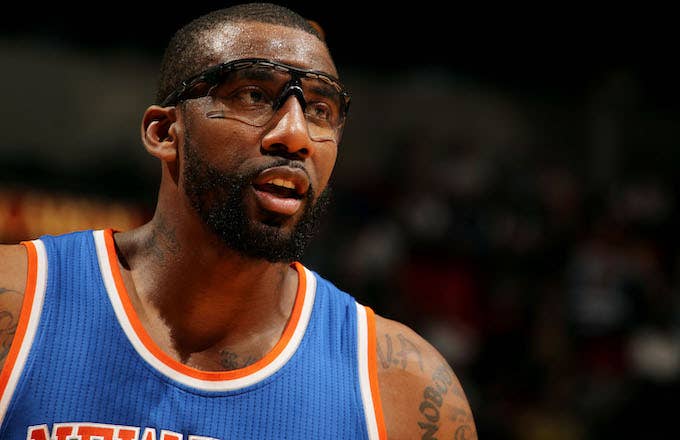 It looks like Amar'e Stoudemire hasn't learned his lesson when it comes to DM'ing people.
According to the folks over at LeKnicks Podcast, Stoudemire direct messaged them after catching wind of their criticism. They posted a photo of the former NBA star along with a quote in which he praised James Dolan. "For me, I signed with the Knicks because of James Dolan," the quote read. In the caption of the post, LeKnicks, who proceeded to tag Stoudemire, wrote: "Of course you did, he was the only one willing to shell out $100 mil on you and your weak ass knees. FOH with this brainwashed propaganda bullshit." 
Check out the post in question below. 
"Yo. Meet me in person. I want to chat with you," Stoudemire allegedly wrote in a private message to the account.
Check out screenshots of the alleged exchange, provided by @the_leknicks, below.
Some on social media thought Stoudemire was doing way too much.
Amar'e Stoudemire is retired and trying to fight people outside the NBAPA offices u hate to see it
Earlier this week, it was reported that multiple NBA teams attended a joint workout session featuring Monta Ellis and Stoudemire. 
There are approximately 12 teams attending this evening's workout in Las Vegas featuring Amar'e Stoudemire and Monta Ellis. Among those are LA Lakers, Golden State, NY Knicks, Oklahoma City, Milwaukee, Detroit and Washington.
Shortly after the session, Stoudemire said he has "a lot of game left."
"A lot of the teams have a lot of young players and a lot of players that can learn how to train, how to become professionals and how to become great basketball players. And leadership goes a long way with teams in order to get from a playoff team to a contending championship team," the 36-year-old told MSG Network. "From that standpoint, I have a lot to offer. And also as a basketball player, I still have a lot of game left. I can help a team in any way they need."
Back in 2012, Stoudemire was fined $50,000 by the NBA for using a homophobic slur over DM.