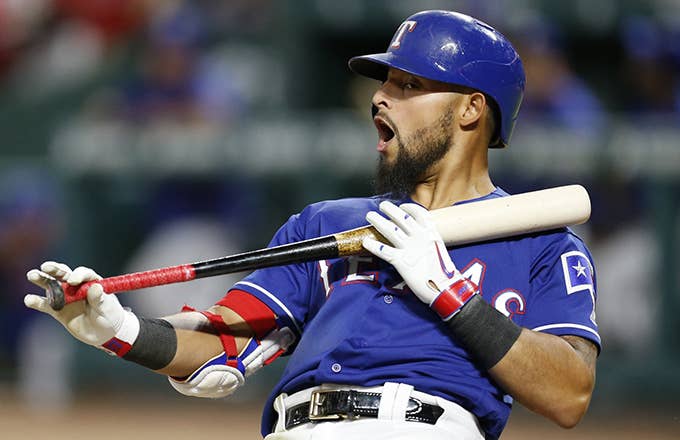 The Texas Rangers' Rougned Odor is suddenly a household name. Odor punched Toronto's Jose Bautista in the face Sunday, and it seems like most people (except, of course, Blue Jays fans and DeMarre Carroll) are happy about it. Even sports fans who hate baseball are interested in this story.
The latest example of Odor's punch-heard-around-the-world being celebrated: Heim Barbecue in Fort Worth, Texas, has offered him free food for life. Yes, this man will eat free brisket and ribs for the rest of his life because he landed one haymaker on Bautista for a hard slide into second.
Heim is capitalizing on the publicity of the moment. The restaurant is also selling, for $15, a T-shirt that reads "Rougned eats free." That's some intuitive marketing for a BBQ joint.
"He's an asshole, but he's our asshole," owner Travis Heim wrote on the T-shirt's sales page. "Celebrate one of the most gratifying punches we have all ever seen. Rougie went for the knockout on Joey Bats, and because of that, he never pays for a meal at Heim Barbecue!"
Odor, 22, was suspended eight games for his role in the fight. Worth it for the free BBQ, though?