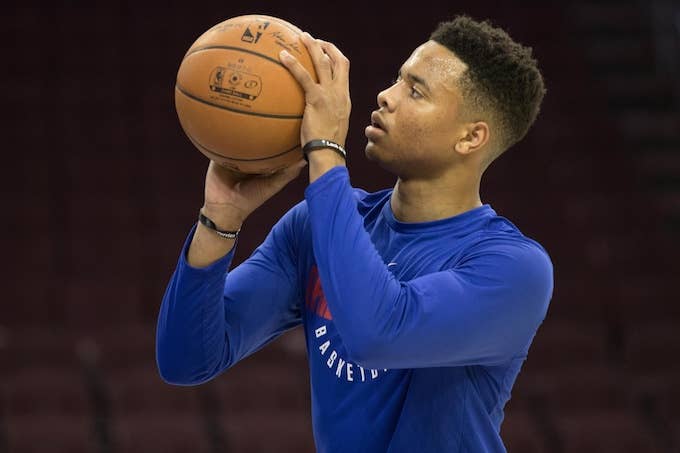 Markelle Fultz has had a tough rookie season with the Philadelphia 76ers. After being taken No. 1 in last June's draft, Fultz has had to watch from the sidelines with a right shoulder injury as a number of his rookie peers—like Utah's Donovan Mitchell (who went No. 13), Boston's Jayson Tatum (No. 3), and Chicago's Lauri Markkanen (No. 7)—have made a name for themselves around the league.
The reports that Fultz's jump shot is broken have almost certainly compounded his frustration throughout what's been a slow recovery. Some people are already calling Fultz a bust. That seems premature, but there's no denying his situation in Philly right now is messy, and it seems a big part of his struggles have been mental.
The franchise is experimenting with some interesting methods for curing Fultz's shooting predicament. According to Kyle Neubeck of PhillyVoice, Philadelphia has tried to get Fultz to check out virtual reality goggles that would help him visualize the mechanics he'll use in a game. It could be a creative solution to the problem.
"The Sixers, according to multiple sources, wanted him to be able to visualize the mechanics he'll use in a game, to remember how easy it once was for him to rise up with the ball and shoot from anywhere on the court, and to be able to do so without the glare of the cameras or other people around him," Neubeck writes. "With pressure coming down on him from all angles, turning part of a teenager's job into a video game is one way to relieve the stress of the situation."
Fultz has appeared in only four games this season and hasn't seen the court since late October.
It's an excellent feature on Fultz. Read the whole thing here.