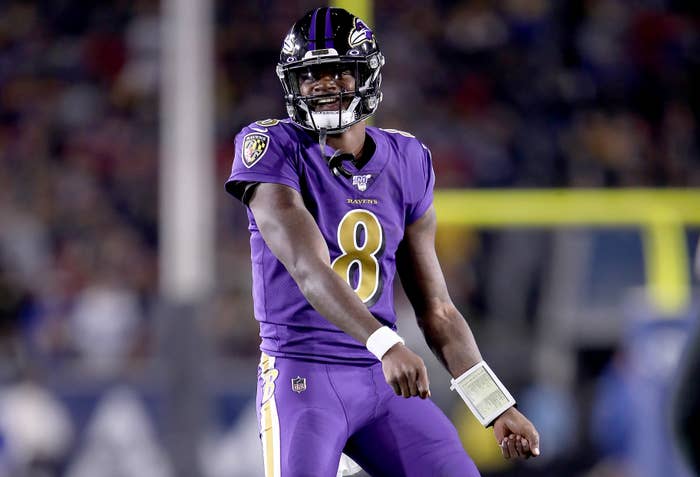 Accomplish great things, fail to get recognition -- this happens to many athletes. But accomplishing amazing things and not only failing to get recognition, but instead receiving disrespect? That only happens to a select few. Lamar Jackson has been dealing with it since before he was drafted, and it has somehow continued after he won a damn MVP award. 
In college, the Louisville star won the Heisman Trophy. In his first season in the NFL, he gave the Baltimore Ravens new life and led them to the playoffs. In his second, he led his squad to a 14-2 mark, best in the league, and won MVP...unanimously.
This guy is The Truth. Here at Complex, we've already declared him the future of the NFL. But no matter what he does, Jackson can't seem to win over some of his critics. 
What are we talking about? Here's a brief history of the negativity that's been thrown Jackson's way despite his insane success.
February 2018: Bill Polian Pipes Up
Longtime NFL executive Polian -- who worked with the Bills and Colts for most of his career and recently was involved in the Alliance of American Football -- has been noted as one of Jackson's biggest critics. This reputation was established in the lead-up to the 2018 draft, as Polian was outspoken in his belief that Jackson should switch to wide receiver. 
Polian implored Jackson to not "be like the kid from Ohio State [Terrelle Pryor] and be 29 when you make the change." He later added that Jackson is "short and a little bit slight, and clearly, clearly not the thrower that the other guys are."
Jackson, of course, did not listen to his doubters like Polian, and he has since proved he's even better than the other QBs in his class. He resolutely told ESPN at the time that "people look at my legs and they see I can make big plays, but they don't really see my arm, and I make big plays with arm."
Polian was far from the only critic to emerge during the draft process.
March 2018: Chargers Think He Should Move to WR
As the draft neared, there was noise that some teams, consistent with Polian's logic, wanted Jackson to work out as a receiver. The details were murky, but Lamar later cleared things up.
As it turned out, at that year's scouting combine, there was only one team that was evaluating him as a receiver: the Chargers.
"It was a Chargers scout, he was the one who told me about it," Jackson recalled. "Like, he was the first one to come to me about it, and I'm like, 'What?' He caught me off guard with it. I even made a face for him like, 'What?' I'm thinking he's trying to be funny, but he kept going with it, so it just became blown out of proportion.
"He was like, 'Oh, Lamar, you're going to go out for some wide receiver routes?' I'm like, 'Nah, quarterback only.' So that made me not run the 40 and participate in all that other stuff."
Lamar didn't just see his draft stock because of his skillset on the field.
April 2018: Criticism For Making His Mom His Agent
One of the reasons Lamar supposedly dropped in the draft was that he chose to employ his mom as his agent.
"I know coming in as a rookie, an agent doesn't really negotiate anything," Jackson explained. "You're going to get the salary you're going to get. I decided I don't need him. He's going to be taking a big cut out of my paycheck...and I feel I deserve it right now."
Apparently, some teams and critics didn't think that was wise. Nonetheless, Lamar garnered the respect of his future NFL peers. For example, Richard Sherman -- who represents himself -- applauded the young gunslinger.
"It's a great idea," Sherman said. "In terms of improving his draft stock or the amount of money he receives, there isn't much they can do. I'm sure he has mentors and [advisers] who can guide him." Lamar Jackson haters: many. Richard Sherman: not one of them.
September 2019: Lamar Responds Perfectly
In his first campaign as an NFL starter, Lamar led all QBs in rushing yards and injected new energy into the Ravens, taking them to the postseason. He became the youngest QB ever to start a playoff game, too, but the Chargers -- remember that team? -- ultimately shut him down.
That led to an offseason of people saying he can't win the big one and isn't a legitimate QB. It only took L-Jax one game, though, to shut them up. In the ensuing season opener against the Dolphins, he went 17-for-20 for 324 yards and five TDs in a 59-10 win. He had a perfect passer rating.
"Not bad for a running back," he quipped at the post-game presser. Not much else to say. 
December 2019: Gottlieb Would Take Sam Darnold?
Despite compiling a resume in 2019 that led to winning MVP by a unanimous vote, Jackson still had some detractors at the end of his masterful campaign. For example, FOX Sports' Doug Gottlieb said in December he'd choose the Jets' Sam Darnold over Jackson.
Consider their season stats at the time -- Darnold was 5-8 with 15 TDs and 11 INTs, while Jackson was 11-2 with 35 TDs and six INTs. Huh?
"I would still to this day take Sam Darnold over Lamar Jackson -- it's the long-term play," Gottlieb said. "If you want to tell me that Lamar Jackson is a good long-term play then you're going to tell me that Cam Newton was a good long-term play too…[Lamar] is Cam without the attitude and arrogance."
Gottlieb later added that he was merely evaluating Jackson on football credentials and refuted the notion that his perspective was racially motivated. 
December 2019: 49ers Broadcaster Makes Cringe-Worthy Comment
Speaking of things that seem pretty racist -- the 49ers suspended a broadcaster in December after he suggested Jackson plays with an advantage because he has "dark skin" that may blend in with the "dark football."
The broadcaster, Tim Ryan, later offered an apology and received backing from Niners players like Sherman and Dee Ford. Whatever the case, it was an extremely dumb comment and added to the unwaranted negative criticism around Jackson's MVP season. 
December 2019: Fan Shames His Generous Gift
On Christmas Eve, Jackson thanked his offensive linemen for the protection by giving them all Rolex watches. Even this seemingly selfless act came under fire. A very common occurrence in the NFL when a player has a good season. 
One fan wrote into the Baltimore Sun chastising Jackson for not giving the money to charity.
"So disappointing that in an age where professional athletes are making an insane amount of money he couldn't have donated to charities -- and done it in the name of his offensive line -- then treated his teammates to dinner," the fan, Karen Price, wrote. "It just flaunts the amount of money they make and don't know what to do with. Sorry, Lamar, I am not such a big fan now."
Other Ravens fans, however, had Jackson's back, blasting Price for her criticism.
January 2020: Bill Polian Leaves Lamar Off All-Pro Ballot
Jackson's stats this past season were absurd: 36 TDs, six picks and 3,127 passing yards to go along with 1,206 rushing yards and seven TDs. That's not to mention how he led the Ravens to the best season in the league.
However, despite his efforts, he was not named a unanimous All-Pro. He ended up three votes short of attaining a unanimous 50. Seriously, some people didn't pick this guy? The other three votes were dished out to Russell Wilson, who had a great campaign in his own right...but, come on. Oh, and by the way, one of the three voters who left Lamar off their list: Bill Polian. 
March 2020: A Poor Man's Taysom Hill?
And that all brings us to the most recent case of Jackson hate. Monday, former NFL outside linebacker Brady Poppinga described Jackson as a "poor man's Taysom Hill."
"Lamar Jackson is the poor man's Taysom Hill. It's not the other way around," Poppinga said. "That's what we have in Taysom. That's why the Saints aren't messing around. He eventually will be taken care of."
Again, no disrespect to the Saints backup QB, who has been a great weapon for Sean Payton, but...seriously? What is it going to take for people to acknowledge Lamar Jackson is one of the best players in the league?