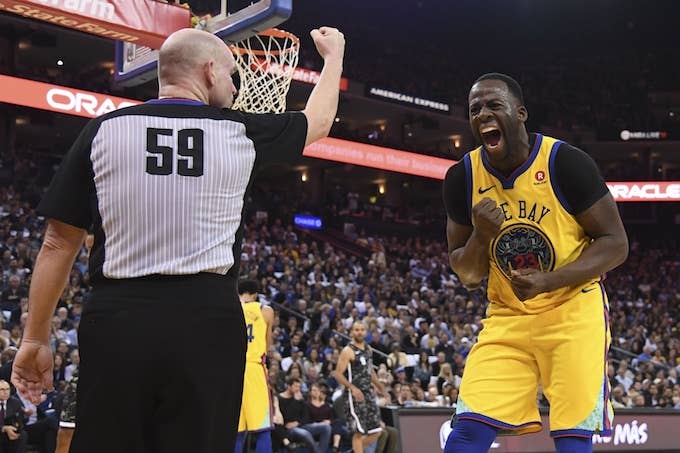 Draymond Green is one of the most emotional players in the NBA. As a result, Draymond has a tendency to rack up technical fouls.
The Warriors and Timberwolves squared off in an excellent Western Conference heavyweight showdown Sunday afternoon. Minnesota pulled out a 109-103 win. In that game, Draymond had 10 points, eight rebounds, seven assists, three steals, one block—and, most importantly, zero technicals.
See, if Draymond gets one more—which would be his 16th of the season—he will receive the league's default one-game suspension. Draymond is not allowing knowledge of that fact, however, to impact the way he plays. 
Anthony Slater, who covers the Warriors for The Athletic, asked Green whether it had changed his approach Sunday. Green didn't even let Slater finish the question.
"Nope," he quickly responded. "...did I look different?"
Slater stated Green separated Kevin Durant from the officials.
"I've been doing that for a while now," Draymond said.
Will Draymond Green operate differently now that he's on the fringe of a 16th T/suspension: "Nope. Did I like different?"

pic.twitter.com/awYhBQoGIy
It may not seem like a big deal for Draymond to get suspended—after all, the Warriors would probably love for all their stars to get some rest—but it could be. Golden State is now 1.5 games behind the Rockets. Though the third-seeded team, Portland, won't catch the Warriors, the matchups right now look far more advantageous for the 1 seed than the 2 seed. The 2 might end up playing San Antonio, Oklahoma City, or Minnesota—far from an easy first-round matchup.