If you didn't know, LeBron James has wide shoulders. He's used them to carry three teams to NBA titles and, maybe most importantly, used them Friday to start the healing process for a fan base, a city, and basketball community still reeling, wondering if things will ever feel the same.
For Kobe Bryant fans, for Lakers fans, for basketball fans, and the city of Los Angeles, things will assuredly never feel the same. When a god is suddenly and tragically taken from its worshippers the way Bryant was, how can they? But on a night when the Lakers played their first game following Bryant's tragic death, the franchise had the incredibly difficult task of properly memorializing its legend—along with Bryant's 13-year-old daughter, Gianna, and the seven other souls lost in Sunday's helicopter crash. And after the organization did such a phenomenal job paying proper respects via video and a performance of "Amazing Grace" from Usher, it was Kobe's heir apparent, LeBron James, who so eloquently eulogized the greatest Laker.
"What he said was just beautiful," Lakers coach Frank Vogel said. "It was strong. It represented who he is and really who we are as a team and as an organization."
"When I kind of looked at the note cards, some of it was what I wanted to talk about. But I just decided, for me personally, I wanted to let the words just flow right from the heart. Whatever comes out I wanted to be pure. It just happened spur of the moment." — LeBron James
After nearly 20 minutes of tributes, the Lakers turned to LeBron to say something on the most emotionally charged evening in Los Angeles sports history. He was supposed to follow a script addressing the sold-out Staples Center crowd and an audience of millions watching on TV. He was handed a sheet of paper. The Lakers preferred he didn't freelance so the tribute could stay its course and end in a timely manner since there was a game to play. Instead, James went rogue. He wouldn't stick to the script. "Laker Nation, you know I'd be selling ya'll short if I read off this shit so I'mma go straight from the heart," James started his speech, silhouetted on the same court Bryant dominated for 17 of his 20 years in Los Angeles. He spoke poignantly, he spoke with conviction—he almost lost it at one point—and 3:45 later James ended one of the greatest performances of his life perfectly.  
"In the words of Kobe Bryant, 'Mamba out,' But in the words of us, 'Not forgotten.' Live on, brother," said James.  
It was stunning. It was rousing. It was exactly what was needed. It's also what we've come to expect from LeBron, who knows how to handle every single situation with such class and dignity, always striking the right note. James didn't have to say a thing about Bryant, his friend with whom he had grown especially close recently. In the wake of such a devastating  loss, you could forgive him for not wanting to take the mike in that kind of setting. But he also knew the basketball world was waiting to hear from him—more than just an Instagram post. Six days after LA lost someone so many considered family despite never actually meeting, the organization needed LeBron's broad shoulders to carry the emotional load.
He delivered.
"I wanted to make sure I acknowledged all the lives lost," James said. "I didn't want to mess that up. I looked at all the names in the paper. When I kind of looked at the note cards, some of it was what I wanted to talk about. But I just decided, for me personally, I wanted to let the words just flow right from the heart. Whatever comes out I wanted to be pure. It just happened spur of the moment."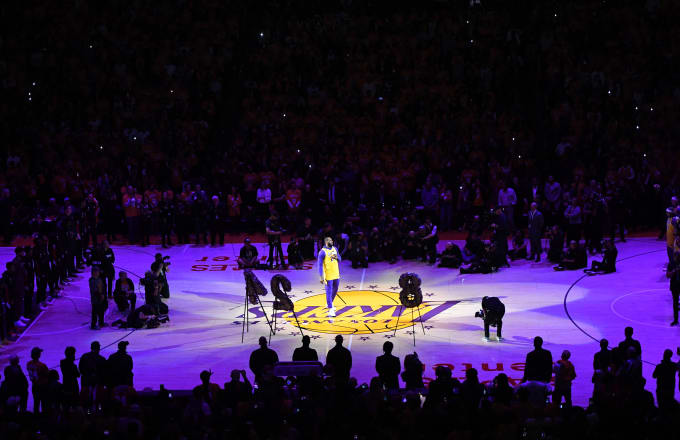 Us mere mortals could get 100 cracks at writing something as beautiful, as poetic, and as powerful as the speech James gave. It came just a few moments before he was visibly fighting back tears while Boyz II Men, appropriately from Bryant's hometown of Philadelphia, sang a somber rendition of the "Star-Spangled Banner." Staples wasn't so much buzzing as it was brimming with anxiety before the tribute began. Everyone couldn't wait to see what the Lakers had in store, but so many were unsure how they'd react, how'd they feel seeing all the images of Kobe and Gigi, cruelly gone way too early, in Kobe's building. LeBron had to lift Laker Nation up.
"I look at this as a celebration of 20 years of the blood, the sweat, the tears," James said during his speech. "The determination to be as great as he could be, tonight we celebrate the kid that came here at 18 years of age, retired at 38, and became probably the best dad we've seen over the past three years."
That's when LeBron almost lost it. As a #girldad, the loss of Gigi clearly hit him hard. With her Mamba Academy teammates sitting courtside, Gigi Bryant was appropriately memorialized alongside her father. The Lakers left the same seats dad and daughter sat in during their final visit to Staples open with roses and their jerseys—one a Lakers, one a Mamba—draped over them. Every other seat in the arena had a No. 8 or No. 24 t-shirt draped over it so whoever didn't show up rocking a Kobe jersey had no excuse once the game started.
In the hours leading up to tip, downtown LA was flooded with Kobe jerseys. Every block it seemed like someone was rocking one. If not a jersey, it was something Bryant-related like a bootleg t-shirt memorializing the 18-time All-Star and five-time NBA champion. They were being hawked by sellers on the other side of LA Live and many fans couldn't resist spending $10 or $20 on something with Kobe's name or face printed on it. 
LA Live's pedestrian plaza was a scene unlike any other. Three and half hours before tip, hundreds of fans mingled, prayed, grieved, and soaked up the gravity of Bryant's absence. If it hadn't hit you that Kobe was really gone, all it took was a quick walk around.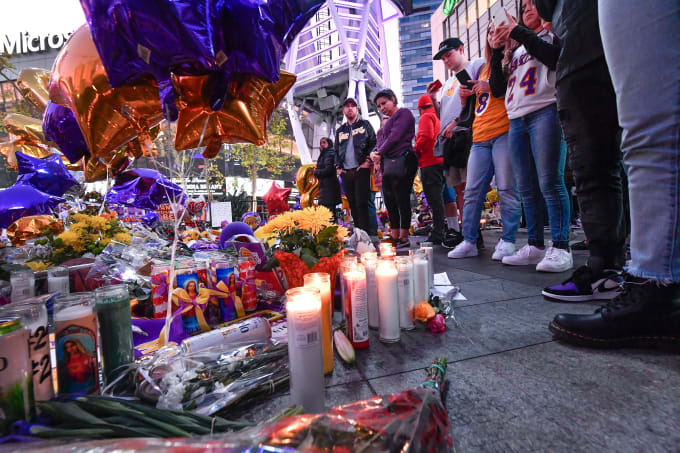 There were countless remembrances, flowers, candles, basketballs, posters, pictures, hats, sneakers, hoops, stuffed animals, and other mementos honoring Bryant and his daughter. Fans, families, and curious passers-by solemnly read notes, reflected on Kobe's impact, or left something to honor their favorite player. On the plaza's stones, the ones that weren't covered with flowers, posters, and other remembrances, there were hand written notes in marker. Everyone had their phone out taking pics, videos, or FaceTiming friends and family that they just had to share the scene with. At one point the crowd parted for the world-famous Laker Girls who made a group pilgrimage to the plaza. All carried a flower except for one of the dancers. She brought a bouquet. Their offerings represented fresh reinforcements for a memorial that sprang up almost immediately following Kobe's death and will continue to live for the foreseeable future.
Chick Hearn Way, the street separating LA Live from Staples Center, was closed off to traffic and featured numerous blank billboards for fans to write personal messages to Kobe, Gianna, and the seven other victims—John Altobelli, Alyssa Altobelli, Keri Altobelli, Sarah Chester, Payton Chester, Christina Mauser, and Ara Zobayan. Many thanked Kobe for inspiring them to play basketball, pushing them to be their best thanks to his Mamba Mentality, and for the joy he brought LA fans for 20 years. A Kobe hater even showed him love, writing that even though he rooted against Bryant, there was eternal respect since the Black Mamba "proved me wrong 9 times out of 10." Everything left will be inventoried at the request of the Bryant family for their collection. The flowers and all perishables will be ground into mulch and spread around Staples Center and LA Live to help life thrive around the arena.
The Lakers, of course, wanted to win this one for Kobe. But nobody will remember that the Blazers beat Los Angeles 127-119. Damien Lillard went bombs away, scoring 48 points, grabbing 9 boards, and adding 10 assists while Hassan Whiteside had 30 points, 12 rebounds, and 5 blocks. Anthony Davis led the way for the Lakers with 37 while LeBron had 22, 8, and 10.
"Nobody is going to win tonight," Lillard told ESPN before the game. "Kobe is gone, his family isn't going to get him back...this is just basketball."
James echoed the same sentiments after the game. Wearing sunglasses to shield his eyes, James fielded a handful of questions about the most emotionally taxing week of his career. He looked and sounded exhausted. But before he ended the session, he offered up one more tribute to Kobe, who he so greatly admired for being a devoted father to Gigi in her pursuit of future basketball stardom.
"At the end of the day, when we punch our clocks and we're done for the day or you're done for the day, done doing what you're doing, just make sure you hug the shit out of your family," James said. "Don't feel bad if you happen to go to one of your loved ones events [and] sacrifice your job."
James, we all know, practices what he preaches. He also knows just the right thing to say when it's desperately needed.