When he suffered the biggest upset boxing had seen in almost 30 years this past June, Anthony Joshua looked nothing like the unified heavyweight champion of the world. He was supposed to be the big dog of the division and pummel the lightly regarded Andy Ruiz Jr., a late replacement over his original challenger and a massive underdog. 
Instead, we all know the pudgy and punchy Ruiz shocked the world by bullying and blasting Joshua with shots that left the British boxer kneeling on the canvas, stunned, and, shortly thereafter, titleless. On Saturday night here in Diriyah, Saudi Arabia, in the highly anticipated rematch between the two heavyweights, Joshua looked nothing like the boxer we saw seven months ago. Over 12 rounds, AJ was methodical. He was dominant. He put on a clinic, out-boxing the first heavyweight champion of Mexican heritage to win back his belts in an incredibly disciplined fashion.
Joshua earned a unanimous decision to avenge his first professional loss. Two judges ringside scored the fight 118-110 for Joshua while a third scored it 119-110 in his favor. Complex Sports scored it 118-110 for Joshua. AJ changed up his angles against the shorter, stouter fighter, darted around the ring, and never allowed Ruiz to throw his hands like the first time around. But really it was Joshua's jab that dictated the fight and did plenty of the damage, including bloodying Ruiz in the first round.
"I took my L and bounced back," a jubilant Joshua said in the ring after he regained the WBO, WBA, IBO, and IBF heavyweight belts.  
After tipping the scales at 283 pounds at Friday's weigh-in, Ruiz (33-2, 22 KOs) raised eyebrows by coming in much heftier than the first fight (268) and he said that the extra weight held him back. It was obvious to everyone watching the fight that it did. Ruiz lacked the pep or the willpower, it seemed, to put together combinations or keep the pressure on Joshua (22-1, 21 KOs) like he did in their first fight. Joshua, meanwhile, jabbed the hell out of Ruiz, keeping him at a distance so he struggled to land big shots. 
"I don't think I prepared as good as I should have," Ruiz said. "I gained too much weight, but I don't want to give no excuses. He won, he boxed me around but if we do the third, best believe I will come in the best shape of my life."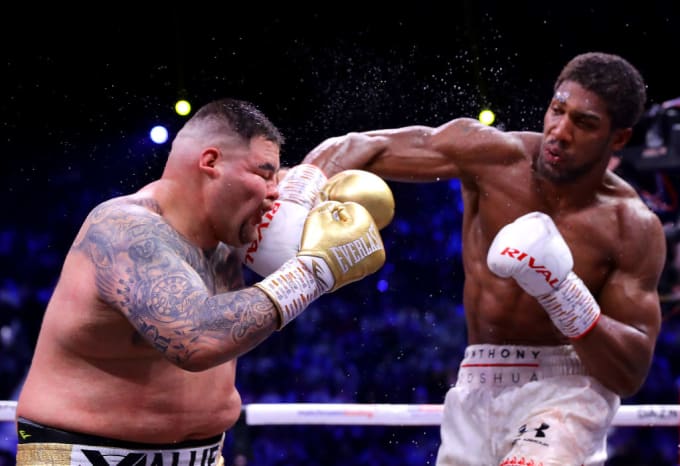 After the final bell, Ruiz politicked for a third fight and Joshua said he wouldn't have a problem throwing down one more time. We'll see if it gets made since you never know in boxing, but as long as Ruiz guarantees to show up in better shape, which he vowed he would if given another chance, few fans would be against a trilogy if it comes closer to what we saw from both guys in the first fight.  

"Last time, I hurt the man and I got caught coming in," Joshua said. "I gave that man his credit. There was no excuses. I respect Andy and his family and his trainers so much. I just wanted to put on a great boxing master class and also show the sweet science of this lovely sport. It's about hitting and not getting hit."
Arguably the biggest fight of 2019, the rematch from June's incredibly dramatic showdown didn't live up the hype and was held in an exotic location—Diriyah, Saudi Arabia—and billed as the Clash on the Dunes. If you haven't been paying attention and are wondering why such a massive heavyweight clash was held in the Middle East, you're probably not alone. The Saudi government is making a concerted effort to attract more high-profile events now that the country has opened its doors to tourists like never before. They handed over a reported $40 million payment that obviously incentivized the fight's promoters to hold it in the Middle East instead of boxing hotbeds in the United States or the United Kingdom.
"We were very close to going to Cardiff [England], and very close to taking this rematch back to Madison Square Garden in New York. We even looked at Mexico," Matchroom Boxing managing director Eddie Hearn, the fight's promoter, said. "I had finally made the decision to keep the fight in the UK but then I got the call from Saudi. I think I was quite rude at first actually, I told them not to waste their time because we were taking the fight to Cardiff. But the passion they had to bring this fight to Saudi Arabia was unmatched and within four or five days, we have an agreement to stage this fight here.
Heavyweight championship fights have been held in exotic locales for ages so it's not like they reinvented the wheel here with Clash in the Dunes. Some of the most historic and revered fights ever, like 1974s Rumble in the Jungle between Muhammad Ali and George Foreman, as well as 1975's Thrilla in Manilla between Ali and Joe Frazier, took place in spots plenty of people had to search for on map a 21 years before Google was conceived.
But it's notable and unique that Saudi Arabia is serving as the backdrop for such a massive fight since the country has never been associated with such a massive sports event before. Sitting on land recognized as the birthplace of the first kings of Saudi Arabia, Diryiah Arena was constructed in just two months in order to host 15,000 fans from over 65 countries. According to organizers, over 300 members of the media were expected to be on hand, many from Joshua's native UK. Very few American outlets bothered to show, like ESPN and the Los Angeles Times.
They didn't miss much since the only real fireworks we saw came after the final bell in celebration of Joshua's win. But AJ didn't need to knockout Ruiz to win back his belts. All he had to was out-box the guy who out-boxed him the first time around.