Dwyane Wade Talks Jimmy Butler's Miami Heat and LeBron James as the #WashedKing
We recently sat down with NBA legend Dwyane Wade to talk about his new PKWY sock collection, Jimmy Butler's Miami Heat, LeBron, and more.
Alex Wong is a freelance writer currently based in Toronto. He has written for The New Yorker, GQ, SLAM Magazine, VICE Sports and other places.
Nov 12, 2019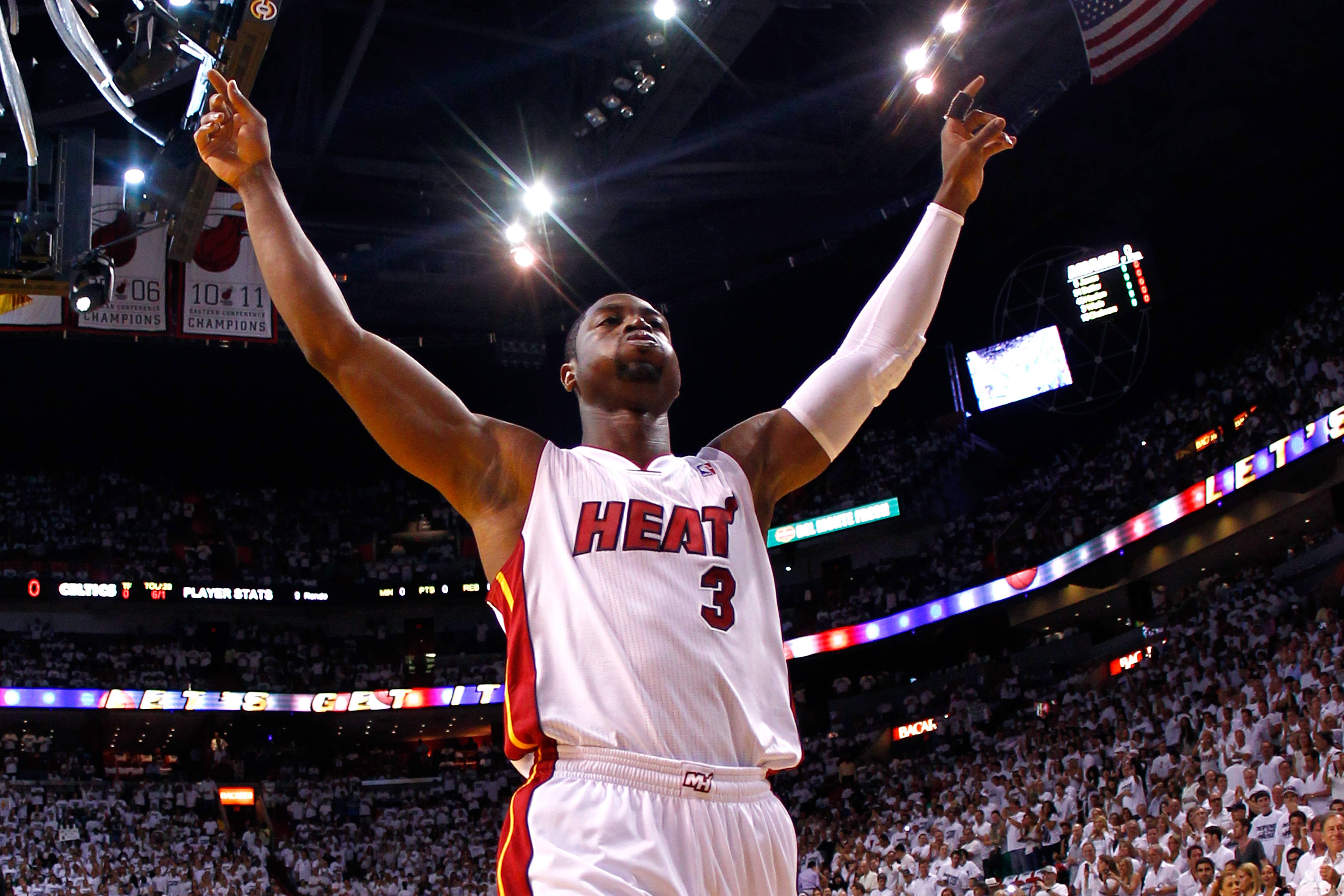 Getty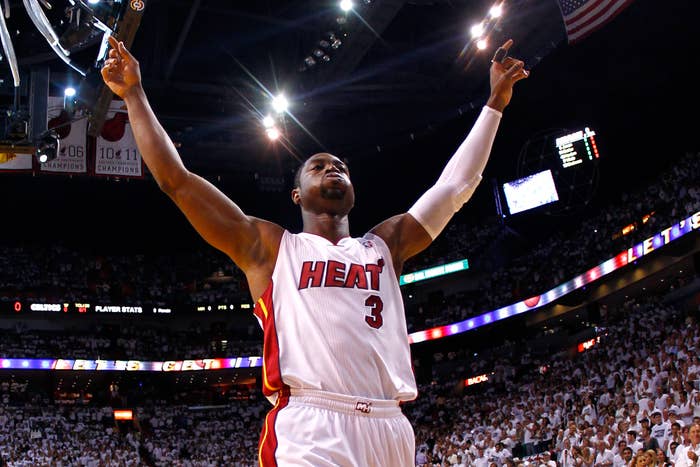 It's Friday afternoon in Los Angeles and Dwyane Wade is on his way to meet the Miami Heat at their team hotel before heading off to Staples Center to watch his former team play against the Los Angeles Lakers. 
Wade announced his retirement at the start of last season and played his final game in April, recording a triple-double against Brooklyn as his Banana Boat mates LeBron James, Carmelo Anthony and Chris Paul watched courtside. With the new NBA season underway, you would expect Wade to be feeling a little strange considering he's spent most of his life playing basketball. Not true, according to him. 
"I really haven't had the time to miss the game to that capacity yet," Wade tells Complex Sports. "It's been busy because I've been focused on everything else I'm doing." 
Wade has a variety of off-the-court interests, including his Way of Wade sneaker line and his own wine label Wade Cellars. But his number one passion might be socks. 
In 2013, Wade signed a partnership deal with Stance and has since worked with the brand to create his own sock brand, PKWY (Parkway) by Dwyane Wade. Today, PKWY announced its first season lifestyle collection, which will be available in the men's department of Target, online at pkwy.com and available at multiple specialty retailers. 
As someone who is into fashion, Wade has always been a fan of telling stories through his socks. 
"What I always wanted to do was take away the typical person saying 'I'm going to wear black socks or brown socks when I dress,'" Wade says. "We want to create these cool stories with our socks. Parkway is an intersection between art, fashion, music and sports and we want to figure out how we can put all of that into a sock."
We were able to speak with Dwyane Wade about the origin story behind his love of socks, watching the NBA now that he's done playing, why Jimmy Butler's public perception doesn't matter, his all-time starting five of teammates, and if he would say yes if LeBron James asked him to come out of retirement. 
(This interview has been edited and condensed for clarity.)
It's been several months now since you retired. The new NBA season has started. Aside from keeping busy with your business ventures, what's retirement been like so far?
When I walked away from the game of basketball, I walked away knowing I did everything that I could to be successful. I was okay with walking away. So it's fine for me. I've been able to spend a lot of great time with my family and I've been able to be a fan of the game, as opposed to when I was playing. I would be preparing all the time to play our next opponent. That consumed my life. Having an opportunity to still be connected to the game of basketball and be able to focus on my passions, I really have no complaints, man. 
Are you still keeping in pretty good shape?
I'm in shape for the shape I'm in [laughs]. I'm definitely not in NBA shape. I'm trying to stay fit. I have a family name to upload, you know. My wife wants to make sure I stay looking a certain way so I gotta make sure I stay looking a certain way. My older son, Zaire, is 17. He's a pretty good basketball player and thinks he can beat me. So I have to make sure I stay fit enough for when that challenge comes. 
So Zaire hasn't beat you one-on-one yet?
Nah. He don't really want that smoke. 
I'm asking about what kind of shape you're in, because I'm just saying, you would look pretty good on the Heat next to Jimmy Butler… 
[Laughs] Listen, they're playing awesome. I'm about to catch the game at Staples Center. It's going to be my first live NBA game since retirement. I'm really looking forward to just enjoying the game as a fan. 
Jimmy does seem like the perfect guy to usher in this next era of basketball in Miami. 
I love it. I felt like he was a Miami guy and I made sure he knew that. He fits right into the culture and that's what it's all about, that's what Jimmy Butler is about. I'm happy for his success so far. I love seeing him in that Heat jersey. I know that's the one thing he thought he would never do, is wear a Miami Heat jersey, but you never say never in this world. I'm really excited about this season for our guys. 
Do you think he gets an unfair perception of being a difficult teammate because he demands so much from everyone around him?
I don't think Jimmy really cares about the perception that's put out there. Jimmy knows who he is. He's okay with that. He's a guy who wants to win. He would do whatever it takes to do that. When you go from being unheard of, to being an All-Star, to being one of the best players in the game, you understand how much work you put in to do that. You want to bring others along as well with those work habits. Give me a Jimmy Butler on any team in my life and I know I'll be successful. 
I saw you tweeted about LeBron earlier this week, getting at how everyone was calling him washed last season even when he averaged 27/8/8. What's it been like watching him so far this season?
I think he's proven in year 17 that he's still one of the best basketball players on this planet. There's a lot of storylines out there about that guy and he's bought into it. He hashtags #WashedKing. He plays into it [laughs]. But, man, we all know how great he is. I'm happy for him, man. He's keeping the legacy of the 2003 Draft going. 
He's probably the best player you've ever played with. Who would be your all-time starting five of guys you played with in your career?
It's gotta be the guys I won championships with. I would be myself at the point, Ray Allen at the two, LeBron at the three, Bosh at the four and Shaq at center. And we'd have Udonis Haslem as the sixth man. 
I don't want to get you in trouble with your family, but what if LeBron comes to you at the trade deadline and says, listen, Dwyane, we need one more scoring option off the bench for this stretch run here? 
Nah, nah, nah [laughs]. No way. 
About the new collection, when did you first get into designing socks?
I think as I got into fashion, I started to understand the importance of every single thing you wear on your body. When someone sits down and their pants or sweatpants rises up, there's a story that can be told through your socks. Sometimes when you look at someone but don't get the opportunity to speak to them, you come up with these ideas of who you think that person is. I just thought: how cool would it be to be able to tell a story about someone just by their socks. That's why we created our brand. We're trying to tell stories from the bottom up. 
What's the creative process behind PKWY and where do you draw your design inspirations from? 
With everything for me, it's about sitting down with my creative team and talking about the places I've traveled to in the world and the people I've met along the way. I get inspired by different things. PKWY for me as an intersection of art, fashion, music and sports. That's how we're trying to create our products. 
Aside from this first seasonal collection, you're also going to have limited releases and collaborations releasing each month.  What can you tell us about what some of the potential stories you'll be telling with those collabs. 
One of my favorite stories that we're doing is a limited collection of SLAM Magazine cover socks. It's a collection that will be released next month. It's so cool to me. One, it keeps me young, cool and hip to the new generation. It keeps me connected to them, but it also tells a story. SLAM has done such an amazing job of telling the stories of not just my career, but the careers of many others. I'm really excited to put cool images of their covers on our socks. 
It sounds like you'll be exploring a lot of potential collaborations. 
One hundred percent. What I've learned through my time is fashion is that collaborations are some of the coolest, dopest, and fun things to do. For me, it's not just about Dwyane Wade only. It's about other people and their brands and being able to reach out and touch other audiences, and collaborations allow you to do that. 
Putting you on the spot. If you could pick three people in the art, music and fashion industry to collaborate with on a pair of socks, who would you pick?
In the art world I would go with Mr. Brainwash. I really enjoy his work. The music one is tough. I'm going to go with my friend Teyana Taylor. I would love to create something with Teyana. In the fashion space, I would say just someone who is young, hip and cool and doing cool things, like a Virgil Abloh. There's a whole new generation of people who are doing cool things. I would love to sit down and create something with an individual like that.