Doc Rivers cautioned before Tuesday's season opener not to jump to conclusions. Because no matter what happened, no matter the outcome, it wouldn't be a big deal.
"How many times have you heard 1-of-82?" the Clippers coach asked rhetorically. "The winner really means nothing, the loser really means nothing. But I really want to win."
On the first night of the 2019-20 NBA season and in the first battle between LA's two teams who just happen to have the shortest odds to win it all, it was Rivers's squad that asserted its will and looked like it has all the makings of being the dominant team in Los Angeles as it dispatched the Lakers 112-102.  
In front of a sold-out crowd of 19,068 at Staples Center that was a home game for the Clippers—but featured plenty of Lakers fans in attendance—LA's less supported and certainly much less glamorous franchise stamped its status as a team completely worthy of all the preseason hype lavished upon it with an impressive display of defense, grittiness, superior bench play, and, oh yeah, the brilliance of Kawhi Leonard.
And Clippers looked that good, of course, without the services of Paul George, who was just a spectator for the opener as he rehabs from multiple shoulder surgeries this past off-season.
So while we know we should follow Rivers's advice and not foolhardily make proclamations after just one game, it was hard not to think this is just the beginning of something special for the Clippers considering who they beat and how they beat 'em. Because as far as first impressions go, the new-look Clippers were locked and loaded in the season's first game as they out-scored the Lakers bench by 41 points, out-rebounded the bigger Lakers, and held their rivals to just 43.5 percent shooting. After a shaky start, the Clippers turned a significant first quarter deficit into a lead at halftime. And in the fourth quarter, a Clippers roster that can easily go nine deep lapped the Lakers' inferior second unit in an episode that's bound to be repeated over and over this season.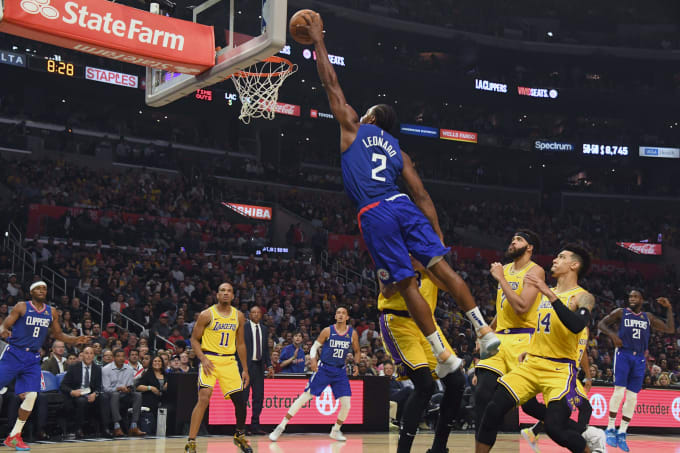 Leonard, it needs to be noted, was great in his Clippers debut. He hit crazy shots on his way to 30 points in 32 minutes, including a stretch where he nailed seven in a row. Williams had 21 points and 7 assists while Harrell contributed 17 points, reminding everyone how their pick-and-roll tandem is still the league's most potent. Newcomer Moe Harkless, a hybrid forward who was an under-the-radar acquisition, hit a couple of shots from deep. Patrick Beverley was the expert instigator and emotional sparkplug we all expected—and actually was the Clippers' leading rebounder (10). And let's not forget JaMychal Green, another unsung backup every NBA general manager would love to have on his roster, scored 12 and grabbed 6 boards in 19 minutes. The Clippers played awesome team defense and, other than one brief stretch, made life miserable for the Lakers in the second half. Crazily in the eyes of Rivers, the Clippers could've been so much better in their debut. 
"I was frustrated offensively," Rivers said. "You saw so many things with Lou and Kawhi and then Trez that we just didn't see yet. So it'll be great to grow together as a group. We shot 52 percent and I thought we could've been so much more efficient. I know that's asking a lot. And we don't have Paul yet, either. So we have a long way to go."
So just imagine what you saw out of the Clippers Tuesday taken up a few notches when George is cleared to play, most likely in mid-November. The NBA's most dynamic team adds arguably the second best two-way player in the game. It adds another superstar and becomes 10 deep—a matchup nightmare for the 29 other teams in the league. No other squad in the NBA can compete with the Clippers depth. No other team has the amount interchangeable parts that can contribute on both ends like the Clippers do. And it's all under the guidance of one of the most respected coaches in the league who said after the game that Williams and Leonard have only figured out roughly 10 percent of how good they can be offensively on the floor together. Good luck to the rest of the league when they really figure each other out.  
I say all the above to now say that I'm not ready to crown the Clippers champions just yet. I'm not saying go throw your rent money on them to raise the Larry O'Brien Trophy come June. I'm not going to make a fool of myself and ignore the sage advice of a man who has forgotten more basketball than I'll ever know—that I shouldn't jump to conclusions after just 48 minutes because we know anything can happen and it's a long season.
The Clippers could improperly load manage Kawhi. George could break down. Some other nonsensical act of God could happen that prevents the Clippers from reaching their full (and scary) potential. But ignoring all the negative hypotheticals that are out there, if after what we saw Tuesday doesn't make you think the Clippers are the team to beat this season—after they took it to the team a lot of people think is the team to beat—then I don't know what game you were watching.