Nobody Should Ever Question Kevin Durant's Heart
Kevin Durant put everything on the line in game 5 despite some questioning his toughness.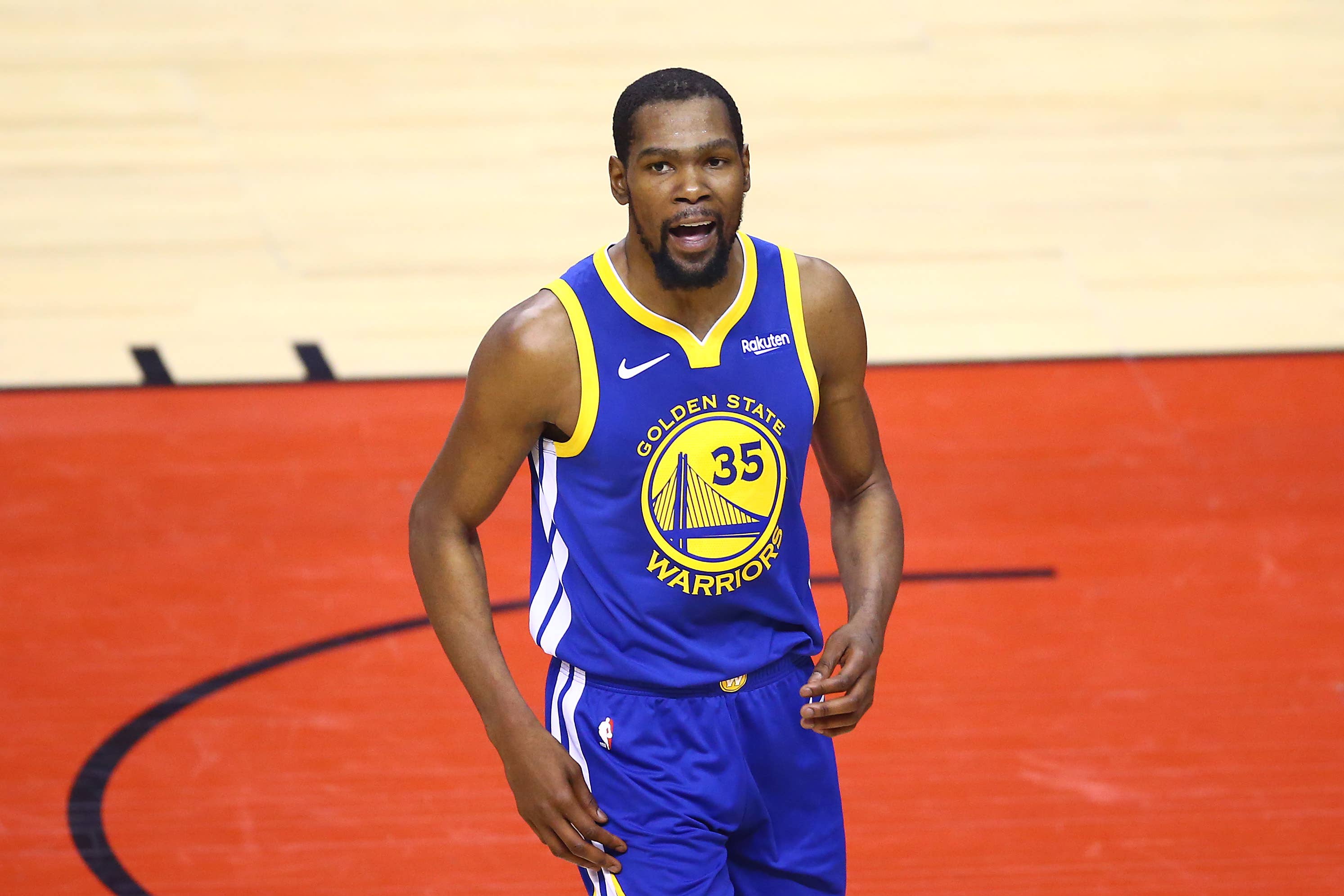 Getty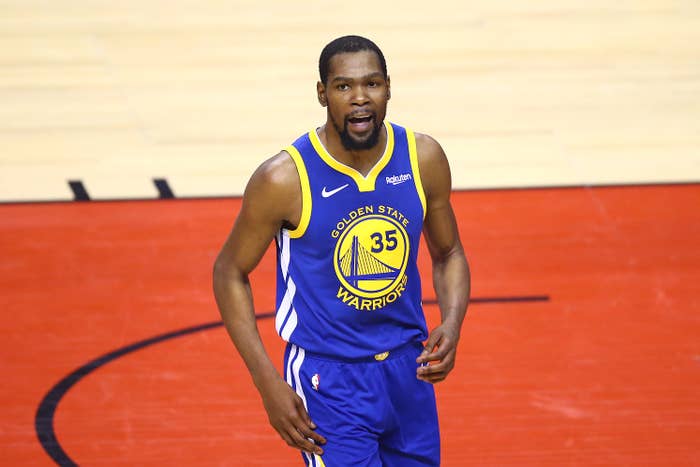 Last night doesn't even feel real. Kevin Durant not only returned to action in the NBA Finals, but he came back and was dominating the game like he hadn't missed a beat. The series we all had hoped for had arrived and, at least for a few moments, it appeared that a classic was upon us. Then, midway through the second quarter, KD planted on his right foot—the same leg that had kept him out of action since the second round—and immediately fell to the ground. It was over. Just like that. The injury was a true gut punch to basketball fans everywhere. 
The worst fears of every NBA fan had become a reality. As quickly as KD came back, he was gone. We're not privy to the process in which Durant returned from the injury, but it's hard not to think this wasn't handled right. Leading up to the return, two reports were published in The Athletic that featured anonymous reporting questioning if Durant had fought hard enough to come back from his calf injury. From Tim Kawakami last week: 
But there are signals. There are hints that something changed somewhere in the last few days, maybe involving the recovery or the doctors or Durant's decision-making process. And it's hard to get a real read from Durant because he's dropped back mostly out of sight the last few days and he doesn't sit on the bench during games the way Thompson and Looney did when they missed Game 3.
Was this the organization's way of pressuring him to come back? Why even question his recovery? Nobody knows what exactly happened, but KD returned and now he could miss the entire 2019-20 season if an MRI confirms the early fears that he ruptured his Achilles. There's no point in throwing blame in any one direction, but it truly sucks that this situation resulted one of the greatest players we've ever seen in the NBA potentially suffering a devastating injury. 
Warriors GM Bob Meyers announced KD's injury after the game last night during an emotional press conference, where he said he didn't think anyone was to blame for the injury, but that, "if you have to, you can blame me." Again, just an overall awful situation for one of the NBA's best players. 
After the game, Rachel Nichols reported that Steve Kerr told her that Warriors team doctors told him that KD could only "tweak" his initial injury. If that's true, then how did this happen? According to Chris Haynes of Yahoo Sports, KD was cleared to play in the game but not anywhere near 100 percent. There's no doubt that KD wanted to play, but should he have been out there? 
There are way more questions than answers at the moment, but the main point remains: this absolutely sucks for Kevin Durant. Right as he's about to become a free agent, he's likely facing arduous rehab from an injury that isn't easy to come back from. 
It was totally unfair for anyone to question KD's toughness with this injury. Durant is the ultimate competitor, and whether or not he wanted to play isn't really the point here. He played. He put it all on the line, despite whispers about his toughness coming from the shadows. Kevin Durant proved Monday that he is a true Warrior. 
KD's tenure with the Warriors has seen plenty of ups and downs. He's won two rings and two finals MVPs but there's always been veiled shots from inside the organization. From jokes about his commitment to the team at last year's championship parade to Draymond reportedly telling him that they won without him and to leave. They've reached the highest highs together, but at times, it's been shaky. Some of that comes with the territory and nature in which Durant joined the Warriors, but to question his toughness at this juncture is just downright crazy. 
It's tough to say where KD goes from here. There's a chance he could opt into his player option with the Warriors and hit free agency next summer, but that still seems unlikely. If he does indeed miss next year, his free agency this summer will be unlike anything we've ever seen before. There's no question teams will still give him the max, but what about the process does this change? Do the Knicks still go all in for KD? 
The ripple effect will be major, but right now, the most important thing to remember is that Kevin Durant is a fucking boss. He didn't have to play last night. He didn't have anything else left to prove to anyone but he went out there and risked everything. Nobody should ever question that man ever again.