"THAT'S what you chose to wear today?"
You don't expect to get flamed within seconds of meeting someone for the first time. But WWE superstar The Miz makes a living talking world-class shit.
"I can't believe people would ever wear shorts," the former Real World standout says, averting his eyes in genuine disbelief (and disgust) at my wardrobe choice.
Despite his barbs, Miz's outfit isn't all that impressive either, by his normal standards. Today, he dons a t-shirt, sweatpants, and hoodie, instead of his usual three-piece suit, which fits perfectly for the setting of our chat—the stockroom of the Champs Sports store in Times Square; an impromptu holding area where he prepares to share his improbable journey with kids from the Beat The Streets organization that funds wrestling programs in New York City public schools.
With a dingy lamp hanging overhead and shoeboxes lining the metal racks that surround us, the Miz & Mrs. star orates with a level of fervor found in his promos; as if the bright lights were shining, and 20,000 members of the WWE Universe were listening intently to his every word. The kind of environment the 12-year WWE vet will walk into on Sunday at SummerSlam when he faces longtime rival Daniel Bryan.
With the dream match approaching, The Miz explains why he despises Bryan so much, and recounts the night his dad abandoned him—while concussed—at WrestleMania XXVII to get a photo with The Rock. 
(This interview has been edited and condensed for clarity.)
The Miz is a busy guy these days. You've got Miz & Mrs., which just got renewed for a second season, The Marine 6 is coming out in the fall, and you've got a daughter!
I do!
But also, SummerSlam is right around the corner, and one of the most hyped matches on the card is The Miz vs. Daniel Bryan
[Interjects]: Because of me.
Because of The Miz. How are you feeling heading into it?
I'm feeling amazing! This is really a "prove it" match for Daniel Bryan. Daniel Bryan needs this match, I don't need this match. Listen: I've beaten everybody, so if he beats me, he's finally proved that his comeback isn't such a bust, because that's all it's really been. Before he left for four years, he was one of the most dominant forces in WWE. But then four years later, WWE's evolved. Its superstars evolved, I've evolved. Daniel Bryan hasn't evolved, and I don't think Daniel Bryan is ready for an elite talent like myself. I think I will prove myself right at SummerSlam, and hopefully I will end Daniel Bryan's career, and he can go back to armories and bingo halls, performing there for 25 people.
Just because I'm confident and will tell you that I'm awesome and that I'm great, I'm all of the sudden the bad guy? Why am I always the bad guy?
Obviously, you guys have had this feud going on for a long time, ever since he was your rookie in NXT (in 2010), and then the "Talking Smack" segment a couple years ago, a lot of tension there. What is it about Daniel Bryan specifically that gets under your skin?
He's always a victim, and the fans love it. They eat it up. Just because I'm confident and will tell you that I'm awesome and that I'm great, I'm all of the sudden the bad guy? Why am I always the bad guy? What have I done? I basically speak the truth. On "Talking Smack" two years ago—people like you still talk about this to this day—I told Daniel Bryan exactly how it is. Now who is wrong in this situation? Daniel Bryan came at me, called me a coward, said I have a soft style of wrestling while he's sitting there not being able to wrestle because he's injured. I have been there working hard day in and day out, never been injured, never took time off. And I have the soft style of wrestling?
The fact that the audience will sit there and look at him as the good guy and so endearing and sympathetic all because he plays the victim so well. I'm not playing a victim here, I'm telling you exactly what I am. I am awesome. I'm the most must-see WWE superstar, I'm proven inside the ring and outside the ring. I'm the best on the mic, I get the ratings. Don't believe me? Look at Miz & Mrs.: They literally gave us a new season before the first season was even done! Why? Because we tripled the ratings of Total Bellas and Total Divas. You put all of them together and they still don't get the ratings that we get! I should be the face of Smackdown LIVE.
Do you feel there's a lack of respect for The Miz in general?
Go to Barclays [Center] today and look at the poster. Guess who's not on it? [Points to himself.] This face! Daniel Bryan is on it, why isn't The Miz? I don't understand this. I don't understand how I am not the face when I put butts in seats. I make people talk. When I talk, people listen. I get aggravated because no matter what I do, nobody ever gives me credit.
Being in New York, living with strangers on the Real World in the Meatpacking District, I developed all the tools I possibly could to become a WWE superstar. I went to acting classes, I went to improv classes, I studied the art of professional wrestling. Daniel Bryan is the indie darling as everyone always says, but I don't need to brag and boast about my indie life. I like to brag and boast about my WWE life because that's where the big boys play, and on Sunday, Daniel Bryan will find out how big I really am.
All valid points. This match, there's no title involved, yet the stakes are so high. It's really a dream match for fans. Do you think it deserves that main event slot?
One hundred percent. I always think I deserve a main event slot. I always feel like I deserve to be on every poster. I deserve to be front and center of everything, and that's where my mind frame is at. And if your mind frame isn't at that, then you shouldn't be in WWE.
I'll never forget that. My dad telling people and my fRiends that The Rock is the best and always will be. Like really dad? Thanks.
Shifting gears a little bit, I wanted to talk about some other superstars who are gonna be competing at SummerSlam. Bo Dennis and Curtis Axel, former members of the Miztourage, now on the B-Team, tag team champs. What do you make of their recent success on Raw?
Uh, you're welcome. [Laughs]. As much as I like to pat myself on the back and give myself credit, I always knew Bo Dallas and Curtis Axel had the talent. Ever since I saw their work ethic on Marine 5, I was like, "These guys need to be utilized, and they were not being utilized." So I said, "Put them with me," and they said, "Well what are we gonna do with them?" And I said, "Let them do what they want. Just being with me will give them the notoriety. It will build their characters up, and each week they'll be on TV and we can use them in any capacity."
Now, they are creating memorable, entertaining moments as tag team champions. I applaud them for taking an opportunity, using it, not getting bitter and angry and blaming other people for being underutilized. Never blame anyone else. Blame yourself because you're the one that can create anything for yourself. That's what I'm going to display at Champs Sports, through Bo and Axel, the B-Team. The best team.
The best team, I like that. You mentioned Bo and Curtis were underutilized. Do you see anyone else in the company today that you don't think gets a fair shake?
I think whenever we see a new superstar come into WWE, it's like, "Oh man, I wanna see more," but it takes time to develop into a character. I mean for me it took five years before I actually really started being successful in WWE. Now, everyone wants to come in and say, "Well I was a superstar at NXT, so I should be a superstar here." No, just because you were great in one place doesn't mean you're going to be the same caliber. You have to be able to adjust, you have to be able to evolve, you have to be able to withstand what it takes to be a WWE superstar.
But one guy, I sit here still and look at Zack Ryder and think, "Wow they're really not utilizing all of his talents," because he tries very, very hard. He has the talent to become an upper tier talent and sometimes you just gotta wait for your opportunity, and once you have that opportunity don't let it go. Don't let it slip through your hands because if it does, you might never get it back.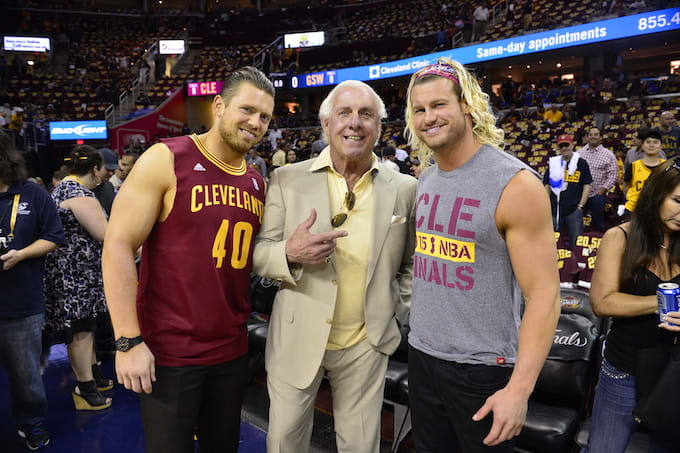 The Miz and LeBron James, two superstars from Cleveland, Ohio, you've got very similar paths, you know.
I never took my talents to South Beach.
You did take your talents to Hollywood, though.
Yeah, but I never sat in a Boys and Girls Club and announced it to the world. I hated that moment. I thought it was the worst thing ever. Whether you want to look at it or not, I'm Cleveland born and breed. And Cleveland sports has always been something to me, and when LeBron James took his his talents to South Beach, I couldn't believe it.
You're still salty about...
[Interjects]: Hold on, let me finish. When he came back and he wrote that that letter. It said listen, "I didn't know how to win. I needed to go to another franchise so I could learn, and then come back and teach Cleveland how to be winners." What did he do? He won Cleveland a championship. So now that he went to the LA Lakers, people ask if I'm mad and I'm like, "No." He gave us what he told us he was gonna give. Now he wants to go and do something else, let him do something else.
You've faced so many superstars over the years. What's your dream match right now?
I'll take on anybody. The Rock. I mean, The Rock is my dad's favorite WWE superstar, always will be. I'll never forget that. My dad telling people and my friends that The Rock is the best and always will be. Like really dad? Thanks.
What did he think about the time you dressed as The Rock on Raw a bunch of years ago?
I don't think he remembers that but he probably thought it was fantastic. I remember years ago at WrestleMania XXVII when I was in the main event, I got a concussion. And I don't allow my dad backstage because he will just take his camera and start taking pictures and annoying everybody when everyone is working. You don't go to someone's work and just point a camera in their face. And by the way, he won't ask he will just shove a camera in your face.
But because I had a concussion, they brought my parents backstage, and they thought my parents would ask if I'm okay or if I'm alright, but no. My dad went around getting pictures with everybody and the next day he goes, "Look at all these pictures I got! I got The Rock, I got…" and I go, "Dad are you kidding?" He says, "I checked on you, but you were mumbling and asking the same question four or five times so after they said you were gonna be okay, I just went and got pictures with everybody that I could."
I watched the video on WWE's YouTube of you and your dad talking about the time he got you cut for your varsity basketball team for getting in a fight...
A fist fight.
A fist fight?! I didn't realize it got physical! He seems like a hands-on kind of dad. Does he give you tips in the ring?
Oh my god, all the time! Every Tuesday night, he calls me up and tells me what I'm doing wrong. "The Rock never woulda done that, why can't you fly like Kofi Kingston?" Because my genetics don't let me do that dad, thanks. And now that Miz & Mrs. is out, he's the new star and asks when we're filming again, what storyline he'll be in, that he needs to be flying first class. I think he's going to end up being a writer for the show.