The deficit ballooned to 12 in the first quarter. It got as bad as 13 in the second. By halftime, the Warriors had managed to chip it down to six. And they were lucky because it could have been much worse—much, much worse—considering how poorly they had played over the game's first 24 minutes. Except, that is, for Kevin Durant. But was there any reason for Golden State and Warriors backers to ever really worry about this one?
Because the defending champions knew the third quarter was coming and they knew they could keep feeding a hot Durant on his way to a performance of a lifetime.
Game 3 should have been the Cavaliers for the taking—for a number of reasons—and it was obviously a must-win because no squad has ever overcome a 3-0 hole in NBA Finals history. But instead, Golden State owns a 3-0 stranglehold on the championship series for the second year in a row after Durant authored a brilliant, scintillating, and unforgettable 43-point, 13-rebound, 7-assist performance, 24 of which came in the first half. It was a playoff career-high for Durant, featuring shots that basically no other player in the game can hit, as he carried the Warriors to within one game of capturing the franchise's third title in four seasons. And he may now be the front runner for NBA Finals MVP honors because what he did in Game 3 was so remarkable. 
"That was amazing what he did out there tonight," Warriors coach Steve Kerr told reporters after the game. "Some of those shots, I don't think anybody in the world can hit those but him. He was incredible."
On a night when LeBron James had another triple-double, finishing with 33, 10, and 11, and got help from Kevin Love (20 and 13) and, shockingly, Rodney Hood (15), it wasn't nearly enough to overcome Durant's outburst. But it should have.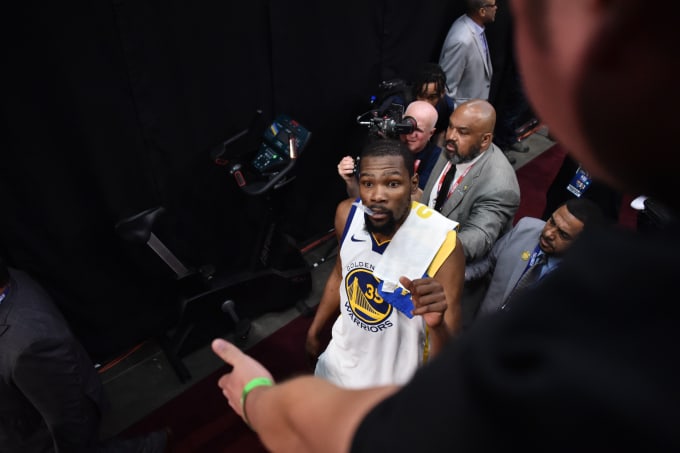 Because the rest of the Warriors didn't really offer much. Klay Thompson finished with 10. Steph Curry was abysmal from the field, connecting on just one three after he hit a Finals record nine in Game 2. He finished with just 11. Draymond Green, Jordan Bell, and JaVale McGree each added 10. But despite having six players in double figures, the Warriors easily could have lost this game by double figures without Durant going off.
It looked bad early on when Golden State got off to an atrocious start. Quicken Loans Arena, so raucous and rowdy during the first quarter when the Cavaliers jumped out to a big lead, was silenced at the end as they watched James fail to match Durant.
"You guys asked me this last year: What was the difference between the Warriors the previous year and this year?" James said. "What was my answer? Kevin Durant was my answer. He's one of the best players I've ever played against, this league has ever seen."
I don't know what play epitomized Durant's performance better. While everyone will point to the dagger three he nailed on the left wing with 49 seconds to go that was assassin-like—it was eerily reminiscent of his clutch three in Game 3 of last year's Finals—there was the running jumper Durant nailed over Love to give Golden State the 96-95 lead late in the fourth that was just as stunning. As Love watched the ball swish through the net, all he could do was put his hands on his head. He couldn't believe Durant, all 7' of him contorting his body athletically in ways no man his size has any business doing, nailed another jumper. It was so fluid, so silky. "I tried to just stay in the zone," Durant said after the game. Only a basketball freak like him could nail it and make it look like it was just another jumper. 
While Durant was brilliant, James was, well, pretty good. Yes, he had a triple-double and continues to author the most amazing individual playoff run in NBA history. But when his squad needed him to be great, to go basket for basket with Durant, he came up short. The aggressiveness the Cavs needed down the stretch wasn't there. James should have been bullying his way to the basket, putting the Cavs on his back to make this a series. Instead, James may be playing his last game in a Cavaliers uniform Friday when Game 4 tips back at the Q.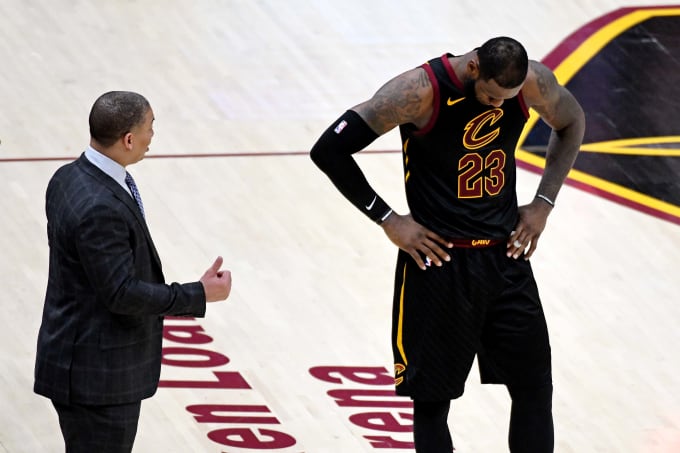 The third quarter has been the quarter for this Warriors squad and they came out guns blazing after halftime. A 15-3 run put Golden State up three with 7:52 left in the third and by the time we were headed to the fourth, the Warriors were up two. KD had 35 heading into the fourth. Golden State would ride its superstar down the stretch the way Cleveland supporters expected the Cavs do the with James.
Only it didn't happen that way and KD stole Game 3 for the Warriors just like he stole Game 3 last year. While it seemed like déjà vu when Durant nailed that huge three, from what seemed like 35 feet out, it wasn't quite the same shot. But it had the same feeling, netted the same results. When it ripped through the net, it felt like the series was over. It was assassin-like. All hope, all life had been sucked out of Cleveland and the Cavaliers themselves. And now the only thing worth discussing isn't whether the Cavs can actually pull off the impossible because we know that's not happening. The talk is going to turn to whether or not the Cavs can keep James from taking his talents elsewhere next month.