SANTA MONICA, California — The words didn't flow out as smoothly as he probably would have liked, and he definitely forgot to name a few people he really wanted to give props to. But that's what happens when you give a speech off the cuff.
The entire basketball world expected James Harden to be named the 2017-18 NBA MVP Monday at the second annual NBA Awards held at the Santa Monica Airport. Everyone, that is, except for James Harden.
So when NBA commissioner Adam Silver opened up the envelope and told the world what pundits, fans, and the majority of NBA Twitter had predicted months ago, it was time for The Beard to give a speech from the heart, without anything written down. Refusing to have anything prepared, almost like he didn't want to jinx it after a few too many close calls with the MVP over the years, Harden tried to do his best to say something poignant and give thanks to all the people who had helped him along the way. The results, honestly, we're mixed. So why didn't Harden know exactly what he wanted to say if the whole world knew he would finally have his moment?
"Honestly because I didn't know," Harden said.
Always more gifted shooting and dribbling than expressing himself in a press conference, the award that had eluded Harden in 2015 and 2017 was finally his after he authored one of the greatest offensive seasons in NBA history. When you're the league's scoring champ, averaging 30.4 points and leading your squad to a franchise-record 65 wins, that'll generally get the job done. But for a guy who has so much swagger, so much skill, and so much money, humility isn't a characteristic you'd expect Harden to have. If you choose to believe he really had no idea he was taking home MVP honors, the speech deserves some props for a wholesome attempt to name as many family, friends, and colleagues as possible while his brain had to have been running faster than Mike D'Antoni's offense. Harden's words won't go down in the annals of awesome award show speeches—it's never going to come close to Kevin Durant's famous MVP speech—but it did the trick and produced an honest moment from the man who can be just as guarded as he's tough to guard.
"You know, I felt like last year I should have won as well, so I didn't see a difference between last year and this year," Harden said. "If I won it, then I was going to go off the top and try to, you know, show my appreciation to everybody helping me along the way. Obviously, I knew the importance and the opportunity the Rockets have given me for these last six or seven years. Obviously family was extremely important. And like I said, to everybody that's helped me, you know, we'll figure it out."
Meaning Harden's going to take care of his crew. Good news if you're part of the crew. The only man that was really going to prevent him from finally being recognized as the league's best player was not in the building. LeBron James's conspicuous absence at the NBA's fledgling end of the year award extravaganza should have been the final tip off that Harden was bringing home the hardware to Houston. Sporting one of the loudest fits, which is saying something considering what NBA champion Nick Young sported, maybe Harden was doing his best to deflect any notion that he was at all nervous he'd be denied MVP again.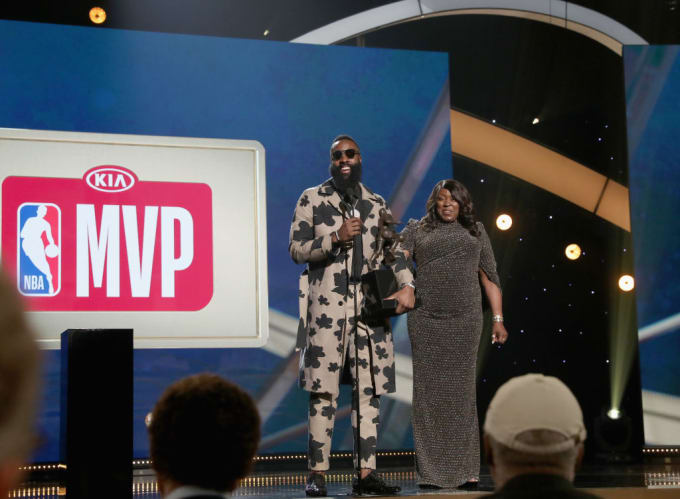 The case for LeBron's fifth MVP award can easily been made and plenty of LeBron stans will spend years complaining how The King was robbed this year. Yes, James was just as equally brilliant as Harden, leading a suspect Cavs squad to the playoffs, despite all the turmoil and mid-season upheaval Cleveland endured. We all know that fatigue with these awards is real, and the people who vote on them like to switch things up every once in a while. It's the only reason Karl Malone and Charles Barkley ever got MVPs over Michael Jordan. It's the same reason LeBron doesn't have at least seven of them.  
LeBron, and his impending free agency, predictably, was easily the most popular topic at the NBA Awards, which, for all its glitz and glamour, is still a massive work in progress. The league is clearly trying to add one more tent pole to its season and is probably trying too hard. It's completely ridiculous that the league's MVP, Rookie of the Year, Coach of the Year, Defensive Player of the Year, Sixth Man of the Year, and Most Improved Player of the Year isn't named until two months after the regular season ends. These are regular season awards being handed out, waiting until nearly July like the league has the past two summers make no sense.
While we could spend thousands of words ripping the NBA for trying to make something out of nothing or stanning hard for another LeBron MVP, the night belonged to Harden. His crowing individual achievement, the one he's quietly been coveting, finally arrived.
"I mean, the last four years I've been knocking on the door," Harden said, any hint of emotion tough to discern behind his bushy beard and massive sunglasses. "Now the moment is finally here. Just every single year you try to come back and be better than you were the year before and just to be holding that trophy finally. It means a lot."
Harden's teammate Chris Paul crashed the press conference to provide a little levity. He asked Harden how many bottles Rockets CEO Tad Brown would be sending his way to celebrate. Harden finally let his guard down for two seconds.
"Couple of cases, ya heard," Harden said, drawing laughs from of members of the Rockets organization who had spilled in to hear his remarks. Also on hand were members of Harden's family and crew. The ones that had been part of his ride and his rise to stardom. But speeches aren't really James Harden's thing, so the man who loves to create his own shot will surely find his own special way to thank all those who he forgot to shoutout up there on the Barker Hanger stage.