Deontay Wilder is fed up. 
After the most impressive victory of his career, the undefeated WBC heavyweight champion of the world doesn't want to wait any longer for his shot at unifying boxing's most glamorous division. 
But the politics of the sport have a way of messing up everyone's good time. And the champ, coming off a thrilling 10th round TKO victory over the previously undefeated Luis Ortiz earlier this month at Barclays Center in Brooklyn, will continue to call out the people—Anthony Joshua and promoter Eddie Hearn—most responsible for denying what he wants and deserves. 
Wilder's been talking about unifying the division for years and, in theory, he should get his chance this summer against the winner of Saturday's highly anticipated match between Joshua and Joseph Parker in England (Showtime, 5 pm ET) that will unify three of the division's four major belts. Joshua (20-0, 20 KOs), a native of England and an international star, is the favorite and expected to prevail. While Hearn says otherwise, Joshua's then expected to take at least one more fight against someone other than Wilder, further delaying one of the biggest bouts boxing's seen in years, if not decades, considering no champion has ever held all four heavyweight belts simultaneously. 
"I think it's childish what they're doing, manipulating the people," says Wilder (40-0, 39 KOs). "It's going to take all the journalist and reporters, just fans in general, to drill them with the tough questions that people want to know. It's time to smoke them out of there."
While he sounds frustrated over the phone, Wilder insists he's chilling for the time being, eagerly anticipating the day when Joshua and Hearn are finally ready to make the mega-fight happen. He was hoping to talk to them in person this weekend, but, according to Wilder, they made sure that wouldn't be possible. Ahead of Saturday's fight, we caught up with the Alabama native to ask who is most responsible for the delay and why defeating Ortiz was his proudest moment in the ring. 
(This interview has been edited and condensed for clarity.)
When are you leaving for England?
I'm not going. I decided not to go. I'm not going for the simple fact that when Sky Sports offered me the opportunity to [analyze the fight], I told them I would do it under one condition and that condition was that I got in the ring at the end of the night if Joshua won. Couple of days after, I get a phone call from my manager saying that's not going to be possible. They weren't going to allow me step in the ring and confront Joshua, and they were going to have to double the security and I even heard about a restraining order. He just killed it. His promoter always talks about me raising my profile and hyping the fight, but what greater way to hype a fight of this caliber? But they didn't even want to do it because they don't want to fight me.
Why am I the only fighter that has to prove themselves or has to do something to even get a fight? None of these other guys has to do nothing. They're talking about fighting a Jerrell Miller next. What has Jerrell Miller done?
And who really wants to see that?
Exactly.
So is that strictly an Eddie Hearn situation where he's the one blocking the matchup we all want to see? Or is there even more politics involved causing a delay of the inevitable?
It's more so Eddie. Part Joshua, but more Eddie than Joshua. He makes up all these excuses, he's lied to the British public constantly. Some of them have woken up and gotten away from that, but some are still on board with that.
Where is your frustration level right now?
I'm good. I'm still coming off a career-defining fight. I know I'm the best man in the division. I know I'm the baddest man on the planet. A lot of other people know that, too. Especially after seeing the last fight. The pressure's not on me. So I'm just sitting back and relaxing, chilling. I'm not upset. I think it's childish what they're doing, manipulating the people. It's going to take all the journalist and reporters, just fans in general, to drill them with the tough questions that people want to know. It's time to smoke them out of there. Soon, they're not going to be able to do these shows, not even from their own kind. Even the Brits are going to be tired of this mess and get a quality fight for their money's worth and not accept him fighting just any Joe Blow. They want to see him fight me.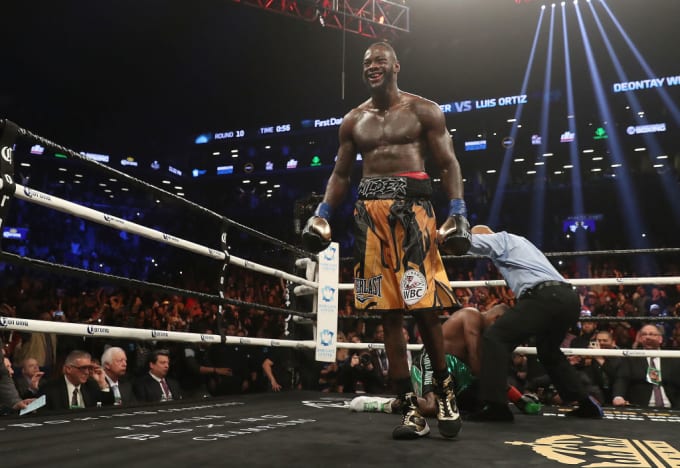 Is your gut feeling that this fight goes down in 2018 or are we waiting another year?
I really can't even answer that. It can happen. It's the point where will it happen. It could easily happen. Easily. But it just comes to the point of will it happen. We're ready over here. America's ready. It's just the UK is not ready.
And you've personally been ready for years.
For years. If anybody says I'm scared because I'm not coming, they're an idiot. I've been calling him out for years. I've been ready for years. I've been waiting to do this. But they've been stalling. Joshua's already made it clear he's scared to lose. He's fearful of losing. If you sit down to hear Hearn and Joshua talk, you kind of pick up subliminal messages. Especially Eddie. We all know that Joshua does not have no confidence in himself whatsoever. He's always talking about losing. "One day I'm gonna lose." And he's fearful of that because he knows that the fans are going to go. He knows the British fans only support winners when they're up in their career, and when you're over and done with, nobody calls you. That's the main thing he's afraid of. And he knows I'm the most dangerous man in the game. When he fights me that will be something that he can damn well lose. Eddie Hearn keeps wanting me to fight this Dillian Whyte guy.
I'll give him an ultimatum: If you really want to see me fight this Dillian Whyte guy, if they fight Ortiz and beat him and they put Joshua on the end of the contract, I will fight him. Those are the terms. If they talk about getting into the mandatory position, I'll wait it out. I've got a year. I've got a year with my mandatory. What they gonna do? Get with my demands and do what you gotta do and make the fight happen. I don't see any other way. I'm comfortable right now.
We'll switch gears and talk about the Ortiz fight because it was a great fight. What did you learn about yourself that night?
I've been asked this question and I'm going to say the same thing because it's the God's honest truth: I didn't learn nothing about myself that I didn't already know. I was sick in that fight because I did a kid event before I came to the fight in camp, and then I also end up getting my daughter sick after the fight. But for me to do all I did while being under the weather and then overcome adversity like that, I already knew I could do that. I've been saying for years that I'm the baddest man on the planet. My mentality as a champion is very high. My belief in myself as a fighter is very high. So when I go through the crossfire like that and overcome and come out on top, it's not a surprise to me. It may be a surprise to others because they didn't believe in me. Those that believe in me, it ain't no surprise. Sometimes you have to make believers out of people. But I fight without any doubts. I don't get nervous. I don't have butterflies. I don't have no feelings because I love it so much. Ortiz was a great fighter. He was a guy who I needed on my record. I needed a defining win on my record and I got it. We can move on. Questions have been answered. I've seen naysayers of mine that criticized me now love me. You would think they've been with me from day one the way they're talking. These moments that I live for, to see people change their mind about me.
Was that your proudest moment in the ring?
Most definitely. I can say that. I knew from winning that fight that would take me to the top, solidify me at the top, like I deserve. Now I have half of America on my side. I've seen the wave change, I've seen the talk change. Even when I'm out in the streets it's different. Everything is different. No matter where I go, whether I'm in New York, whether I'm back in Alabama, whether I'm in Atlanta, or whether I'm in California, it's crazy. I'm just ready to seal the deal with a unification bout and obtain all the belts once and for all and bring them back to America.