James Harden has a busy week ahead of him. He's got a back-to-back starting tonight in Minnesota, he's starting for Team Steph in Sunday's All-Star Game in Los Angeles, and he's dropping a new signature sneaker with Adidas.
Wait. There's one more thing on the agenda: He also has a hand in the candy game, announcing a partnership with Trolli Sour Brite Sneaks to create a sneaker inspired snack for anybody with a sweet (and sour) tooth.
"It's a James Harden takeover for All-Star Weekend," says the five-time All-Star.
We caught up with Harden to talk Sunday's big game, the Rockets sitting just behind the Warriors for first place in the Western Conference, and why he's not focused on that 60-point performance.

(This interview has been edited and condensed for clarity.) 
You and Trolli are coming out with the Sour Brite Sneaks this week, inspired by your love for sneakers, do you have a most treasured pair of sneakers in your collection?
It would be the Harden Volume 1s right now because it was obviously the first shoe I ever designed. The time, effort, and energy that I put into it was different but it was definitely worth it. 
Are you the kind of person who has to eat gummies one flavor at a time or do you eat them by the handful?
It just depends on how I'm feeling. Sometimes I pick them out and eat them one at a time and sometimes I just stuff them all in my mouth. 
The All-Star game is in your hometown of Los Angeles, the Harden Volume 2, and Trolli Sour Brite Sneaks are dropping this week, how do you feel about that?
It's a James Harden takeover for All-Star Weekend. Kids can get my candy and they can get my shoe. That's like a true dream come true."  
If you were the captain for the All-Star Game, who would you take with the first pick?
If I had the first pick, I would pick Chris Paul. He's not on the All-Star team, but he should be. 
You're on Team Steph for the All-Star game, what gives your squad the upper hand over Team LeBron?
The All-Star Game is going to be unbelievable by itself but I think our shooting ability. Ya know, we've got a lot of guys who shoot the 3-ball extremely well so that will probably be our upper hand.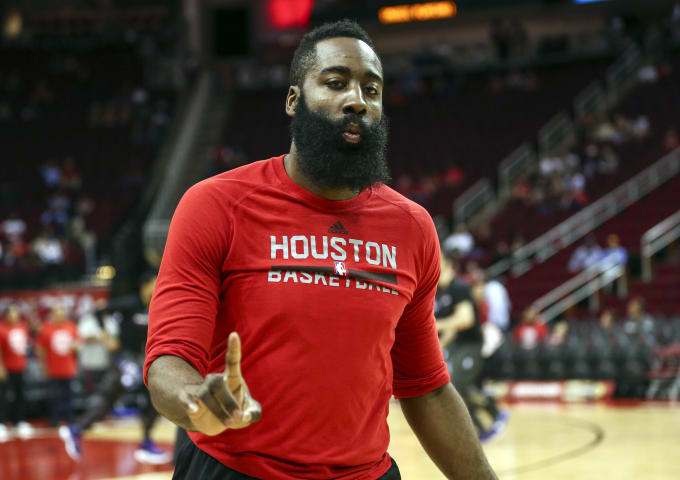 What's the best off-the-court part of All-Star Weekend for the players?
I think the fans. It's an opportunity for the fans to be able to have all the NBA players in one city. Even at practice, we can take pictures and sign autographs with the fans and I think that's an unbelievable experience right there.
The Rockets are sitting in second place in the Western Conference, what are you most proud of accomplishing so far this season?
I think we're just getting better every single game. We're not putting any limits on anything, we just go out there and compete at a high level. So far this season we've had a lot of injuries, a lot of guys in and out of the lineup. But somehow we've managed to continue to push through and be resilient. We want to just keep this wave up and after the All-Star break continue to do the same thing.
You already notched a 60-point game this season, what are you personally striving for next?
Just to be consistent every game. That's my mantra every single night just to be consistent. Anybody can go have a really good game and then the next game not be the same player. For me and my mentality is to be great, to be the best basketball player on the court every single night. 
As we mentioned, you have a new sneaker coming out during All-Star Weekend, what do you like most about the Harden Vol 2?
I love how light it is. It's lighter than the Volume 1. Obviously it looks good, but how light it is, how comfortable it is and how versatile. You can wear it on the court and off the court. WIth the combination of those things, you have a dope shoe and that's the Volume 2.