"Just a barrage from three," Klay Thompson says on the Sunday before the Knicks host his Warriors at Madison Square Garden. He's talking about his teammate Steph Curry's 54-point shooting explosion five years ago today. "He did it every which way: Off the catch, off the bounce, 10 feet from halfcourt, right on the line, didn't matter it was going in." That's high praise from a guy who is no stranger to going supernova.
With all due respect to the blossoming basketball scene in L.A., the real mecca of the sport is still New York. The mecca moniker isn't hyperbole, either. No less an authority than Michael Jordan once said the Garden was "the place to showcase your basketball talents." That's exactly what Curry did on February 27, 2013, putting up a career-high 54 points in what he calls his "coming-out party on the national stage."
In the process, Chef Curry offered up not just a tantalizing glimpse of the two-time MVP he'd become, but also a preview of where the league was headed. At the time, Steph's scoring outburst felt like when Corey Brewer, Mo Williams, or Tony Delk dropped 50-plus points—a fun factoid, but largely pointless when talking about a player's enduring legacy.
That's certainly changed over the ensuing half decade. On Monday, the Warriors won a ho-hum affair against the Unicorn-less Knicks, 125-111. New York scored at will in the first half, but fell behind by double digits when the Warriors, as has been their custom this year, decided to try a little harder on defense after the break. Curry wasn't spectacular—21 points on 8-of-16 from the field, to go with five boards and five dimes—but he doesn't need to be as part of the greatest collection of talent in NBA history.
Five years ago, the Warriors really needed every Curry bucket. Remember, Golden State still lost after he drained all those absurd 3-pointers. "We were short-handed and we needed a performance like that to have a chance" then-coach Mark Jackson told reporters after the game. Golden State's only All-Star that season, former Knick David Lee, had been suspended for the game after a scuffle with Indiana's Roy Hibbert the night before.
In the five years since that MSG eruption "changed the noise about what I'm about," Curry ascended to basketball royalty. He won two MVPs (including the first-ever unanimous selection), two titles, and a regular-season record 73 games in 2015-16. In the process, he's redefined what NBA analysts and fans understand about spacing in the half court and shooting range.
Despite the fact Curry says "no one was worried about my pre-game warmups in those days," he was already turning into the player we know today. The Association was the same. It was on the cusp of change, a watershed at the 3-point arc.
"Curry hit 3-pointers in every way imaginable," says Bleacher Report columnist Howard Beck. Five years ago, Beck was at the game covering the Knicks for the New York Times, and the audacity of Steph's shot selection—where he went 11-of-13 beyond the arc—mirrors what we routinely see from Curry and others in the NBA today.
Thanks to Synergy Sports, we knew what types of shots Steph hit that night. He was 4-of-5 as a pick-and-roll ball handler, 3-of-4 as a spot-up shooter, 2-of-2 in transition, 1-of-1 off screens, and 1-of-1 in isolation. "He hit from every point along the arc. Corners, top of the key, wherever," Beck says. "And then, he was hitting what used to be considered an unusual, eye-popping shot. Where he was pulling up from 30-feet back or whatever.
"Now it's a staple not just for him, but for several guys around the league. At that time, though it wasn't that long ago it seems, that was not a common occurrence."
The numbers back it up. In 2012-13, only two teams—the Knicks and Rockets—averaged more than 30 percent of their shot attempts from 24-plus feet and out, per NBASavant. This season, the Rockets are over 50 percent, and all but six teams average over 30 percent of their shots from deep 3-point range.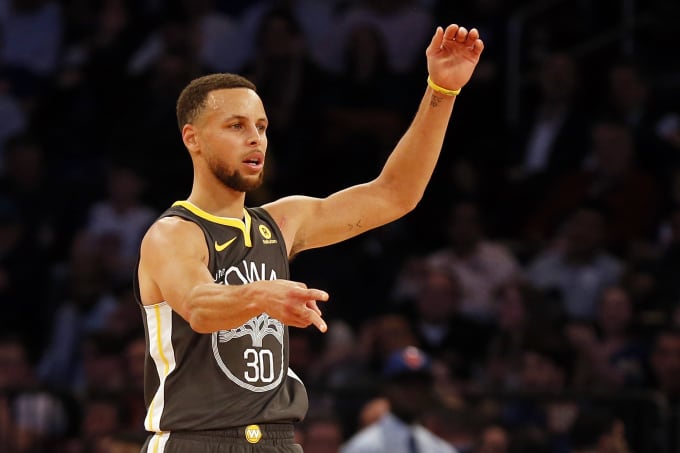 Team 3-pointers jumped substantially, too. In 2012-13, NBA teams averaged 20 3-point attempts per game. This year, it's gone up to 28.9. That five-year jump is gigantic (for comparison's sake, you have to go back to 1993-94 to see a similar increase to 2012-13). In short: Curry ignited a revolution the game.
The quotes after the game five years ago could have come from any number of Golden State opponents three years later when Curry won his unanimous MVP:
"There's nothing we could have done," Knicks center Tyson Chandler said. Carmelo Anthony called Curry's performance "remarkable." Raymond Felton admitted "there's no way this kid seen the basket and he hit nothing but net." Knicks coach Mike Woodson claimed the Knicks "trapped him some, and he beat our traps, shot it before you could actually get the trap on him."
The sea change—like the added emphasis on the 3-point shot—didn't happen overnight. Similar to Curry's own stardom, his 54-point outburst at MSG was just the inflection point. Steph says after the game he went back to his hotel and was surprised by the coverage. ESPN spent the first 15 minutes of SportsCenter talking about him, but "I didn't think they'd talk about a player on the losing team that much." Still, Curry remained largely unknown. After the game in 2013, he slipped back into his aw-shucks anonymity like nothing had changed. Some didn't even recognize him.
"After the game in 2013, a group of reporters were lined up in the hallway near the Knicks locker room waiting to get in," ESPN New York's Ian Begley shared. "He also had a baby face. So, if you didn't know it was him, he could have easily passed for one of the family members waiting for players in the same area after a game––or even a locker room attendant. When he walked by the group, I think only a few of us recognized him. He certainly didn't look like someone who you'd think could score 54 points in an NBA game."
On Monday night, as is custom, Kevin Durant, Draymond Green, Klay Thompson, and Steve Kerr briefly left the visiting locker room to field questions from a throng of local, national, and international media waiting in the hallway. After everyone finished, Steph was nowhere to be seen. Five minutes passed. Then 10. Then 15. Many were on deadline, but not a single media person left. Curry did eventually speak to reporters. There was no way he was gonna slip out unnoticed. Not anymore.