It's easier to point out what Frank Ntilikina isn't than what he is right now.
The Knicks rookie point guard isn't averaging 19.2 points per game like fellow first year player Donovan Mitchell of the Jazz. He isn't balling like the Mavericks' rookie Dennis Smith Jr., who will put his ridiculous athleticism on display in the Dunk Contest next month. And he definitely isn't showing the offensive arsenal of the Lakers' Kyle Kuzma, the best rookie on L.A.'s roster averaging 16 and 6 and shooting 45.9% off the bench.
All three were taken after the Knicks selected Ntilikina with the eighth pick in the 2017 NBA Draft. All three undoubtedly would add an element to a Knicks squad that needs all the help it can get as it struggles to stay in the Eastern Conference playoff picture.
So it's easy to jump to conclusions that the Knicks messed up selecting the teenager from France while so many other first-year players are performing at higher levels. Averaging just 5.3 points and 3.5 assists over 20.7 minutes per game is far from bust material, but ask a casual Knicks fan their thoughts on Ntilikina and chances are there will be more than a hint of regret in their voice. Thinking about who the Knickerbockers could have had instead of a 19-year-old kid nobody knew anything about is triggering.
But what other rookie is facing as steep of a basketball learning curve as Ntilikina playing under the bright lights of New York? What other rookie taken in the first round of the draft uprooted his life, immersed himself in a completely new culture, while trying to figure things out on the basketball court and earn his keep on a team that's trying to snag a playoff spot?
"You can see, just like any other playing coming from college, it's an adjustment," says Knicks guard Courtney Lee.
🎥 @FrankLikina reacts to being named a Rising ⭐️ #NBAAllStar pic.twitter.com/f9BNo4S1gz

— NEW YORK KNICKS (@nyknicks) January 25, 2018
Except it's an even bigger one coming from playing professionally in France where the rules and competition are considerably different than the NBA. Then add on the fact he calls the fishbowl of New York and Madison Square Garden home, where Knicks fans will shower you with love one month then turn on you the next, it's a lot for a kid to process.
"I'm just going through it and not asking myself a ton of questions," says the soft-spoken Ntilikina. "My goal is just to be the best player I can become."
It's all about patience and the promise of future returns with Ntilikina who hasn't provided many eye-popping highlights or standout performances halfway through his first season. But he's been far from a bust 45 games in, showing his teammates and NBA observers alike that he possesses a particular set of skills.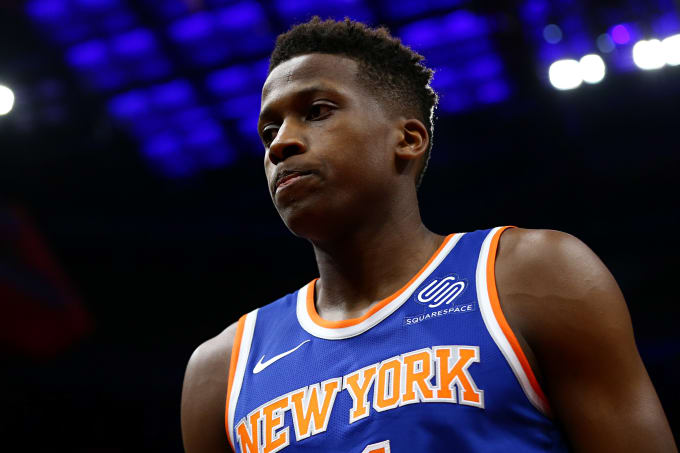 "He's going to be one of the elite point guards in the league soon," says teammate Enes Kanter.
The Knicks forward, known for saying some wild things from time to time, may be getting ahead of himself with that one, but Ntilikina has shown glimpses of being a future difference maker. At 6'5", he's long and lanky for a point guard and shown to be competent defender. The Knicks are a much better defensive team when Ntilikina is on the court compared to off it. While he hasn't scored more than 13 points in a game, his mid-range jumper could develop into a weapon since he can pull up and shoot over smaller defenders—a la Golden State's Shaun Livingston. He's not a freak athlete like Smith Jr., Mitchell, or some of the other rookies, but he's smooth with his movements. While he must improve as a shooter—he's hitting only 35.4% of his shots and 31.7% from three—he can finish around the basket and teammates rave about his court vision.
"I've never seen a point guard that has his vision his first year in the NBA," says Kanter.
Consistently cracking coach Jeff Hornacek's rotation hasn't been easy. But then again Hornacek seemingly changes things up from game to game so Ntilikina's playing time has been up and down. Choosing not set any specific numbers goals before the season, his first go-around the league is more about the experience.  
"For the first season learn the most I can learn and after that, [worry about] numbers," says Ntilikina.
If things don't end up working out in New York, Knicks fans and the front office can blame Phil Jackson since it was the Zen Master who selected Ntilikina. Jackson, still fixated on making his beloved triangle work in the Big Apple, thought he could mold Ntilikina to be a perfect fit for his overrated offensive system. Six days later, Jackson was ousted from his duties as the team's president—only the Knicks would allow an executive to preside over the selection of a lottery pick then fire him.
"I've never seen a point guard that has his vision his first year in the NBA." — ENES KANTER
So Ntilikina will always have special ties to the failed Phil Jackson experiment in New York. But nobody in the organization is holding that against him—at least for now—and the best thing going for him are the veterans on the roster that serve as mentors. Kristaps Porzingis and Willy Hernangomez can easily relate to what Ntilikina is going through as fellow Europeans. Lee has been in the league for nine years. Jarrett Jack who has been the Knicks starting point guard for 45 games, is playing in his 12th season. And Michael Beasley, now in his 10th year in the league and a former No. 2 pick in the draft, can offer up unique insights about the perils of trying to live up to hype and getting caught up in NBA life.
"I've been around European guys before but never in their first one or two years," says Beasley. "I've never watched the process like I do with Frank. Every game he gets better, every game he's that much more fun to play with. He's slowly growing. Definitely going to take time. I'm a real believer in Frank's game and I think his career is going to be great."
On an afternoon in Los Angeles where his team played like garbage, falling to the Lakers by 20 in a matinee at Staples Center, Ntilikina did nothing special finishing with 7 points and 3 assists over 17-plus minutes of action. Too many times this season he's disappeared, but the jumper has looked much smoother over recent weeks. We know what Ntilikina is and we know what he isn't. More importantly for the Knicks, his teammates know what he could be.