When Kevin Durant finally hoisted the Larry O'Brien Trophy this past June, it was a moment that resonated not only with his close circle of friends and family, but his basketball brethren back home.
"I was at Quincy Pondexter's house and I teared up," says newly-signed Golden State Warriors guard Quinn Cook. "I understand how much work he put in. I understand how much he loves the game. To see it all come full circle and catch his dream, it was a great feeling for the DMV."
Some of the most notables players in the NBA were raised in the D.C., Maryland, and Virginia area—also known as the DMV. Stretching for roughly 500 miles, guys like Carmelo Anthony, Victor Oladipo, Rudy Gay, and of course Durant, hail from the DMV that has breed a unique brotherhood amongst the players, no matter the age.
"When I got to meet Jarrett Jack, we were brothers already because we knew all the sacrifice and work we had to put in reach this level," Cook says. "The DMV is so great because we support each other and have each other's backs."
Gay noted Durant and Jack as players he was able to bond with with since his days in the DMV, highlighting the special chain of mentor-mentee relationship that is evident with Cook.
Flashback to the summer of 2006 when Durant was heading into his freshman year at Texas and Cook was on his way to the eighth grade. Cook was at the Run N' Shoot gym (now known as Capital Sports Complex) to workout while Durant was competing in the Suburban Coalition, a summer basketball league held in D.C. Durant's team was in need of another player to run so Durant's brother, Tony, called over Cook and invited him to play.
"Would you believe me if I told you Kevin Durant's mom used to whoop me like she whooped him? And my mom used to whoop his ass too. It was vice versa."
Most of the players were at least four years older than Cook but that didn't faze him. He held his own. He found himself throwing lobs to Durant and doing all the little things to help the team pick up the victory. Cook looks at that game as the one of the defining moments of his basketball career.
"It wasn't that I scored 20 or scored 30, I was just out there holding my own," says Cook. "That's when I realized 'Hey, I can have a future in this.' That's something that me, Kevin, Tony always talk about. It really opened my eyes to see that I can be good at this game."
While Durant took Cook under his wing during his rise to stardom, Cook assumed the mentor role when he began his dominance over DMV competition and ultimately made his way to Duke to play for Mike Krzyzewski. Cook's mentees were former Maryland standout Melo Trimble and the No. 1 pick of the 2017 NBA Draft Markelle Fultz.
"I wanted to give those guys, what the older guys gave to me," says Cook. "When I met him (Fultz), he told me how much he looked up to me. I think he can be a superstar in this league."
Although the three areas each have their own culture from the music of D.C. to the crab delicacies of Baltimore to the historic venues of Virginia, basketball merged all areas into one. For most players out of the DMV, especially those that derived from inner cities, basketball was more than a game. It was a safe haven and an escape from reality. Baltimore and D.C. are notorious for their dangerous neighborhoods and high rates of crime and violence. Gay, a Baltimore native, witnessed all of that growing up.
"I don't think anybody would wish to live in that but it happens," says Gay. "Because we had so much going on, basketball was a refuge."
New York Knicks forward Michael Beasley grew up in the outskirts of D.C. and his community was filled with constant violence and altercations but that all took a backseat every time there was a basketball exhibition taking place.
"Basketball brought the community together," says Beasley. "During the week, you'll see so many fights, violence, and mayhem but every Friday or Saturday, the same people you saw fighting or in all the mayhem, are packed into a 100-man capacity gym with 1,000 others having the time of their lives watching us hoop."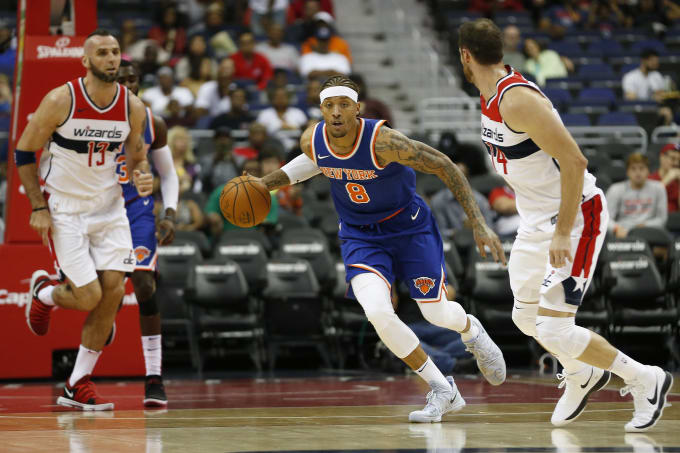 Like Cook, Beasley shares a special friendship with Durant. The two met when they were 11-years old and they both shared a similar but far from identical path in their routes to the NBA. Unfortunately for Beasley, who admitted to getting in a lot of trouble when he was young, his bond with Durant cost him a couple of whoopings.
"Would you believe me if I told you Kevin Durant's mom used to whoop me like she whooped him?" says Beasley. "And my mom used to whoop his ass too. It was vice versa."
Beasley and Durant were as close as you can get to blood brothers. Beasley said that the word "proud" was an understatement when Durant won the title last summer. He was proud when Durant starred at Texas, went No. 2 in the 2007 NBA Draft, and was the 2013-14 NBA MVP. But there is no word to express his pride when Durant reached peak basketball glory.
Beasley, Cook, and Gay had one common answer for who should be enshrined as the face of DMV basketball: Durant. That's not because he's an NBA champion. Not because he's a two-time Olympic gold medalist. Not because he's an eight-time NBA All-Star.
They think he deserves the title because. You can call him a snake, a traitor, or a backstabber after he left Oklahoma City for Golden State two summers ago, but at the end of the day, Durant is the backbone of a brotherhood.
"When I won my championship (at Duke) and when I signed my (NBA) deal, (Durant) was damn near in tears for me," Cook said. "That's because we're so close. Where we're from, the older guys want you to make it as bad as you do."