A man so big and so beefy shouldn't be able to do a split.
But here's Mike Daniels, the Packers' star defensive tackle standing 6' and weighing a powerful 310 pounds, sweating through another yoga session on a Monday afternoon. Fresh from the gym, where the 28-year-old was throwing around the plates, he's in the studio with his personal instructor, Ryanne Cunningham, working his way toward pulling off the spectacular pose that make guys wince just thinking about it.
"In order to be one of the best defensive linemen in the NFL—which I am—it's doing things that other people aren't willing to do," says Daniels.
The split would definitely qualify. As would the playbook of other poses Daniels can pull off, expertly contorting his body in ways somebody his size has no business being able to do.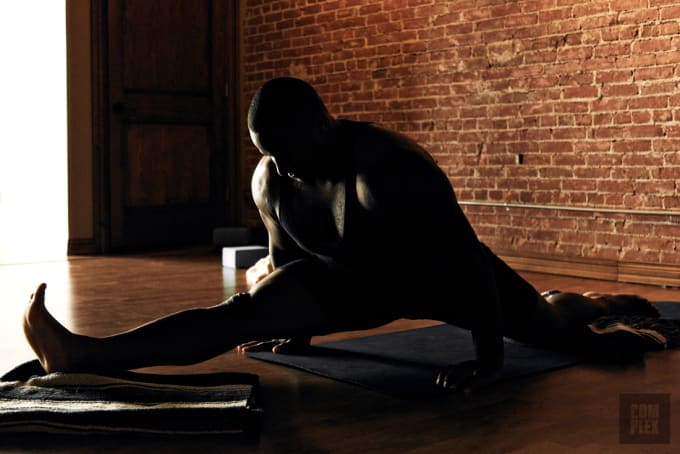 NFL players have been practicing yoga for ages. The list of stars and reserves alike who have turned to the ancient discipline to help with flexibility and on-field performance is longer than an Aaron Rodgers Hail Mary. So Daniels isn't doing anything radical. But the devotion to yoga has provided him with revolutionary results that could make him even tougher to defend this season.
"I tried doing yoga in my second year," says Daniels. "I knew I wanted to come back but I just kept dragging my feet on it until last year. I kept feeling stiff. One of the guys said, 'You ever do yoga?' I said, 'Nah.'"
Things have changed. Daniels reached out to Cunningham of Flow Yoga Studio in De Pere, Wisconsin, before the start of training camp last summer. With Cunningham making house calls for their weekly sessions, it didn't take long for Daniels to loosen up and notice a difference. Once the season rolled around, he was so limber that before games that he felt like he could "spring out of the stadium." The results were on full display in the NFC Championship Game. Even though the Falcons pasted the Packers, Daniels was Green Bay's top defensive performer, finishing with three tackles, two hits on the quarterback, and a hurry.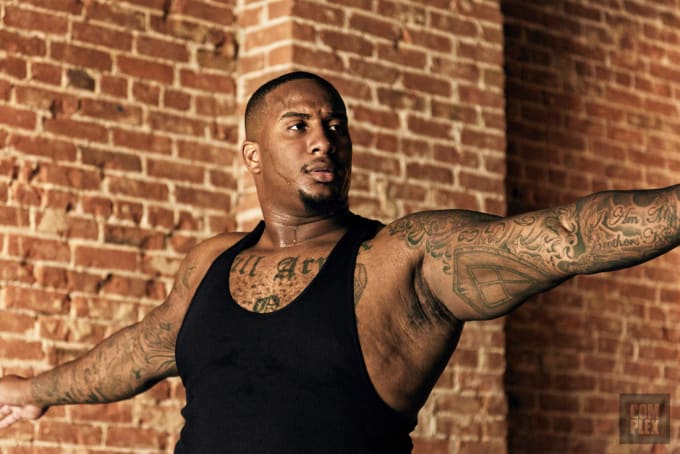 "I got a hit on Matt Ryan where I beat one guy, flipped my hip one way, then instantly flipped my hip the other way, made a beeline to the quarterback and got a nice hit on him," says Daniels. "I know I wouldn't have been able to do that [without yoga] because I haven't done something like that before."
When Daniels showed Cunningham the play she says it was "truly amazing" and she "almost teared up." The work put in as the Packers turned a disappointing start into a six-game winning streak to end the regular season and a deep run in the playoffs had tangibly paid off. But with the season officially over, Cunningham told Daniels it was time to take it to a new level.
When OTAs started in May, Daniels "felt a significant difference compared to all my years past in the NFL." While the increased flexibility and explosiveness in his hips have been the most obvious benefit from yoga, its emphasis on breathing and self-discipline have made just as much of an impact.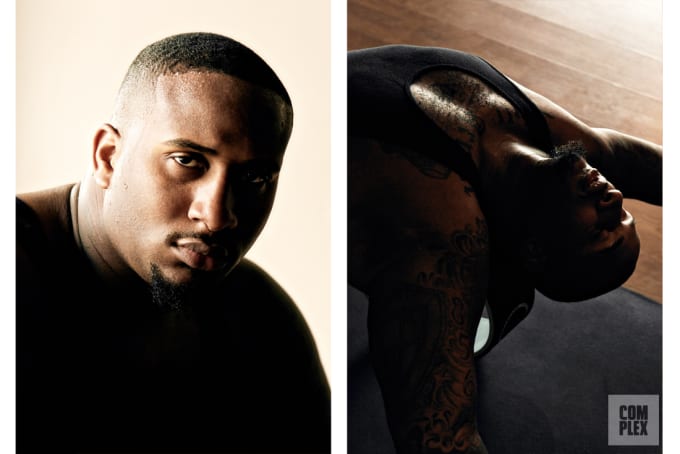 "If you come in and you're tight as a rock, thinking you're going to power through, you're not going to be able to do it. You really have to relax your mind," says Daniels. "As they say in Bad Boys, 'Woosah.' Take a deep breath. When the game comes, no matter what happens, you can always keep your cool. I'm a bit of hot head, a bit of a spaz, so it really helps me calm myself down during the game."
Three months before the Packers season opener at Lambeau Field against the Seahawks, Daniels is halfway through a session and Cunningham has him dripping in sweat, pushing him from downward dog, yoga's staple pose, to low lunge and crescent pose. She's working him up to the split, loosening up his key areas by putting him in king pigeon, a pose that looks like it could tear a hamstring, and frog pose that looks like a medieval torture move. Daniels pulls them off like a pro, huffing and puffing with perfect form. When he's done, he grabs a beach towel to wipe off the perspiration pooled on his forehead.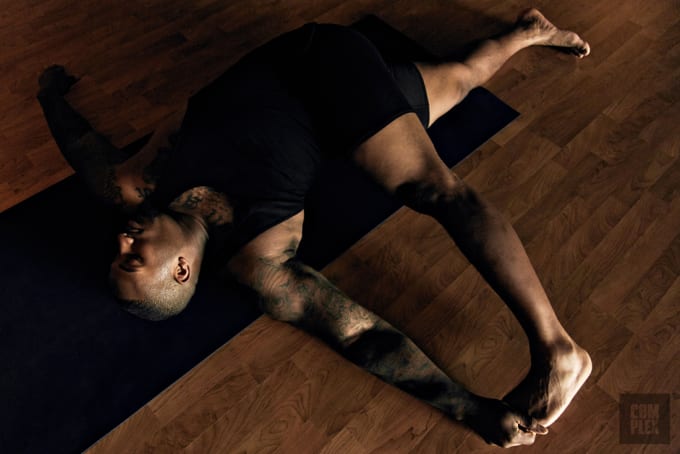 Then Cunningham gets out a few blankets. It's time to do the split. Left leg in front, toes aimed to the ceiling; right leg facing the opposite direction, foot perpendicular to the floor. Daniels eases into it. After a few deep breaths, he's splayed out on the studio floor and holds it for what feels like an eternity. In reality, he can stay that way for about 30 seconds.
Regardless, it's incredibly impressive. With his massive inked arms and pecs that could chest bump a mere mortal across the room, it's almost comical Daniels can pull it off. And he came into the studio stiff from a flight the day before and a little gassed from his earlier lifting session.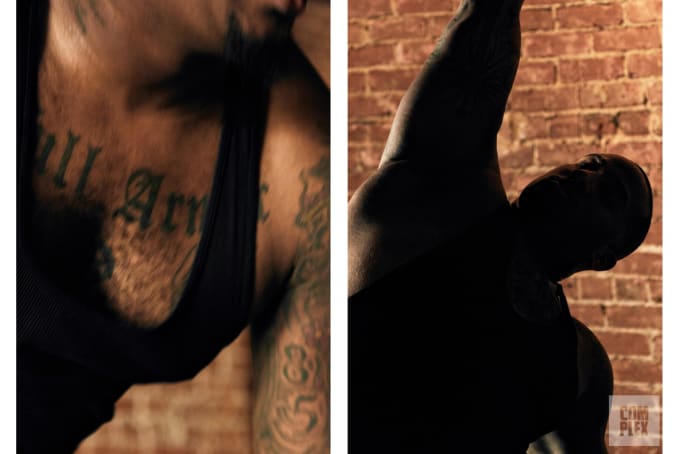 "I say I'm the strongest in the NFL, but the yoga has helped me to a point where I can't be moved off the line," Daniels says, "because I know how to get rooted in the ground and use the energy around me."
The session is over with but before he heads home, there's one more move he wants to show off. Daniels has been working on a headstand. So he gets back on the mat, plants his head and hands, compacts his legs, finds his balance point, and then uncoils the limbs straight to the ceiling.