With the amount he's discussed, it's sometimes easy to forget LaVar Ball isn't the guy who is about to be drafted and play in the NBA. He has made himself as big of a story as his son Lonzo Ball, for better or for worse.
While we understand he has to put himself out there to get Big Baller Brand off the ground, at times it appears as though things have gone a little crazy on the promotional front for LaVar. Take, for example, his latest deal, where he'll reportedly sell autographed trading cards of himself at $59.95 a piece.
xydzZoYjE62WxTagZdT7E2GhRSD_0lbh
The cards, which were commissioned as part of a deal with Leaf Trading Cards, will each reportedly feature a unique catchphrase from the leader of the Ball clan. "$495 ain't enough," "If you can't afford the ZO2's, you're not a big baller," and "Lonzo better than Steph Curry!" are some examples of the types of autographs you'll have a chance to purchase, though you won't know which phrase you're getting until the card arrives in the mail.
Judging by the picture previews of the cards, it looks like Ball hasn't yet developed one of those big, looping signatures you often see from celebrities who are signing hundreds of items. His cursive is definitely better than mine, though.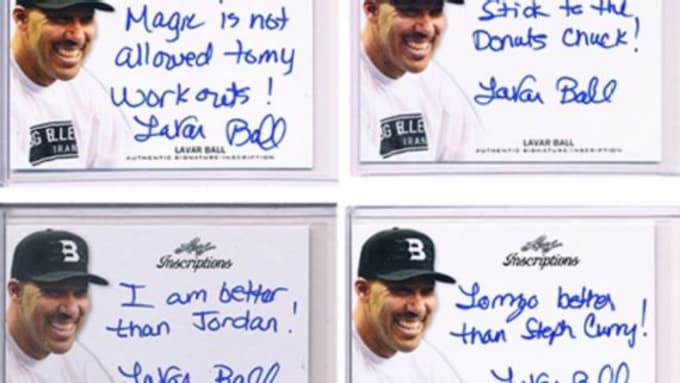 Leaf's CEO Brian Gray explained the rationale behind the company's decision to ink Ball to a deal.
"The fact is that LaVar Ball is a significant pop culture icon," said Gray. "My job is to create a collectible element for personalities like him. We'll now see if the market is real, not based on what people will pay to first buy them, but what they will resell them for."
A pop culture icon?
None of this is a dig at LaVar, because if someone is going to show up offering cash just to sign a few cards, there's absolutely no reason he shouldn't profit from all the attention he's getting from the media. If you can talk your shit and collect a check as a result, that's not an outrage, it's the American Dream at work.
But this is one of those situations where it's almost impossible to believe there's a market for sales. Outside of some rare baseball cards, the trading card industry isn't exactly thriving these days, nor does it tend to shift based on how loud or funny you are. Lonzo signing a deal like this would make sense because, you know, he's actually going to play in the NBA. But LaVar? Ehhh.
If owning an exclusive piece of LaVar merchandise is high on your to-do list, you can buy yours starting at 1 p.m. on Wednesday afternoon.