There are so many Paul George trade rumors swirling around right now that it's starting to feel like it's only going to be a matter of time before the Pacers part ways with their longtime superstar. But don't tell that to George's teammate Lance Stephenson. Other Pacers players have probably come to terms with the fact that George is, at some point in the near future, going to be playing for another team. But on Wednesday, Stephenson took to Instagram to tell George that he wants to see him stay in Indiana:
At this point, George doesn't have a whole lot of say in where he will play next season. He has reportedly told the Pacers he won't re-sign with them when he becomes a free agent in 2018, so they have some incentive to try and move him this summer. But they could also keep him and force him to play out the remainder of his contract before bolting next summer.
In the meantime, the speculation surrounding George's future is going to continue, and apparently, it's also going to start social media beefs between players. Shortly after Stephenson put up his heartfelt post about George on Instagram on Wednesday, Celtics guard Isaiah Thomas responded to it by telling Stephenson that George is as good as gone as far as he is concerned. Some people think George might be traded to Boston this summer, and it seems Thomas believes it could be a real possibility. So he traded some shots with Stephenson in the comments section on Stephenson's IG and insinuated that he better not get too comfortable with the idea of playing alongside George in Indy next season. Here was their brief back-and-forth: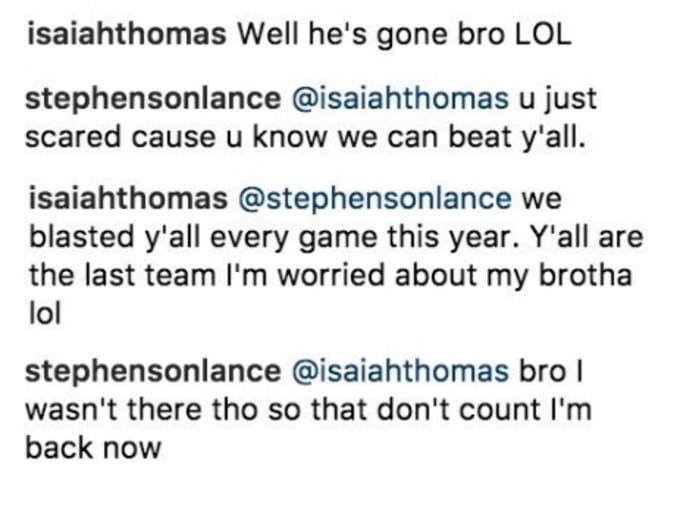 George isn't the only player Thomas is interested in bringing to Boston. He has also been actively recruiting Blake Griffin from the Clippers in recent days:
No word on if he plans to do that by beefing with Chris Paul Austin Rivers on IG yet. But Thomas has made it clear that he's going to recruit whoever he wants to recruit, and he's not going to let Stephenson or anyone else stop him from doing it.