Shawn Porter would prefer you not pose the question, but since he knows he's going to get it regardless, he's prepared. 
There's a lot riding on his fight Saturday night, and a potential loss would be devastating for his championship aspirations. So when you sit down and talk to him a few days before he enters the ring again, try to think of a different way, if you can, to ask why his bout with Andre Berto is a must-win and whether the ramifications of a defeat weigh on him.
"Everyone is saying this is a must-win fight. Like I've said before, from the moment I turned pro, every fight has been a must-win," says Porter. "If I treat this any different, then I may not have the right mindset."
Whether or not Porter is in the right frame of mind for Saturday's fight (9:30 p.m. ET, Showtime) might be debatable for some considering there's just as much talk about a looming rematch with Keith Thurman should he emerge victorious as there is about how he matches up with the 33-year-old Berto (31-4, 24 KO). But the 29-year-old Porter (26-2-1, 16 KO) is confident he can take care of Berto in the 12-round WBC eliminator fight and then officially set his sights on another chapter with Thurman following their epic 2016 match. We caught up with Porter before his bout at Barclays Center to talk Berto, the rematch every boxing fan would like to see with Thurman, and why he loves fighting in Brooklyn. 
(This interview has been edited and condensed for clarity.)  
"I've seen myself knocking him out. I've seen it going 12 rounds. I've seen myself stopping him with a body shot. I've seen this fight a lot of different ways."
Does the mentality change from fight to fight? Is your mindset heading into this bout with Andre Berto the exact same as it's been in all your other fights?
I'm geared toward winning. That's my motivation anytime I get in the ring. It doesn't matter who it is. We try to treat every opponent like they're superheroes and the best they could ever be. We never try to underestimate anybody or underestimate the opportunity. We go in with our gameplan to do the best we can.
After the Keith Thurman fight you wanted to fight in August or September. That didn't happen. Explain to me why you're fighting now.
That's the business of boxing. It sucks but the fighters don't always make the calls. If we had it our way, we'd probably be back in the ring by October. I probably would have already fought this year. But that's the business. We're not the ones who push the buttons.
So why Berto right now?
He's the one I was told. He was the one I was told would be the one to get me back to greatness, championship fighter. This is an eliminator.
How are you going to go about taking him out?
It's definitely going to take speed. It's going to take me hitting him and getting out of the way of his punches. Frustrating him and landing some heavy shots. Berto is someone who can definitely be stopped. I just don't think he's been in the ring with the right person. I'm prepared to do everything that it takes to stop him. It's going to be working behind the speed and build into the power and body shots as well. I've seen it all. I've seen myself knocking him out. I've seen it going 12 rounds. I've seen myself stopping him with a body shot. I've seen this fight a lot of different ways.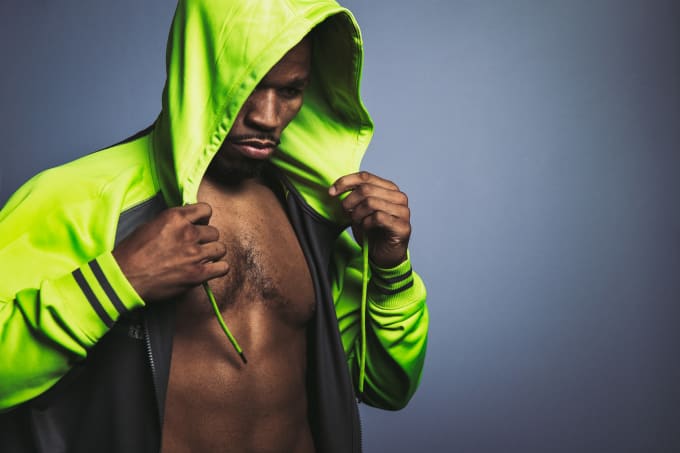 What ending would get you the most hyped?
I'm not even sure.
The knockout wouldn't feel sweet or the perfect body shot wouldn't feel extra amazing?
I've seen both. Especially recently, it's been the body shot as opposed to the knockout of the head. He just hasn't been in the ring with the right person to take it to him and be relentless and stop. My attack and my approach to this fight is really going to set the tone and really going after that WBC title.
All the talk around this fight seems to always lead up to the potential rematch with Keith Thurman in your next one. Is it at all distracting that that keeps getting brought up, or is that just a circumstance of this?
I enjoy the fact that it's next after this fight. Just like with the fight with Keith Thurman. I didn't know how long it would take me to get back in the ring and it goes on from there. With this, we know this is an eliminator. Whoever wins this is fight is fighting for the WBC title.
There wasn't a big appetite to set that rematch up right away?
Team Porter wanted it. I think the business made sense for him to move forward and fight Danny Garcia. But he can only go so far. I'm right behind him.
Is there a huge sense of pride that you participated in that fight even though you didn't end up on the side you wanted?
Huge sense of pride. Understanding what I did for boxing. What we did for boxing that night. Basically just that statement that there are some good, young, hungry fighters in boxing out there. And stay tuned.
How often do you think about that fight? Or were you able to get over that quickly?
I'm over it now. Outside of doing interviews about it, it's irrelevant at this point. Right now it's about Andre Berto.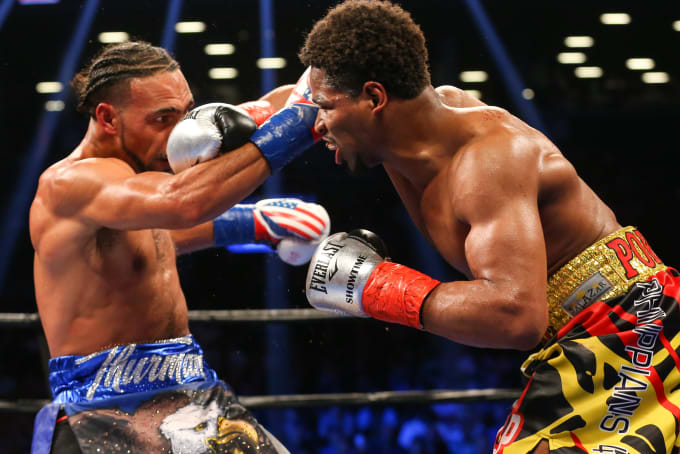 What'd you change up for this fight in your training or your strategizing for Berto?
I don't think we changed anything. I don't even know if we added anything. Just compounded it. More of X, Y, Z.
Is there a statement that you want to make Saturday?
Always. I'm here. I'm exciting. I am who you think I am.
You seem to have this carefree attitude. You smile a lot. You're personable. But you're like a wrecking ball in the ring. Give me a sense where that dichotomy comes from because it's like you're almost two different people.
I think understanding the seriousness when I'm in the ring. Obviously you go out there and "want to have fun and enjoy the experience." But it's more serious than that. Especially when you consider the sport. Punching someone and getting punched. There's a seriousness and that's what you see, me doing everything I can to win a fight and obviously the understanding that it's a very serious thing I'm in there doing. I have fun afterwards.
What are you expecting from Andre Saturday?
I'm expecting him to fight and come at me. I'm expecting him to look at me as if I can't hurt him, and then I'm expecting him to get frustrated. I'm expecting him to feel my punches. I'm expecting to see some questions in his eyes.
You've fought in Brooklyn three times now. You're from Ohio. Live in Las Vegas. How is it that Brooklyn is kind of like your fighting home?
It's Brooklyn. This is a fight city, a fight state. Their Golden Gloves here is like the national Golden Gloves. Boxing just runs all through New York, so when I come here they're excited to see me. They know I'm going to give them a show. They know I'm charismatic in the ring, full of energy. I give it to them and they give it right back to me. I think that's why it works.