Super Bowl weekend sure does live up to the hype, man. Yes, it's way more about the experience surrounding the game than the actual game. But let me tell you, actually being there is worth the trip. Budweiser played host as I ran through Houston this past weekend and took in the sights, sounds, and cultural hustle that H-town is known for surrounding Super Bowl L.I And from the jump I knew something special was in order. This wasn't going to be just another weekend.
It started with a plane ride from NYC that could have masked as a New England Patriots team charter. Bro-y dudes with heavy Boston accents were boasting about how Tom Brady was going to fist fuck Roger Goodell Sunday night.
On the ground in Lone Star State, Houston was showing off the best it had to offer and I was in the middle of it. There were parties, happy hours, fancy dinners, concerts, games, and tons of booze.
Saturday started with a trip to the Budweiser brewery where I got to see the Clydesdales up close and check that off the bucket list. The 12-year-old version of me was jumping for joy. The perks of a brewery are exactly what you would think, too. We drank a ton of free beer—even from the freaking tap. What more could you want in Texas? 
While I didn't see Paul Wall during the trip, I did make my way to Johnny Dang's brand new grillz and jewelry shop right in the middle of H-Town after the stop at the Budweiser brewery. Talk about vibes. Freaking TV Johnny. The legend himself not only gave a tour of his shop, which is a staple for rappers and athletes who need some bling, but gifted me with my own personalized grill. H-Tine official. Here I was getting fitted for a grill by the same man who has hooked up Jay Z, Lil Wayne, Nicki Minaj, and so many more superstars. I can't wait to wear this everyday to the office and annoy everyone.
Outside of the randomness that comes with something like Super Bowl weekend, the musical acts who perform at the parties are always A1 because you can always expect A-Listers to show out. The Bruno Mars and DJ Khaled show at a Houston warehouse on Friday night was a wave. Mars' stage presence and voice is just unmatched. His shit was so on point that Vince Vaughn was grooving like a MFer in the cut to "Versace on the Floor." Vaughn wasn't the only random celebrity sightings over the weekend. There were confirmed sightings of 1. Gordon Ramsey 2. McLovin from Superbad 3. Anthony Anderson 4. Vaughn, who winked at our group as he walked by. Super weird. There were more but pardon my memory is fuzzy from too many Budweisers. 
I was able to see Big Sean—fresh off his new album—Nas, and Diplo at the Rolling Stone and Budweiser party on Saturday night that morphed into a complete turn up midway through the show when everyone realized they were there to party and not just socialize. I'm talking McLovin was standing on couches catching confetti. Nas, the true showman that he is, ran through a set of classics like it was nothing. No matter how many years later, it still makes me tear up a little seeing "One Mic," "New York State of Mind," and more played live. There were so many more dope performances, almost too many to mention. Some may have been at strip clubs. I regret nothing.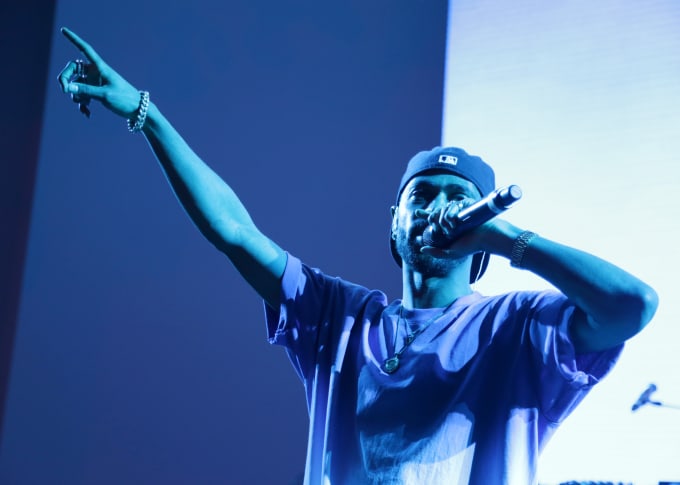 BTW, Houston strip clubs are A1. Maybe not on Atlanta level, but they sure did deliver this weekend. Think of the "Tip Drill" video magnified by 1,000. Going to a strip club with a bunch of rich famous people is also a good reality check. While being in that environment is always a fun time, if you're not able to throw stacks around and everyone else is, it's a bit of a downer. Just a fresh reminder to get ya money right. Still, drinking Bulleit on the rocks at 3 A.M. while hanging out with a girl named Destiny is life-changing. May or may not have fallen in love. 
Ok, so about that football game. By now you know what happened. Tom Brady is the G.O.A.T., whether we like it or not. The Falcons blew a 25-point lead. Also, please don't let that distract you from the fact that the Warriors blew a 3-1 lead...But the atmosphere was insane. The major knock on the Super Bowl is that no actual fans go. It's usually all corporate people. Well, I'm not sure if this year was just different or what, but it was electric. Fans were amped from the jump. 
Surprisingly, it wasn't that hard to get in. Security was all over, but the line moved fast. The official tailgate was a madhouse of fun conveniently placed at a convention center right next to the stadium. NFL Hall of Famers were all over while the buzz for the upcoming game was rising by the minute. Drinking with Tim Brown was dope. Former Saints great Willie Roaf was in the cut, looking like he could still suit up today.
Following the tailgate, where I decided it was a good idea to drink approximately seven Budweisers, we made our way to our seats. It was tough to gauge, but I'd say walking into the stadium, it was about 60-40 Patriots fans. Our section was about as even and became a rollercoaster of emotions throughout the game. Patriots fans were dejected as ever but rose from the ashes when Brady decided he had enough of the Falcons. 
For as lit it was when the Falcons were rolling, it turned into such an intense affair in the fourth quarters. The crowd dynamic was fascinating. Atlanta fans were so hyped. Ludacris, T.I., Jeezy, 2Chainz, and more were all in the building. Legendary ATL songs were ringing off. Then the Boston bros were chirping.
Something clicked with Brady. Watching him surgically carve up the Atlanta secondary was a sight to behold. I've watched so much Browns football in person that I didn't really know what was happening. From the end of the third quarter on, there was really no doubt in my mind that he would do enough to put the Patriots in a position to win. He would just need help from the Falcons doing some dumb shit. And boy, did they. What the hell was that 3rd and 1 call, Atlanta? As the game turned, so did the crowd.
By the middle of the fourth quarter a look of fear took over Falcons. It's almost as if they knew what was coming. There was talk of, "Same old Atlanta sports," while others couldn't even muster words. Just looks of horror as Tom Brady was surgical with it. We all knew it was over and there was nothing anybody could do about it. 
With no dog in the race, I again didn't care who won or loss, but I will say that if the Falcons won, my after the game plans would have been way more lit. With every major Atlanta rapper in town, Houston would have been SENT up with a victory. Instead, Tom fucking Brady ruined my night and I went back to the hotel and just drank Budweiser until I passed out. What could have been.