Future Is on the Atlanta Falcons Sideline to Troll Seahawks QB Russell Wilson
The beef between Future and Seahawks QB Russell Wilson continues, with the rapper joining the Falcons sideline to troll before today's playoff game.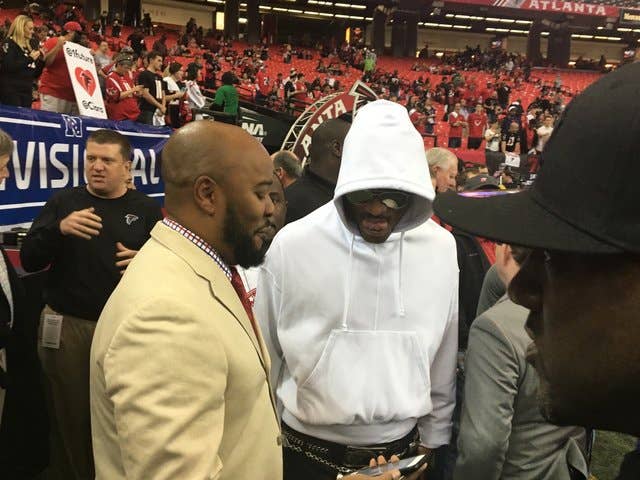 Twitter
Image via Twitter (@vxmcclure23)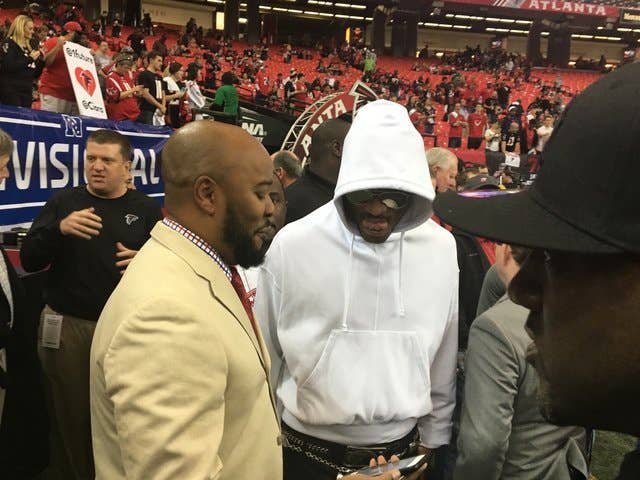 The ongoing, one-sided feud between Future and Russell Wilson just won't seem to go away. Days after the resident DJ for the Atlanta Falcons promised to bombard the Seahawks QB with Future tracks during the game, the Atlanta-based rapper took it one step further: Future is on the sideline for today's Seahawks-Falcons playoff matchup.
Future was first spotted in the picture you see up top by local radio host Ryan Cameron, who also hosts a pre-game show for the Falcons. It appears he's not the only rapper prowling around Atlanta's side, nor the only one with ties to Ciara. Bow Wow, who dated Ciara prior to her relationship with Future, posed with the Falcons' pre-game crew:
As you might expect, Twitter had a lot to say about the obvious attempt to throw Wilson off his game:
None of this really matters if the Seahawks win this game, but it begs the question of why Future continues to beat this into the ground. It plays great for jokes and memes, but Wilson and Ciara seem quite content in their relationship, so who's really taking the L here?
It also makes suggestions like this hard to take seriously:
Unless you believe Future is only there to support the hometown squad—and really, how could you—this is another strange chapter in the ongoing saga. We'll keep you updated if we get our hands on more information.