Claritin, Advil, hard liquor, and Dos Equis: That was my diet for a weekend in Tampa for the College Football Playoff championship game. My nose was dripping like a coke fiend and I had the sniffles like Trump during a debate, but I was here to document college football's biggest game in Trump's America. I grew up in North Jersey and can count on my hands how many times I've been down south. It's always a culture shock but Tampa isn't your regular southern town.
The thing is, this year's game between Alabama and Clemson was being hosted by one of the country's most diverse cities. Tampa has a rich history tied to everyone from the mob to Spanish and Cuban cigar makers to the pirates we've read about as kids. 
As soon as I got off the plane I was fed Dos Equis. I was basically a keg by the time I checked out of my hotel. I was hoping to witness and join in on some of the action between the two fan bases leading up to kickoff. But instead of being greeted by eager frat bros trying to make the latest Barstool post, southern belles, and every other stereotypical southerner you can imagine, I chopped it up with Clemson fans and Bama fans that, as they say, have been there before.
When I checked into the hotel, I asked a young Latin man if he were able to procure some loud for your boy, but he politely declined. Probably a good thing, being that I could only breath through one nostril. You see, I escaped the northeastern cold and snow for Florida fun and sun. However, the weather in Tampa was more like fall in New Jersey. It was probably the coldest weekend of the year, and in turn, my allergies went haywire as soon as I landed. All in all, not being able to easily find a loud pack was a sign of things to come.
This was the second matchup in a row between the Tigers and Crimson Tide, two predominantly white southern schools with predominantly black players and black starting quarterbacks. That irony was not lost on me. Football in the south is religion, and the games are taken as seriously as church. I was expecting keggers, broken tables, and ladder matches. But instead bros held court on beer pong tables while tailgating, but they were forced to control themselves because of all the kids running around. The vibe felt more church retreat than it did a football game.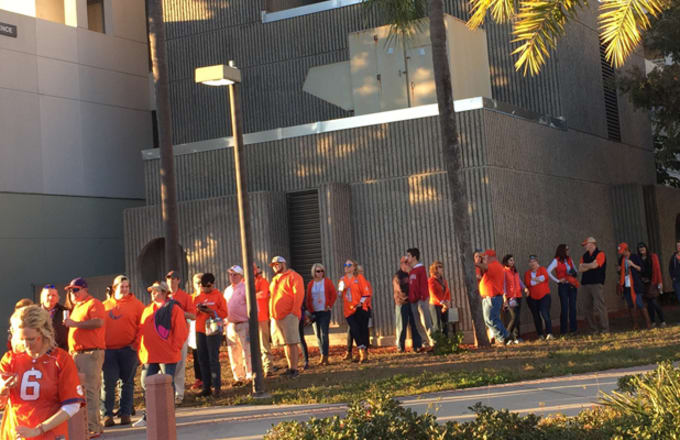 I witnessed no fights, no arguments, no tussles—just families and alum hoping for the best. The most drama I saw was when an old Clemson man in a purple and white checkered shirt told an Alabama supporter: "You're on the wrong side of the street, aren't you boy?" as he walked past him. Orange Clemson fleeces, maroon Alabama "Deray" vests, khakis, and woodland camo was all over the place. The south love their woodland camouflage and had it everything to flags to hats to chairs. Although I did spot a Clemson fan with Yeezy Boosts on. I'm still pissed I couldn't get a decent picture of him. It was like spotting Big Foot in the wild but no one believes you because you don't have proof.
The drama was saved for the game which turned out to be one of the greatest college football championship games in history. Like in the parking lots, orange dominated Raymond James Stadium, home of the NFL's Tampa Bay Buccaneers. Most Alabama fans opted to drive in just for the game to save some money, a few of their fans told me. Tide supporters assured me that more of them would be inside the stadium than out, and they were right. But still, they were outnumbered by Tiger fans. Their fight song drowned out Alabama's at every opportunity. By my estimations, I would say the place was 70/30 in favor of the Tigers. With the weekend being more lowkey than expected, save for a kind of bland ESPN party with a cover band (I guess Lil Wayne and Wale were busy?) the energy surrounding the game outside of the stadium was nuts.
There were people who waited on a security clearance line for about an hour with no tickets and tried their luck with scalpers once they got past. And they weren't shy about it with some holding signs and others wearing shirts with "I'm Buying Tickets" on the front. Somebody sold two tickets for $1500 a pop at one point and once the game was finished, I couldn't blame them. Clemson pulled off the upset and the score went over the 51.5 points Vegas projected. There were many happy people in the stands and at home for various reasons.
Outside the stadium everyone was pretty much in shock. There were four scores in the fourth and Saban's teams were 97-0 when leading by more than 10 points going into the last quarter. Even Bama fans appreciated the drama. Fans from both sides talked about what they just witnessed and sought out BBQ street vendors to soak up some liquor. Some stayed in the stadium until the festivities were over while some dipped to beat the traffic. Everyone was pretty much on a high from that insane fourth quarter.
The weekend in Tampa showed me not to have misconceptions about sports fans in Trump's America. Everybody was cordial and kept things civil for the most part. It's cliche, but sports can bring people together like nothing else.