Pro wrestling star Jerry "The King" Lawler and his fiancée Lauryn McBride were arrested early Friday morning in Memphis, Tenn. on domestic assault charges after they were allegedly involved in a violent altercation at a home they share.
According to News 3 in Memphis, Lawler, 66, and McBride, 27, got into an argument that reportedly started after Lawler accused McBride of lying about where she had been earlier in the night. McBride claims Lawler held her against a counter in the couple's kitchen during the alleged argument, hit her in the head, and placed a gun on the counter and told her to "go ahead and kill yourself." However, Lawler claims McBride scratched him, threw a candle in his direction, and kicked him in the groin. He also claims McBride was intoxicated during the incident and was the one who brought a gun into the kitchen and threatened to kill herself.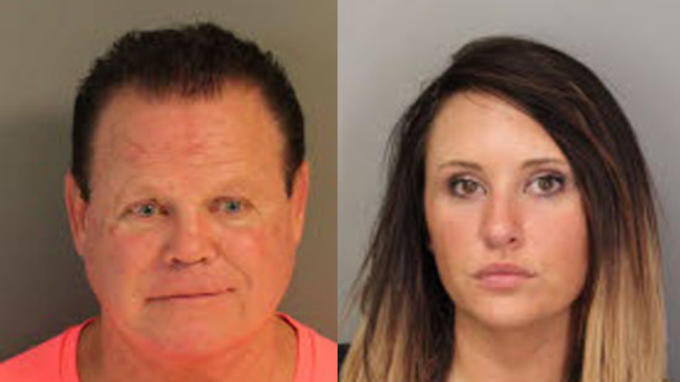 Police were unable to figure out which of the two was the primary aggressor during the alleged altercation when they arrived at their home, so Lawler and McBride were both arrested and charged with domestic assault. The WWE suspended Lawler indefinitely once news about his arrest broke and released a statement about the incident:
Jerry Lawler was arrested at his home Friday morning by the Shelby County Sheriff's Office in Memphis, Tenn.

According to a police report, Lawler and his girlfriend, Lauryn McBride, were taken into custody and booked on alleged charges of domestic assault—bodily harm, a misdemeanor.

WWE has zero tolerance for matters involving domestic violence, and per our policy, Jerry Lawler has been suspended indefinitely following his arrest.
Lawler spoke with WMC Action News 5 about the incident from jail on Friday morning and denied the allegations made by McBride. Lawler and McBride are scheduled to make court appearances in Memphis on Monday.