I'm never confident going into big games. As any super fan knows, no matter how strong your team is, you're still nervous watching them in a championship game. Strangely, I wasn't that nervous before Sunday's Copa America Centenario final between Argentina and Chile. Maybe it was the thrill of getting to see my favorite player ever—Leo Messi—play for the first time. Maybe it was my conscience saying "They've lost two straight finals, they can't possibly lose again." Maybe it was allowing myself a brief moment of joy in believing, after the incredible tournament Messi, Angel Di Maria, and even Gonzalo Higuaín had, that this year was theirs.
Well, as I learned last night, it's the hope that kills you. My first time watching Leo Messi play was also his last time in an Argentine kit. Shortly after their loss to Chile on penalty kicks, Messi shockingly announced his retirement from the national team. Or maybe it wasn't that shocking. Maybe as a huge Messi fan I've always known—whether I wanted to admit it to myself or not—that he just wasn't meant to win with Argentina. He didn't play on Argentina with the ferocity and confidence he displayed on FC Barcelona. The weight of the country seemed to constrict itself in his tiny 5'7" frame. The criticisms of Diego Maradona and any Argentinian who believed he cared more about Spain than he did Argentina seemed to be repeating in his head like a broken record.
If he cared more about Spain, would he have collapsed on the field after missing his penalty—arguably the most important of his career? A penalty he made against Chile in the Copa America final last year. A penalty he made against Netherlands in the semifinals of the 2014 World Cup to catapult his team, his country, into the World Cup final.
We were all there to see him. To witness the greatness that is Leo Messi. And then he made arguably the biggest mistake of his career. 
He overthought it. Maybe it's because Messi plays with the Chilean goalkeeper—Claudio Bravo—on FC Barcelona and tried to outsmart him. Maybe Messi thought Bravo would know which way he'd kick and instead chose to chip it in. Maybe Messi collapsed because he realized that win or lose, he would not be able to enjoy the victory. Everyone in that stadium—every Argentinian, every Messi fan worldwide—felt the burden of that missed penalty.
You see, when you're a soccer fan, you're not just a fan of some sports team. You live and die with the team. And when you're a Messi fan, you feel like you've been given a special gift in getting to watch him play. Although I was a fan of the sport before Messi debuted in 2004, watching him play made me fall in love with the beautiful game, because he made it beautiful. And in return, all I wanted was to see him lift a trophy for Argentina because I felt like the soccer gods owed him that much.
Before last night, I comforted myself with the 2014 World Cup loss by repeating that Argentina had a depleted team. Di Maria couldn't play the final against Germany because of an injury. Sergio Aguero ran out of gas. Javier Mascherano tore his anus in the previous match and couldn't have possibly been 100 percent in the final. Four Germans descended on Leo Messi every time he came within an inch of the ball—how was he supposed to penetrate that world class defense alone? Higuaín made two glaring mistakes, as did Rodrigo Palacio.
In the 2015 Copa America final, again Di Maria was injured. Again Aguero ran out of gas. Again Higuaín made a glaring mistake. Again Messi's head just didn't look in it.
This year was supposed to be different. Di Maria was cleared to play in the final. Higuain had a great tournament, and it seemed like Argentina fans were getting past his previous bone headed mistakes. Messi was, well, doing Messi things throughout the tournament. And when I say "Messi things" I mean the kind of things we're accustomed to seeing him do for FC Barcelona.
I couldn't be comforted with the "what if's" anymore. The bench was deep. So deep that Aguero didn't even start. So deep that it didn't matter if Ezequiel Lavezzi was injured and couldn't play. So deep that even after Higuaín (again) missed a 1 v 1, I thought "All good, we're still in this." So deep that even when it went to a penalty shootout—the most tense moment for any soccer fan—I thought we could still win.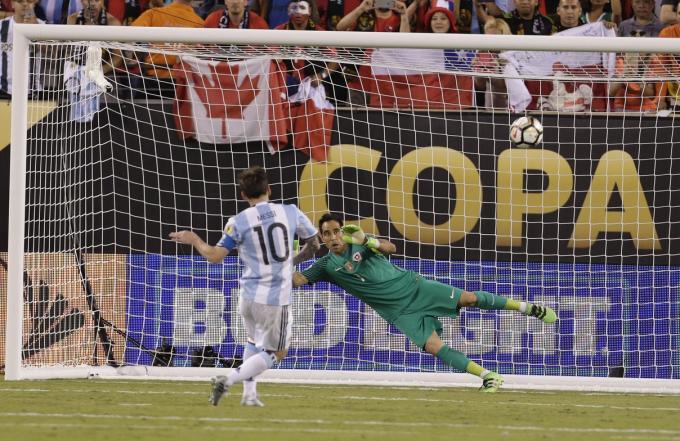 And then Messi missed his shot. He chipped it right over the net. The keeper didn't even have to do anything to stop it. An audible gasp escaped MetLife Stadium. The majority of the 87,000 person crowd wore some form of Messi attire. We were all there to see him. To witness the greatness that is Leo Messi. And then he made arguably the biggest mistake of his career. You could feel the absolute heartbreak on his face when he walked back to his teammates and collapsed onto the field. You felt the heartbreak when he started bawling after Chile sealed their second victory in a row. You can understand the burden of being Messi when he announced his retirement shortly after losing, not willing to take another loss with the entire country on his back. You could understand why Mascherano and Aguero, who are Messi's two closest friends and teammates, would want to bow out of national team duty as well. Despite being two years away from the next World Cup, which Argentina have basically already qualified for, you could understand why they wouldn't want to deal with another gutting loss.
And you could understand why being a Leo Messi fan, this was the hardest thing to bear. Watching my favorite player—who's brought me more joy than I can ever put into words—give up because he's tired of losing, hurts more than I can really say. As silly as it may sound, watching Messi end his career with Argentina like that was like losing a close, personal friend. I finally learned the meaning of inconsolable after seeing that in person. I can't explain that heartbreak unless you too have spent the last 12 years watching him play. Sure, he'll be going back to FC Barcelona, probably to win a couple more trophies there. But something will always be missing, and that's the part that sucks the most.