Flip on Rogers Sportsnet any afternoon and there is a very real chance Faizal Khamisa will give you an update on what's happening in the world of sports that days. Always styled in a fresh, crisp suit with a hard part in his hair, the 27-year-old is one of the young stars of the Canadian sports network, quickly developing a following and reaching the point that he's the target of ribbing from Sportsnet stalwarts Tim Micaleff and Sid Seixeiro.
When the veterans are busting on you, that's when you know you're doing something right.
In addition to his role at Sportsnet, the Mississauga native is also – as his Twitter bio details – a GIF Creator, Stylistic Ninja and a cancer survivor and Tuesday night, he took to the social media platform to share some of his story and his plans for giving back throughout the month of June.
"I was 16 when I was rushed to the hospital and it was just the most life-changing experience, obviously," said Khamisa, who was diagnosed with Non-Hodgkins Lymphoma 11 years ago, when we spoke on Wednesday afternoon. "When you're 16, you don't really think about having to deal with things like this; you think about sports and girls and summer and high school and meeting your friends.
"Being in a hospital surrounded by so many kids – so many people younger than you – you start to appreciate life a little bit more and start to get a little bit of perspective. You have to be as positive as possible for everyone around you too and that's all I wanted to do while I was there."
Nine years after his final chemotherapy treatment, Khamisa took to Twitter to announce that throughout the month of June he'll be collecting donations – monetary or goods – for SickKids in Toronto.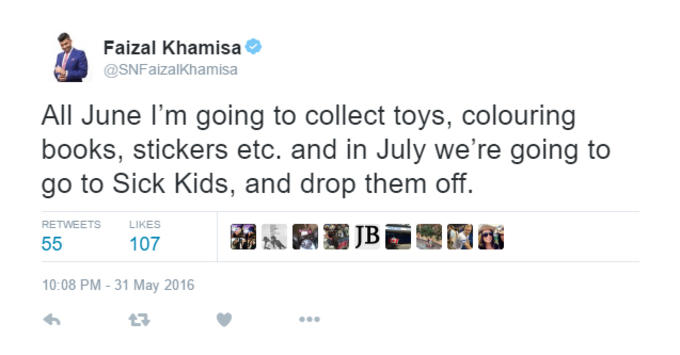 "I don't know exactly where it came from," admitted Khamisa, who has been overwhelmed by the number of people reaching out to help and sharing his plan on social media in the little time it has been since he unveiled his idea late Tuesday evening. "It's just something that I really remember: that first day being diagnosed, sitting in that room, looking around, seeing the toys there, seeing the kids at times and how happy they were despite how frail the situations were.
"Every year, I try to do something – whether it's a donation to the Canadian Cancer Society or something else – but this year, I felt like doing something more and something more tangible. I have a couple friends who work at Sick Kids and it felt right this year to do this, so I threw it out there to a couple people before yesterday and they were like, 'You know people would be interested in helping with it' and I didn't really know.
"I didn't know how people would gauge this – if they thought it was cool and they were supportive and would spread the word – and man, since last night, I've been overwhelmed with people that have already donated money so that I can go buy more toys and books, people that have already committed to sending me things. It's been overwhelming and obviously it has justified the decision to do this."
In addition to May 31st being the anniversary of his diagnosis and final chemo treatment, it is first and foremost his mother's birthday and one of the things Khamisa detailed in his Tuesday night Twitter session is the impact his diagnosis had on his family and the myriad changes his parents made in the wake of his diagnosis and the years since, summing up his thoughts on his family and everyone that has gone through this type of struggle by borrowing from Kevin Durant's MVP acceptance speech: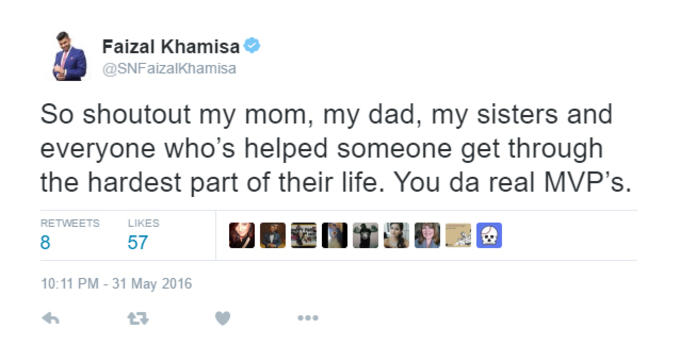 While he chuckles at the idea of being a celebrity or famous, Khamisa understands that being on television, having a following on social media and relationships within the sports media afford him a larger platform than many to share his story and put this plan into action and he is quick to give credit to the numerous friends, colleagues and complete strangers that have jumped on board and helped shown an interest in contributing to this tremendous cause.
"Like you said, I don't look at myself like a celebrity or anybody more important than anybody else, but it does say something about the fact that 11 years ago, my life was in demise and at risk of possibly not being around and I've been able to work and thrive and push myself to get to where I am. It says a lot about what I learned at that age and it's provided me a platform to try to evoke some change and try to spark some change and some positivity.
"We know Twitter at times isn't the most positive," he laughed. "I get a lot of negative tweets all the time as well, but I figured it was the best platform for me to try to gain some exposure for this and use the quote-unquote clout that I have to get other people interested.
"Other Sportsnet personalities, other media personalities jumped on board to spread the word and it helped and I think that is what has made the difference – having people way more influential than I having spread the word. That's why I have been so overwhelmed with the responses already and I credit a lot of those people help it get to this point already and it's only been 15 hours."
And although his focus is on collection donations to bring to SickKids in Toronto, for obvious, personal reasons, the Sportsnet anchor wants anyone looking to donate to consider reaching out to the Children's Hospitals in their area also.
"Whatever city you're in go to the local Children's Hospital in your area because I assure you they need help as well," said Khamisa. "I assure you they're never going to say, 'No' to a donation or to a gift or a toy because the amount of kids that go through those doors is staggering and all of them deserve to have some sort of happiness as they go through it. So be it Toronto SickKids or another hospital, I encourage everyone to just go out and give something this month."
Here's how you can get in touch with Faizal Khamisa or make a donation:
Twitter: @SNFaizalKhamisa – follow him and send him a Direct Message for details
PayPal: paypal.me/faizkham
Email: faizal.khamisa@gmail.com