Few things are as monumental as an actual monument.
We immortalize those whose impact we feel will last forever, but with legacy so closely tied to memory, the only way to ensure forever means forever is to commit to a tangible tribute. To many, "Macho Man" Randy Savage is deserving such a tribute. Which is probably why one of the hottest petitions in the Buckeye State at the moment is aimed at erecting a statue in the likeness of the beloved world champion wrestler and pop culture icon in his birthplace of Columbus.
The brainchild of London, Ohio native and Politically Incorrect Wrestling Show host Joe Chapman, the petition arose from the popularity of the already existing Arnold Schwarzenegger statue in Columbus' downtown area. "Me and my friends have kind of talked about it for a while," Chapman says. "We recorded a podcast and had just gotten back from The Arnold Classic where the WWE does a big event there every year called The WWE Experience. We noticed there wasn't just a lot of WWE wrestlers, but wrestlers we follow outside of the WWE realm as well. They were taking pictures with the Arnold statue, and we thought 'Why isn't there a Macho Man statue?'"
I printed out all 167 pages of all the signatures, we had the letter ready to go, we dropped it off at the Mayor's office, so the ball's in the Mayor's court.
It's a valid question, regardless of how rare it is to see a statue of a professional wrestler. Despite the Greeks dedicating many of the earliest statues to grapplers of their era, outside of the WWE-created statues of superstars Andre the Giant, Bruno Sammartino, Dusty Rhodes, and The Ultimate Warrior that reside in the company's Stanford, Conn. headquarters, the only other two professional wrestlers in the United States to be given statues are William Muldoon and Frank Gotch, both of whom made their mark in the earlier half of the 20th century. There's also the Lincoln Memorial, but Abraham Lincoln is probably best known for his career outside of the ring.
The petition, written to Columbus Mayor Andrew Ginther, calls for a statue to be built of Savage in Downtown Columbus. It's currently sitting at over 5,300 signatures, including Savage's real life brother Lanny Poffo. Longtime fans may remember as Poffo as "Leapin' Lanny" or "The Genius" during his WWF tenure, or from his WWE Hall of Fame acceptance speech on behalf of his brother when Savage was inducted in 2015. "To be perfectly honest, I was happy for the Ultimate Warrior to have a statue by the WWE, he certainly deserves it, but I feel Randy is also qualified to have a statue too."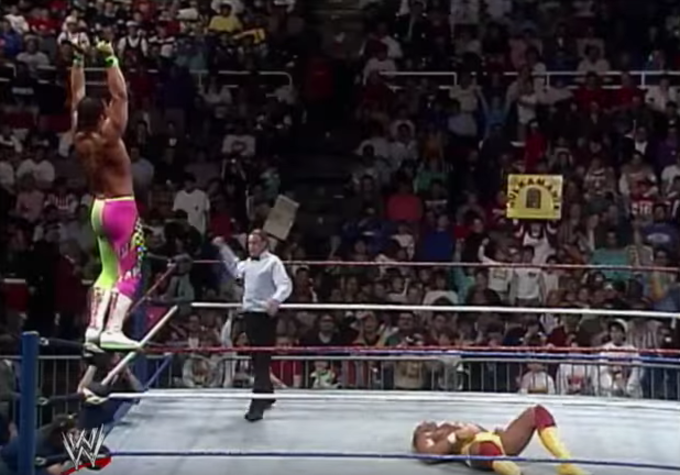 According to Poffo, there's only one bit of resistance the proposed statue has had thus far. "The only backlash I'm getting is people from Downers Grove [Ill.] wanting it to be in Downers Grove, and people in Sarasota wanting it to be there like 'Hey, we got a claim to him too.'" Savage's Columbus roots may come as a shock to fans who've heard the wrestler announced as hailing from "Sarasota, Fla." According to Poffo, "He grew up in Downers Grove, and he played baseball in Sarasota. He called it his 'fake hometown'; he thought it had a cool name. And he loved Sarasota—it's where he met his wife. A lot of towns that claim the Macho Man, like 'George Washington slept here,' would like to have it, but because of Chapman, Columbus is where it's happening. He put the pebble in the pond and now there's a ripple effect."
We're not city planners, we're just regular dudes who are trying to build a statue.
Columbus being Savage's birthplace was a result of his father, fellow celebrated wrestler Angelo Poffo, attempting to cut his teeth in the vibrant Columbus wrestling scene. "My father [Angelo] was wrestling in 1952," Lanny says. "He was just breaking in, which is difficult when your dad isn't a wrestler. He was working for a promoter named Al Haft. He was a multi-zillionaire and the promoter of Columbus, Ohio and the surrounding area. My dad was getting discouraged and thinking about quitting as [Randy] was about to be born. But then, [Haft] brought in Gorgeous George, the most famous TV wrestler ever. My dad was his designated driver and [told George] that he and my Mom were both college graduates, they were going to be school teachers, get the double paycheck and raise their family that way. Gorgeous George, who was ten years older, said 'You're out of your mind! You've got charisma! You can make it in this business if you give it a chance!' It was Columbus, Ohio [where] my dad ended up living and decided to try again and again. He made it in the big time in Indianapolis, and after that it was six years of stardom. Chicago, Atlanta, different territories."
If the three different cities claiming Savage each wanted their own statue, it wouldn't necessarily be an issue. There's some precedence in terms of Columbus statue non-exclusivity, the aforementioned Arnold Schwarzenegger statue has an identical twin in Schwarzenegger's home in Austria. However, the former California Governor allegedly paid $100,000 of his own money for his statue's creation.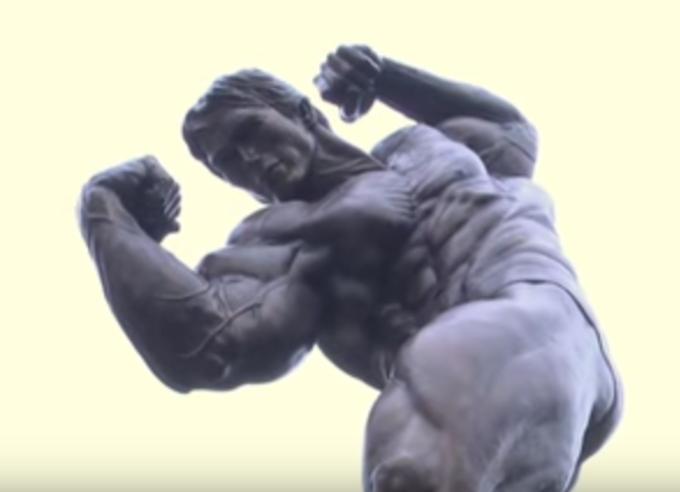 The Columbus political offices have remained largely mum on the Randy Savage statue movement. "We dropped off the petition on Monday," says Chapman. "I printed out all 167 pages of all the signatures, we had the letter ready to go, we dropped it off at the Mayor's office, so the ball's in the Mayor's court. They've been aware of it for a long, long time. Just give us an answer of what we need to do, or tell us where we need to go. We're not city planners, we're just regular dudes who are trying to build a statue." While our attempts to reach Mayor Ginther yielded no response, we were told Columbus City Council President Zach Klein "does not have a comment regarding this initiative."
In terms of what their ideal "Macho Man" statue would look like, Chapman and Poffo have similar ideas. "I think me and most people I talk to want the photo that's on the petition itself," Chapman says. "WrestleMania III when he's on that turnbuckle, he's pointing up to the sky and he's ready to drop that elbow."
Poffo agrees. "Either on the top rope with his arms in the air ready to leap off the top rope and drop an elbow on you, [or] signing an autograph for a kid. He always signed autographs, was big in the Special Olympics and signed autographs to the point of exhaustion, but he was never exhausted. He always liked to make people happy, and he treated people very, very well. So, a bunch of kids around him signing autographs or on the top rope about to drop an elbow, either one would be great."