So this is how the season ends for the Lakers—a team in disarray and playing for nothing. The 20-year-old rookie ostracized for airing out the business of the wannabe celebrity; the 37-year-old soon-to-be Hall of Famer playing out the string; the presumably lame-duck coach having lost control of basically everything and still spouting outdated theories. And this is all supposed to be attractive to free agents how?
The latest out of Lakerland, about which you've no doubt heard, is a video in which rookie D'Angelo Russell asked teammate Nick Young about apparent infidelities, said video which then was unsurprisingly leaked, leaving Russell a pariah amongst his teammates. Which is fine, seeing that hardly any of them will be back next year anyway. Now Russell just needs to get through the next two weeks. Stay in that facility as much as possible, rook.
The roots of the Lakers dysfunction go far deeper than this one lost season.
Is anyone surprised by this though? The Lakers have been a dysfunctional mess all season long, what with Kobe Bryant's farewell tour taking precedence over everything, Swaggy being Swaggy, and Byron Scott benching Russell and second-year forward Julius Randle without even telling them why. Scott apparently doesn't feel the need to deal with Russell's latest misstep at all. "I haven't talked to him, won't talk to him," Scott told ESPN's Baxter Holmes. "That's an internal matter that our guys will deal with." Meanwhile, a Lakers fan from Ohio has started a petition to take D'Angelo's phone away. Jim Buss, who is about to enter the third year of a three-year probationary period and who may have known more than the rest of us, may as well start packing up his office now.
Everyone agrees that Russell's actions were wrong—even if he didn't leak the tape himself, which, if we're to believe his explanation, he didn't—but who has been teaching Russell the right way to act? Scott? Clearly not. Kobe? He's more of a "do what I do" guy, which, given his own past, isn't necessarily the best of ideas. Which leaves...who, exactly? Young himself? This incident doesn't leave anyone on the Lakers looking very good.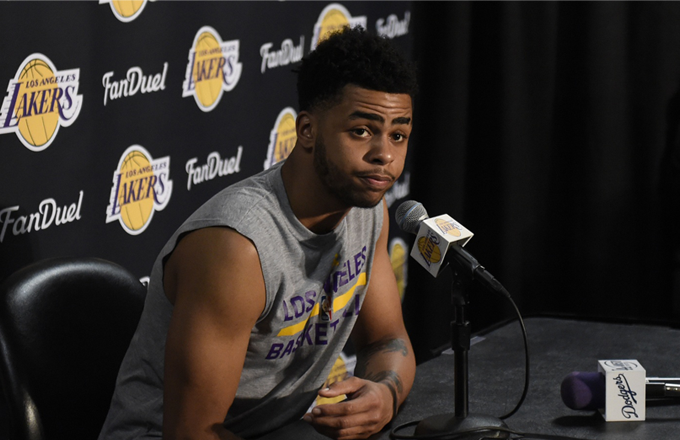 As an exercise, imagine had Russell pulled these shenanigans with another team. The Cavs? LeBron would go off on a subtweeting spree. The Grizzlies? Russell would be buried in a shallow grave in the south. The Spurs? Trick question. No one on the Spurs would even think of doing this.
The roots of the Lakers dysfunction go far deeper than this one lost season, however. Think of Kobe strongly suggesting (on cell phone video, no less) that the Lakers trade Andrew Bynum back in 2009, or team president Jeanie Buss's continued professional dalliance with boyfriend Phil Jackson, despite his being 70 years old AND the Knicks team president. There is still a belief he will come back to save the Lakers that no one has seen fit to firmly deny. Why not wish for Shaq to come back and play center too? He's still only 44. 
For a team with as much of a legacy as the Lakers, one would think they would pay more attention to perpetuating it rather than celebrating what's already over and done.
There was no way for anyone to predict the specifics, but some sort of Lakers disaster has been brewing for a long time. Kobe's farewell tour was earned, no doubt, but there were still games to be played while he collected his gifts and accolades. And while a member of those old Showtime teams bemoaning the damn kids is to be expected, maybe it shouldn't happen when the former is supposed to be coaching the latter. Just wishing Russell and Randle would grow the hell up isn't how they, you know, grow up. It takes work, work which Scott has shown little or no interest in or aptitude for. Yet he could be back, too.
The closest comparison to the Lakers is the Minnesota Timberwolves, with Kevin Garnett as the grizzled vet, Sam Mitchell as the out-of-touch old school coach, and Karl-Anthony Towns and Andrew Wiggins as the promising youngsters. But even the lowly Wolves have 10 more wins than the Lakers, as Garnett is content to stay in the background and instruct his young charges in the ways of the NBA—and Towns and Wiggins seem willing to listen. Mitchell, another former Coach of the Year from the "rub some dirt on it" days, seems to have about as much of an NBA future as Scott does. But Mitchell wasn't supposed to even be the coach, and they were supposed to be terrible.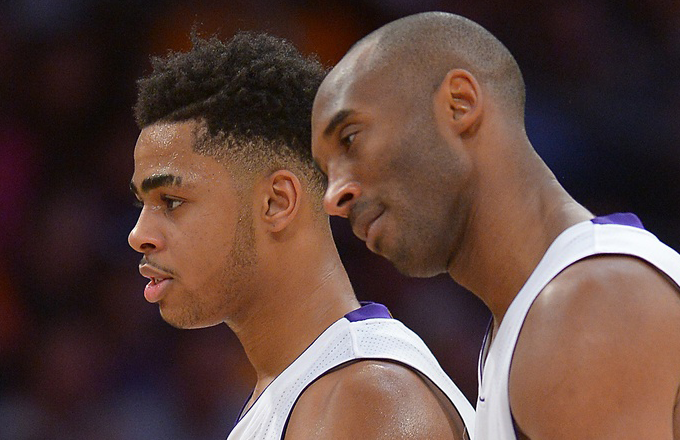 For a team with as much of a legacy as the Lakers, one would think they would pay more attention to perpetuating it rather than celebrating what's already over and done. Think of Danny Ainge in Boston, who won a title by bringing together Paul Pierce, Ray Allen, and Kevin Garnett, then traded away Pierce and Garnett to ensure a brighter future. Trading Bryant would have been nearly impossible, but it would have been preferable to this. 
So the Lakers sail forth into the offseason with more questions than answers, about to get younger—and perhaps add another lottery pick—with no clear leader in place. Next season will be their first since 1996 without Bryant, and it's difficult to believe they'll re-sign Roy Hibbert or Metta World Peace, which will leave Young and Lou Williams as the de facto veterans. Unless they manage to bring on Luke Walton (and maybe even if they do), the Phil Jackson question will linger. Even with $66 million in cap space, will an established star take it? Or will they have to roll the dice with players they hope can become stars? 
Keep that phone handy, D'Angelo—the material could be even better next season.