Forget Drake vs. Meek Mill! The biggest beef of 2015 is about to be Stephen A. Smith vs. Kevin Durant.
If you missed it last week, SAS dropped a report about how he's heard that KD is going to strongly consider signing with the Lakers next summer if he doesn't re-sign with the Thunder. It's a report that everyone should take with a grain of salt when you consider that Smith also said that he heard KD was going to consider signing with the Knicks just a couple months ago, but it's a report nonetheless.
KD didn't like the report, though, so a short time after it came out, he responded by saying that SAS was "lying." According to KD, SAS doesn't know anyone in his inner circle, so there's no way he could possibly know what he's going to do next summer when he becomes a free agent.
Of course, that didn't sit well with SAS, who made his daily appearance on ESPN First Take this morning and went on a WWE-style rant about KD. He stood behind his KD-to-the-Lakers report, called KD out for not treating the media and, more specifically, him fairly, and dropped this bomb in the middle of his response:
After Skip Bayless spoke about SAS and KD's rift, SAS also issued this bizarre warning/threat to KD.
"This implication that I don't know stuff? Y'all better think twice about that," he said. "Because when these NBA games come, you're going to see me at these arenas, and remember what I said to you: I can find out more in ten minutes at a basketball arena than I can on the phone with 50 different people inside of two weeks. Think about that, and ask yourself: Do you really want to go there?"
SAS took to Twitter a short time later to say that he feels the Internet is misconstruing his comments: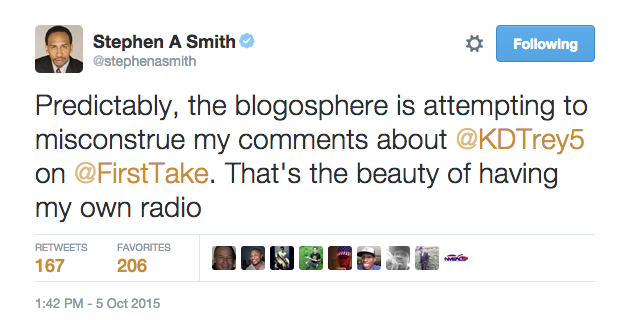 But you can watch his entire rant in the clip above to judge for yourself. You can also scroll down to check out some of the responses we've seen to the SAS vs. KD beef. How will KD respond to all of this?