It's not often that WNBA front office moves make headlines. On May 5, when the WNBA's New York Liberty officially named NBA legend Isiah Thomas its team president, they did just that.
For those who are unaware, Thomas—the Hall of Famer and former president of basketball operations/head coach of the New York Knicks from 2006-2008—was included in a 2007 sexual harassment lawsuit filed by former Madison Square Garden executive Anucha Browne Sanders. A Manhattan jury ruled that Madison Square Garden and owner James Dolan were liable in creating a hostile work environment, and that Thomas aided and abetted that hostile work environment. Public perception has often been that Thomas was accused of harassing Sanders, but court documents do not support that. 
As a result, the subsequent suit cost Madison Square Garden $11.5 million. The recent memory of that controversy (coupled with the highly-scrutinized moves Thomas made as the Knicks executive) had New York buzzing when news first broke of Thomas' re-emergence as a fixture at MSG in 2015. 
Isiah Thomas? Back in New York? To oversee the city's women's basketball team? Saying there were a few doubters would be a gross understatement. 
I just put my best foot forward. I just stayed focused on my job and did my job.
But Thomas genuinely had something to prove as a basketball executive. During his four-year tenure as Knicks president and head coach, he compiled a 112-216 record. Not good. However, his drafting acumen and eye for basketball talent has always been sharp. While with the Knicks Thomas drafted household names: David Lee, Trevor Ariza, Wilson Chandler, and Nate Robinson. Even during his tenure as an exec for the Toronto Raptors he had a hand in acquiring NBA stars like Damon Stoudemire, Tracy McGrady, and Marcus Camby. Yet, despite Thomas' ability to accurately spot basketball talent, his first time around in NYC obviously haunted him.
When he wasn't doubling as an analyst on NBA TV, Thomas mostly laid low this season, opting instead to focus on building a winner since becoming a team employee in May. "I just put my best foot forward," Thomas says. "I just stayed focused on my job and did my job. That's [what] we [as an organization] did this year. [Liberty senior vice president for basketball operations] Kristin Bernert, [head coach] Bill Laimbeer, myself, and all the players. Every night out, every day, you try to put your best self forward and do the best work that you possibly can."
A two-time NBA champion with the Detroit Pistons, Thomas made an immediate impact with players as team president, particularly rookie Brittany Boyd. Boyd credits Thomas' advice on improving her jumper. "Me and Isiah work a lot together," she says. "I talk to him every practice. He constantly has something to say to me. Isiah has excellent feedback. Telling me how to control the floor, just telling me to remain calm and confident."
That keen advice translated to the hardwood.  Putting their craft and goals ahead of the controversy of their team president, the Liberty finished the regular season with a 23-11 record—the best in the league. Led by a core of Tina Charles (17.1 PPG, 8.1 RPG) and Epiphanny Prince (15 PPG, 3 APG), the Liberty are a force on both ends of the floor. Offensively they can be force, but most importantly the Liberty have been a successful team this season because that same intensity is reciprocated defensively.
In August the Liberty boasted a league-best defensive rating of 93.3, and a good portion of the credit must be directed towards head coach Bill Laimbeer, winner of the 2015 WNBA Coach of the Year award. After initially not renewing his contract, the Liberty decided to retain the former Pistons great and Detroit Shock coach, who took his former team to the WNBA postseason six times from 2003-2008 and won three WNBA Championships. "We have a very quality group of people that like each other, enjoy playing with each other and it shows," says Laimbeer. "They're a fun group to watch."
"I think at the beginning of the season, we were thrown into the fire so much with so much controversy and things surrounding our team," says Liberty forward Swin Cash, who played for Laimbeer during his Detroit days.
we were thrown into the fire so much with so much controversy and things surrounding our team.
Yet, even with all of the regular season success in the face of much scrutiny, none of it matters if the team quickly falters in the postseason. The Liberty open the WNBA Playoffs tonight at Madison Square Garden against the Washington Mystics, a team who shellacked New York 82-55 just this past Friday.
Hopefully it was a wake-up call for a club that needs to prove it can win when it counts.
One of the WNBA's original teams, the Liberty were competitive in the '90s during the Teresa Weatherspoon/Rebecca Lobo era, but never sealed the deal by winning a championship trophy. More recently, finishing the last two seasons with a combined record of 26-42, the Liberty were the laughing stock of the WNBA. They finished in the bottom half of the conference seven times in 12 seasons, including each of the past four.
Have things really changed that much?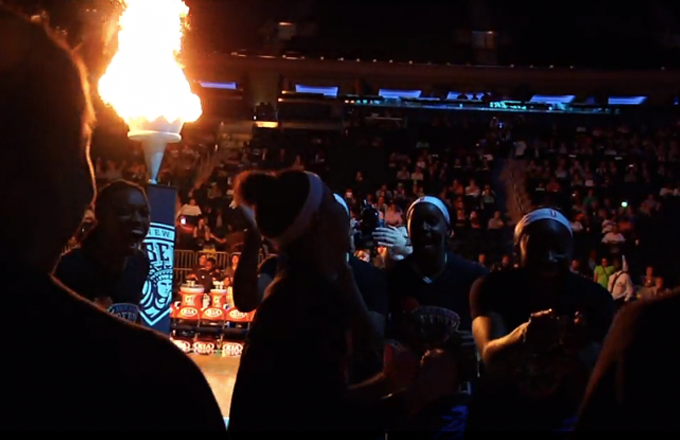 "We're very in tune with the process of winning," says Tina Charles. "I think that's very key. Personally we take pride in the product we put on the court."
Liberty forward Essence Carson agrees. "We're great individual players but we also have that chemistry," says Carson. "We have selfless players and that's important when you're trying to build a championship caliber team."
In a blast from the past move, Isiah Thomas hired ex-New York Knicks assistant Herb Williams to Laimbeer's coaching staff along with Liberty alum Teresa Weatherspoon. Weatherspoon—now the Liberty's director of player development—appeared in multiple WNBA Finals as a member of the team but never won a ring. To this day she admits to still wondering "What if?"
"[We want to watch] these young ladies hold the trophy up, [which] was very elusive for the teams that I had the opportunity to play on," Weatherspoon says. 
"We had some great squads but we never got over the hump."
But before all the championship talk, the Liberty still have to handle their business. Despite their 18-16 record, the Washington Mystics have had their number all year. And finishing the regular season with the league's best record after dealing with months of prodding from the notorious New York sports media means nothing if they end up falling flat when it matters. Assistant Katie Smith sums up the team's mood with the perfect sports cliché​:
"At the end of the day it's about getting a win."
Enough of those in the coming weeks will go a long way to changing how the Liberty—and Isiah Thomas himself—are viewed by the nation's largest media market.
Brandon Robinson is a sports and entertainment writer and TV personality. Follow him on Twitter @SCOOPB and visit www.ScoopB.com.