Tonight, the Ohio State Buckeyes opened their season at home against the Virginia Tech Hokies in primetime. Under the bright lights, the true stars shine. However, for Hokies running back J.C. Coleman, he let his watch do the shining for him. Literally.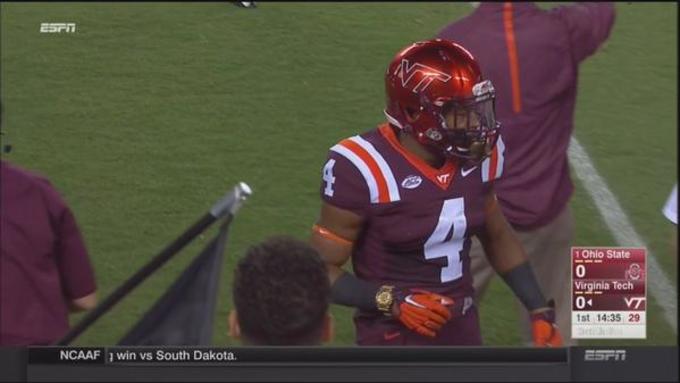 Initially, some people thought Coleman was wearing a Rolex on the gridiron. 
But it just turned out to be the perfect watch for the unpaid college player who is looking to stunt on a budget: G-Shock.
As you can see in the picture at the top, though, wearing a watch while playing is nothing new to Coleman. In an interview with The Roanoke Times, the senior tailback explained the reasoning behind the unconventional tradition. 
Consider it more like a string tied around his finger, or a sticky note placed near the office phone. It's a reminder.

"I feel like it's just my time," Coleman said, looking down at his wrist. "This is a make-or-break season for me. I feel like I have to have this time to break out."
And look, if the NCAA allows it and you're playing in a nationally televised game, why don't you wear your flashiest timepiece? It just makes sense, right? 
Send all complaints, compliments, and tips to sportstips@complex.com
[via @jasonrmcintyre]