ComplexCon returns to Long Beach Nov. 6 - 7 with hosts J. Balvin and Kristen Noel Crawley, performances by A$AP Rocky and Turnstile, and more shopping and drops.
Secure your spot while tickets last!
Sports and hip-hop have been married to one another longer than many of us have been alive. From the Chicago Bears Super Bowl Shuffling in '85 to Shaquille O'Neal writing diss tracks about his biological father in '94 to Kanye West playing pick-up at the Staples Center with NBA players and Laker Girls this year, the proof of a long and successful relationship between the two is well documented. 
Can't say there are a whole lot of rappers out there who worry about Rafael Nadal's place in history, though.
Pusha T—the Virginia-bred former Clipse member and current G.O.O.D. Music star—might be the only one in existence. When he's not doing tours with label mate Kanye West or spitting high-intensity verses about hiding drug money, you might find King Push courtside at the U.S. Open or cheering on Serena Williams in her coke-white Wimbledon best. 
This, of course, we already know. Pusha has been vocal about his love for tennis in the past, but rarely has he gone into any great additional detail. Why tennis? How did he first get exposed? Where did a Virginia Beach-born rapper learn to love a 150-year-old upper-class English sport? We needed to find out.
Thanks to adidas we did. The Brand With Three Stripes recently became the official supplier for the University of Miami, and to celebrate their new partnership and unveil The U's new primeknit football uniforms, adidas threw a launch party at Club LIV in Miami with Pusha T as the surprise headline performance. Lucky for us—along with getting the full recruit experience—adidas let us come to the show.​
We sat down with Pusha in his green room minutes before the performance to have him explain the particulars of his tennis fascination, why it isn't more popular with black athletes, and if he'll ever step on the court himself.
Interview by Maurice Peebles (@tallmaurice).
First of all, I read that Nintendo got you into tennis. Is that true?
Yea. Totally.
 
What game, do you remember?
It was Tennis.
 
Oh, the game Tennis? Did it come with the system?
Yea, it came with the system. And I didn't have any more games. So I used to play and I was like, "Wait a minute—I like this." And then from there I just dialed in really crazy into tennis. And nobody else did. No one else liked tennis.
 
And to this day I don't see a lot of rappers liking it. Do you know any other rappers that are into the sport?
No. Actually...no. Into it like that? No. DJ Trauma is into tennis. And Noah is the only other person I speak to. Callahan.
I'M ABOUT TO START TAKING LESSONS, ACTUALLY. MY GIRLFRIEND [WAS] A HIGH SCHOOL TENNIS PLAYER.
What was your reaction to this Wimbledon? I know you peeped it.
Yea. Dope. Djoker, man. I am a Nadal fan. I've always been a Nadal fan. And Djoker has always been the person who I didn't like to have to play him.
 
Ever since I watched him I always called him a robot. He's just like a robot to me. He has his way with whoever it is on the court. He just proved it [again]. Even though you know him and Federer playing—I [knew the outcome] already.
I was going to ask you that because I know you're a Nadal fan. I was wondering if you thought the fact that Djokovic is so good and Federer was so good that maybe it's going to hurt Nadal's legacy in the long term.
Yea. He's fighting in between two amazing competitors. These guys are both just great in their own right. And they are great in certain pieces. And I feel like he has to share.
 
You can almost be like, "Damn." Federer had a damn good run, it was ill. You know Djoker came through and it was ill. But Nadal is just sort of between both of them and he's sharing. Oh, he got a win here, but you know—
 
Nadal's clay court stuff has been really good.  But beyond that?
That's it, man.
 
What do you think about Serena's legacy? We put up a piece not long ago about her being the best athlete since Jordan period. I don't know if you agree with that, but wanted to get your input.
I saw that piece, actually. And, see, I wasn't hip. It was within that piece, or maybe on TV, I saw where she was in regards to [women's all-time Grand Slam leader Margaret Court]. Serena is [at] 21, 22—it wasn't far behind.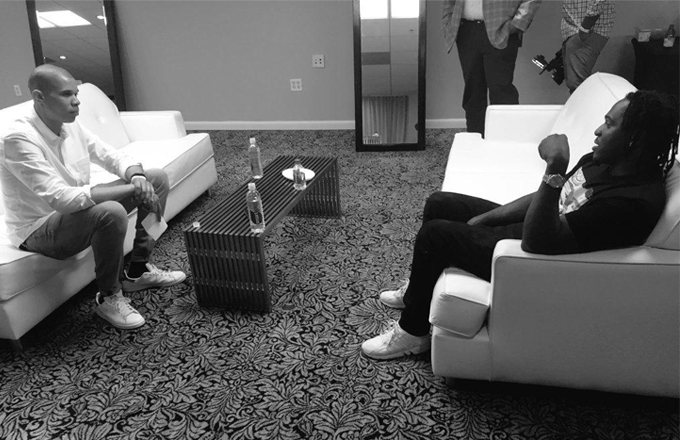 She still can get that.
She can get it. And I didn't even know she was that close, in all honesty. I just sort of feel like that both of them as sisters...this is just something. This domination—we just ain't even seen anything like this. Venus got wild titles, too. Of course, Serena has more, but Venus has been wild.
 
Both have been dominant.
Yeah. Very dominant.
In regards to that, why do you think there aren't more young, black tennis players? Normally it's an access problem or that it's really expensive. But tennis is—you know racquets​ are a couple hundred bucks, Jordan's are a couple hundred bucks...
Yeah, but—and I can only speak from where I'm from. I don't know what made those two girls so confident to play tennis.
 
Their dad?
Yeah, parenting. But I didn't see that same drive around that sport where I'm from. And I don't know what other people see.

In all honesty, it'll be a basketball court and a tennis court in a pretty close vicinity to each other, but [tennis] is just not what I see women gravitate towards.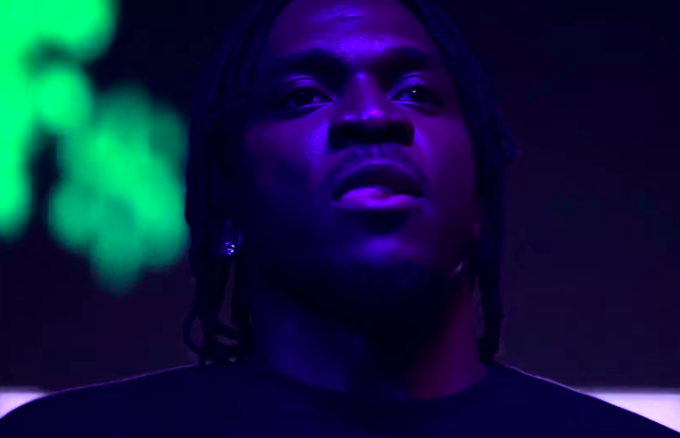 And it's kind of a shame, too. Because it seems there is a lane there.
And I love the sport. I love the sport. And I don't play at all. But I'm about to start taking lessons, actually. My girlfriend [was] a high school tennis player. She's played through high school and all of that.
Why didn't you ever pick it up? Because I know you play ball with Kanye on tour and stuff.
You know why? Well, because I started playing on Nintendo, that's number one. And then, growing up—we thought it was the freshest shit ever—my parents had a time-share in Atlantic City.

Me and my dad used to sit home and watch fights. And boom! Now this building that we always see in the Atlantic City fights, we could go stay there for a week or something! And they had, you know, a tennis court—[but] it wasn't shit to do for the kids. At all. 
 
But if I see you here next year, will you have played tennis? Will you be good?
Oh yea. One hundred percent.
 
I'll hold you to that.