ComplexCon returns to Long Beach Nov. 6 - 7 with hosts J. Balvin and Kristen Noel Crawley, performances by A$AP Rocky and Turnstile, and more shopping and drops.
Secure your spot while tickets last!
For as much as I'm sitting here stunned by the news regarding Hulk Hogan's racist rant, there's a part of me that knows my mother is going to call me at any moment to gloat about how she told me when I was 9 years old that wrestling was full of "racist drug abusers" and, before turning WWF programming off of our TV for five years, told me, "That rasslin' nonsense ain't worth shit."
Six-time World Wrestling Federation (now Entertainment) World Heavyweight Champion and global pop culture icon Hulk Hogan had his contract terminated today by the company. The decision followed revelations of his use of the term "nigger" in reference to the African-American men who his daughter was allegedly consorting with and who were considering funding her musical career. This is most certainly a black eye not just to Hogan, but also to the oft-maligned pro wrestling industry. However, like me, try being a lifelong African-American pro wrestling fan and 13-year performer in the industry. It's one thing when your family and friends think you're ridiculous for enjoying and engaging in scripted athletic grappling contests with people who are stigmatized as performance-enhancing substance abusers. It's yet another thing when you, and many like you, adore, are inspired by, and/or aspire to emulate the level of ground-breaking career success of someone who is "a little racist."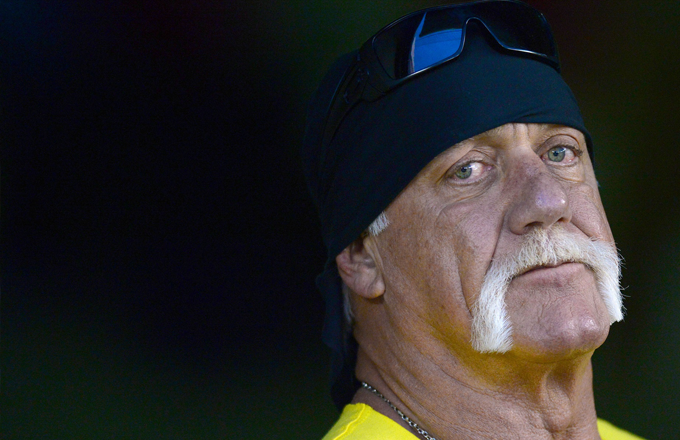 But back to that introduction. In 1987, I was nine years old and probably like many other 9-year-olds, my Saturday morning routine included watching the WWF's syndicated Superstars of Wrestling program. Ted DiBiase had just debuted his "Million Dollar Man" gimmick, and as a hyper-aware wrestling fan who knew DiBiase from his time as a National Wrestling Alliance star, I knew he was a great wrestler. However, when my mother took a look at the Memphis territory's former Mike "Soul Train" Jones as the Million Dollar Man's hulking African-American manservant and bodyguard Virgil (yes, now of GoFundMe fame), she raised a curious eye and said, "That ain't right. They [Vince McMahon and WWF's creative team] know better than that." Fast forward a bit and DiBiase's pre-in-ring debut vignettes now featured Virgil kowtowing to DiBiase's wishes and engaging in oftentimes dehumanizing behavior. My mom stopped watching DiBiase's segments altogether.
DiBiase's "racism" extended to another segment that my mother actually watched, one where she finally had enough of the wrestling business. DiBiase was being interviewed by "Mean" Gene Okerlund, and promised $100 to any (poor) child who could dribble a basketball ten times. A small black child named Shawn was chosen, so the idea of Shawn, the basketball, Virgil's presence, and this evil white man watching the whole scene piqued her interest. Shawn dribbles the ball nine times, and then the heel DiBiase kicks the ball away, meaning that Shawn has lost out on $100. Nearly in tears, Shawn slumps away, while Virgil looks on without turning an eye. At that point my mother turned off the television and declared the WWF racist as hell. Unless I was sneaking around against my mother's wishes, I didn't watch the company's television programs for five years.
How does this relate to Hulk Hogan? Well, it's easy to presume that if someone is "a little racist" at 61 years of age, they were probably "a little racist" at 21, 31, 41 and 51, too. Let's presume for instance that Hulk Hogan was recorded saying "nigger" in 1985 (at the height of WrestleMania I fervor). Let's then presume that this became global news, say, the night before WrestleMania. At that point it's likely that I—and many other young black children—wouldn't have watched ANYTHING that Vince broadcasted. Presumably public outcry against a racist Hogan—who was then the centerpiece of not just the WWF but the entire pro wrestling universe—would've seen WrestleMania fall flat and ended in bankruptcy for the World Wrestling Federation. 
Famously, McMahon bet the farm on WrestleMania's success, which, initially a gamble, turned out to be quite the windfall. And, as Wikipedia says, it made Hogan into a "full-fledged pop-culture icon and child role model." Though I loved the non-WWF stars of the '80s like Ric Flair, Bruiser Brody, Dusty Rhodes and the Von Erich Brothers, a life without Hogan, Randy Savage, Andre the Giant (and yes, the WWF's black stars like Junkyard Dog and Bad News Brown) probably ends up being a life where, for 13 years, I'm not traveling up and down the East Coast to pro wrestling events.​
This is a terrible day to be black and to love pro wrestling because, in one moment, Hulk Hogan invalidated the magical innocence of the world of mid-'80s pro wrestling where race wasn't necessarily a limitation to success.
This is a terrible day to be black and to love pro wrestling because, in one moment, Hulk Hogan invalidated the magical innocence of the world of mid-'80s pro wrestling where race wasn't necessarily a limitation to success.  Though we as black people weren't represented as the WWF World Heavyweight Champion, the champ was Hogan, who definitely appeared to want to appropriate some modicum of African-American cool. Similar to "Superstar" Billy Graham in the 1970s, the Hulkster tanned dark enough to look like an African-American, and spoke our jive, too. Hogan said "Well, you know something, brother?" enough times that he could've easily replaced Gene Wilder alongside Richard Pryor in Stir Crazy. In one, terrible pillow talk conversation, he turned one of the most iconic and endearing building blocks of his career into a complete lie.
The fact still remains that for the past three decades, arguably the most important star in professional wrestling history was likely "a bit racist." Should I—alongside likely millions of other black pro wrestling fans and black pro wrestling performers—feel somehow glad that he didn't let us as black people know his beliefs, and fail as a heroic figure of our youth (and in many cases our lives at-present)? Or, do you feel maybe like I do—sick about the entire thing? For me, if my mother knew in 1985 what she now knows in 2015, that TV would've been turned off years before Ted DiBiase was anywhere near debuting in the WWF.
To borrow a phrase from The Hulkster's theme song "Real American," Hogan "hurt my friends and he hurt my pride." For doing so, his career has "[crashed] down and burned." However, this spectacle was not "inside," but rather a now very public and unfortunate spectacle.
All cute twisting of lyrics aside, I'm just a black wrestling fan and wrestling performer left wondering about a huge "What if?" for my entire 37-year existence, and whether my mother was right all along. I only have one Hogan-related question. "Whatcha gonna do, when Hulkamania runs wild on you?"