The masochists over at Complex Sports felt like it would be a good idea to send me to the most important Knicks draft in 30 years. We already screwed our chances of being the worst team by winning a couple meaningless games at the end of the season. I'm convinced this is why Tim Hardaway, Jr. was traded because he played a big hand in winning said meaningless games.
Only four times has the team with the worst record won the lottery and this year was one of them. So Knicks. Everyone knew this draft was a three man race. Towns, Okafor, and Russell weren't dropping to the Knicks. I tried to wish it into existence to no avail. I wanted no parts of Kristaps Porzingis but I changed my tune by the end of the night. Walk with me as I ride a roller coaster of emotion into the fuzzy future of my New York Knicks. This is the 2015 NBA Draft Diary of A Sad, Delusional Knicks Fan.
Day of Draft, 11:15 a.m.
Goddamn, goddamn, goddamn. All these goddamn rumors. I don't know what to feel. I don't know what to believe. I drank a double-shot of espresso and my heart's trying to leave my body like how that alien did homeboy in that movie. Are the Lakers gonna trade the second pick for Boogie? Will the Sixers take Porzingis or take Russell? Will Da Orange and Blue make out like bandits if Russell or Okafor somehow falls into our lap? And now I just read an SB Nation post about Lakers taking D'Angelo at two. Why would they do that? I wouldn't wish being a Knick fan on anybody. This life is excruciating and exhausting.
1:00 p.m.
As a lifelong Knick fan, I mean what I'm about to say with all of my heart: Fuck the Boston Celtics and fuck the Los Angeles Lakers. If the L.A. rumor wasn't enough, now I'm seeing that the Celtics are willing to make an offer that the Sixers can't refuse to jump to three and take Okafor. I have anxiety.
3:10 p.m.
I come across a Mario Hezonja quote about Messi, and I fall in love. I look up some highlights and now I wouldn't mind taking the 20-year-old Croatian. He'll have the Garden crowd hype! I would tune in to watch him and Melo fight over the ball one night, and then watch them combine for 95 points on another. Match made in Knick hell. I'm here for the pain. Always.
Trading Tim Hardaway, Jr. for a first round pick is just as amazing as trading Raymond Felton with a gun charge.
5:01 p.m.
The time has come. Headed to the Barclays so I can either laugh or cry. George Karl might get fired for frontin' on Boogie and I'm basking in that glory. He's never won anything yet has the nerve to throw players under the bus. Karl always has issues with his players. I'm guessing he's not a people person. The Kings are the new Knicks and it's fucking fantastic. *jumps and clicks heels*
6:00 p.m.
By the time I figure out how to get to the media entrance to pick up my credentials, my emotions are still getting the best of me. The Barclays Center is littered with Knicks fans and ticket scalpers. The Knicks really run this city. Once I got my shit together I got up with my guy Barry, our NBA media contact, and he gives me a tour of everything going on in Barclays' belly. The NBA is the best American pro league when it comes to social media, and they realize that. After a player gets drafted, the league takes them through a social media gauntlet of sorts. After the players take some press conference questions, they head to the Social Media room where they go from station to station.
There's an Instagram station where a GQ photographer treated them like models, a Vine station, a Twitter station where they take pictures with branded JBL headphones of the team that drafted them, a Reddit station where they do a brief AMA, a Facebook station where they answer rapid fire questions, and a LINE station which is an international platform where players pose as LINE stickers. I will be visiting this room again after the Knicks make their pick to try and talk to whoever we boo. I'm really looking forward to seeing the room in action, and asking some tough questions to our future savior.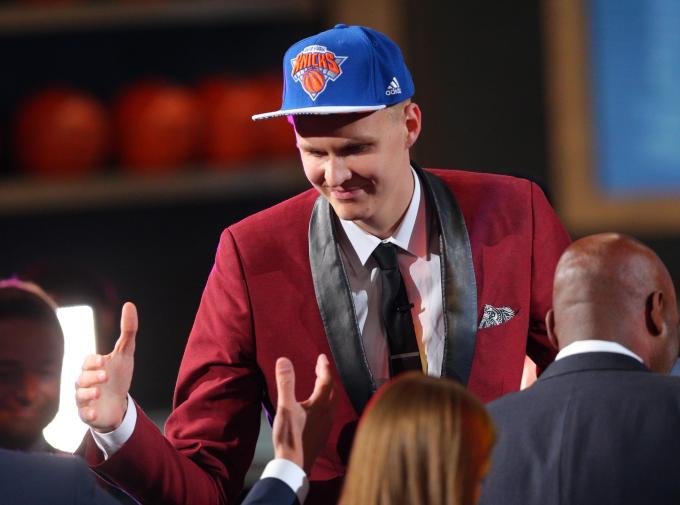 7:00 p.m.
After eating a struggle free meal in the media dining area, I head to the floor to check out all the moving parts that help produce the NBA Draft. I try hard not to crush on D'Angelo Russell on some dumb Knick fan shit. He and Jahlil Okafor pass by me looking like some true playas. They're dressed for success like they are gonna party with Mickey Mantle and Frank Sinatra after the Knicks draft one of them. I'm hype! One of these dudes has to fall to us. The universe owes us.
My nerves are still bad, though, so I buy a double shot of D'usse on the rocks and start to think about the $27 million in cap space we have. Who are we gonna sign? I'll take Jimmy Butler and Marc Gasol. Or Jimmy Butler, David West, and Robin Lopez. Or Monte Ellis and David West. Or Monte and Robin Lopez. Or Monta and Gasol. So many options. They'll fit perfectly with either D'Angelo or Emmanuel Mudiay. And I just got the word that Desus and MERO are in di building. It's lit and I mean that in the least hipster way possible.
7:25 p.m.
The Knick chants have begun! We are savages but we are savages that know and love the game. You can't fool us, we're just loyal to a fault. We're like abused pets. That's why we have the Giants and Yankees, though. There are enough rings to go around, clowns. Count 'em. We just need one from the Knicks and we'll be golden forever. We don't boo Adam Silver as he comes out for the first time. We are truly a classy bunch. I really can't wait to erupt when Russell falls to us. The yac is starting to kick in, too. Shieet.
7:43 p.m.
My godddamn heart is in my stomach at this point. I have all of di feelz. Minny took Karl-Anthony Towns as expected and I can't help but gaze into the heavens and imagine "What if?" And then the muthafuckin' Lakers take D'Angelo muthafuckin' Russell and every Knick fan in attendance is either crying or ready to fight a muthafucka. Also, Woj is the devil for spoiling the draft. Like I can't even enjoy a live event because he has a hard-on for ESPN. I get it, but have some couth. "Who raised him?" I say to myself as I take a swig of yac.
7:45 p.m.
What are the Sixers going to do? They've been the wild card for a couple years now. I hope they take Porzingis. Please take Porzingis. I think I'm having a panic attack. My palms are sweaty. My mind is racing. I'm ignoring text messages.
7:50 p.m.
PHILLY TOOK OKAFOR FUCKFUCKFUCKFUCKFUCKFUCKFUCKFUCKFUCKFUCK. I'm about to rip my fucking face off. I swear to God.
7:56 p.m.
I'm trying so hard to dodge Woj's spoilers and then I get a text from an L.A. friend asking: "Porzingis?" I curse him the fuck out as I watch his team's hat sitting on Russell's head as he talks with Dennis Scott and Rick Kamla. The Knicks chants start again until Kris is announced. The crowd goes into a frenzy, booing this poor kid to high heaven. I try not to throw my phone as I watch young Knick fans cry and old Knick fans curse the organization out for the millionth time. I don't know what to feel. I'm numb. This kid was sitting near my section:
8:05 p.m.
I settle down and start to feel neutral about the pick. Would I have felt better had they took guys like Mudiay and Winslow? Absolutely. However, Kris is legit nice, and seems like he's strong mentally which is a necessity when playing in the most unforgiving, delusional media market in the country. Feeling a little better about things, I head down to Barclays' belly in search of the future. I felt like Jonah out this muhfucka.
It takes everything not to ask biased questions at the Porzingis press conference, so I just keep my mouth shut. I then follow the pack to the social media room because I was promised some time with the newest Knick. As we are walking, though, I receive word that we were not trading the pick and that Phil is on TV waxing poetic about the most important draft pick of his young management career. I feel calm because #InPhilWeTrust.
8:35 p.m.
"Some time" ends up being 48 seconds. Just enough time to ask: How many games we winning next year? Come on, come on, say it, say it. Say something. Kris looks at me with these nervous eyes, takes a deep breath, shakes his head and says: "Oh, man, I don't want to throw a number out there." I then immediately ask if we're making the playoffs next year, and he says: "Ask me when we start the season." I then say, "The East is weak, though, we gonna make the playoffs?" He shakes his head and says, "It's gonna be tough. But if Carmelo's healthy and everyone is healthy, I think we can have a good season."
We both laugh my ridiculous questions off and I finally ask him a serious one: How will you fit into the triangle? Porzingis answers: "I think I will fit in pretty well. I still have a lot of learning to do. I just know the basics. But I think it would be a good offense for me, you know, just moving around having that spacing. I think I'll adjust pretty well. I think I'll be a four but I will do whatever the team wants me to do." I come to a revelation after we speak.
Earlier in the week he came to the Complex office, and the day before the draft, I ran into his brother Janis in an elevator as I was going to pick up credentials that weren't ready. At the time I was pissed because I walked through the hell known as Times Square in the middle of a work day for nothing. Little did I know the basketball gods were trying to get my attention. Kristaps Porzingis is the future. I then get a call from a childhood friend who defected from the Knicks to the Lakers during the Dark Isiah Years. He laughed at our pick while bigging up his Lakers. He wanted me to plug his Instagram, but fuck him. I'm going to see that fool tomorrow anyway.
8:58 p.m.
I head up back to my seat in search of Desus and MERO and run into some disappointed Knick fans in the elevator. We wonder whether or not the Lakers are still going to trade for Boogie because the Kings took Willie Cauley-Stein. Needless to say, my co-defendants from the Bronx left and tweeted this picture:
9:35 p.m.
Knicks fans are still irate but I am more angry about a big trade not happening yet. I get on the Complex Sports Twitter to be a biased Knick fan and troll our followers. The Rockets take Sam Dekker which is a good pick, but an even better one is Jerian Grant going to the Wizards. I send this tweet out:
9:58 p.m.
But then:
I'm so excited I can't tweet properly. Trading Tim Hardaway, Jr. for a first round pick is just as amazing as trading Raymond Felton with a gun charge. Once again, #InPhilWeTrust. EAT A DICKKKKKKKKKKKK. Knick fans start chanting at Jerian as he talks to Dennis Scott and Kamla with a Wizards hat still on his head. They were quite pissed that he looks at them with a perplexed face. Obviously, he doesn't know he's been traded. The look on his face is priceless. I head down to the belly again in hopes of getting some time with him, but it doesn't work out. I feel better about the draft now. Jerian was one of my favorite college players last year. That boy good.
11:20 p.m.
I stick around to see if we were going to buy a second round pick. I hope for Rakeem Christmas, but instead get Guillermo Hernangomez, a 7'0" Spaniard to be tucked away for future use. Not mad at it. As I wait for my Uber to arrive, I see a shooting star and a voice whispers: Knick up.
Angel Diaz is a staff writer for Complex Media. Follow him @ADiaz456.