When it comes to assisting, it doesn't take much to get Sue Bird (and her twin, Summer) fired up. 
Sue, a point guard with the WNBA's Seattle Storm, is tenacious when it comes to helping. Over her 12 years in the league, Sue has posted 5.4 assists per game, twice finishing atop the WNBA in that category.
That passion for the pass has always been a boon to Bird and her teammates. While at UConn, Bird led the Huskies to two national championships. With Seattle, Bird and the Storm have won two WNBA titles. And while representing the U.S. National Team at the Olympics, Bird has taken three gold medals. Wherever Sue Bird goes, she gets the job done.
How has Bird managed to achieve that level of success? A big factor is the point guard's tenacity. She's always on the lookout for chances to help her teammates. It's a skill she must have picked up from Summer—the State Farm agent known for never missing a beat or a chance to lend a hand. (Even when she's walking around the National Bureau of Assists headquarters, Summer is on the phone with customers and dishing out helmets to her co-workers.)
Sue's doggedness pays off big time for the Storm, especially when there's an opportunity to get out in transition. If the defense is lackadaisical getting back, Bird will capitalize on the opportunity by tossing an outlet pass.
Check out this play:
When Seattle pulls down the rebound, it doesn't look like there's a fast-break opportunity—Indiana has two players back on the perimeter. But when one of Bird's teammates slips past the defenders into the open court, the persistent point guard takes advantage. The cross-court pass finds its target for an easy bucket. Having the skill to throw that pass is impressive. What's even more impressive? Possessing the awareness to recognize the opportunity and the resolve to take advantage of it.
"She kinda looks like a genius out there sometimes," Atlanta Dream forward DeLisha Milton-Jones said. "The way she sees things happening before they even occur."
"She is fearless," Storm teammate Lauren Jackson said. "Sue is a great point guard.
Another factor: Bird is versatile. As opportunistic and determined of a passer as we've seen, Bird is also a lights-out shooter. More than a decade after she graduated, Bird is still UConn's top three-point marksman of all time. And over the course of her WNBA career, she's shot 38.3 percent from beyond the arc. But that number doesn't tell the full story. Bird isn't just accurate from three—she can also get her shot off quickly. That's something the Phoenix Mercury learned firsthand at the end of Game 2 of the 2010 Western Conference Finals.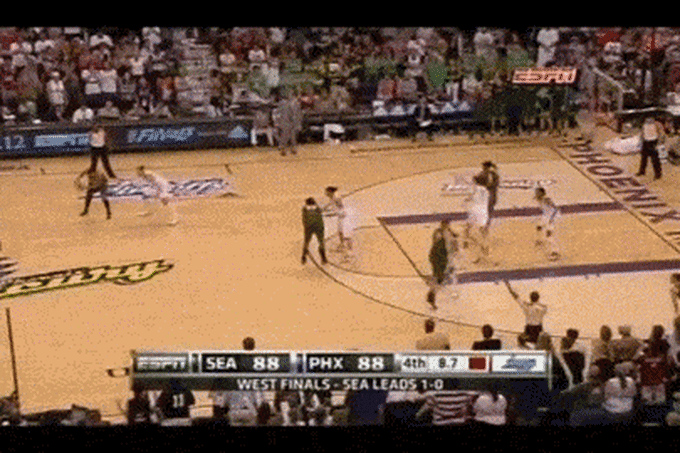 Bird starts the play in the corner, runs off a screen, and cuts to the right wing. Her defender, trailing by a step, rushes out to the perimeter as the ball heads for Bird. The defender tries to close out, but Bird gets into her shot too quickly, swishing the three-pointer to win the series.
That combination of quick, accurate shooting isn't only good for Bird's three-point shooting—it also helps her teammates get wide-open looks. Check out this clip:
Bird gets a screen on the perimeter, takes a dribble to her right, and immediately gets into her shot. As soon as Bird plants her feet, the help defender leaves her position under the basket and rushes out to the perimeter (since Bird's release is so quick, she knows there's little time to waste).
But instead of shooting, Bird tosses a slick bounce pass to her teammate, who has been left wide open rolling to the basket. The result is an easy layup and two points for the Storm.
That versatility is a big part of what puts Bird in a different class of assisting: she has the skills to get it done herself, but, when there's a better chance for a teammate, she always take advantage.
Just as Summer Bird famously stops at nothing (besides stoplights) for her customers, Sue Bird shines when it comes to looking out for others. That determination to help is what puts Sue and Summer Bird in another league of assisters.