After 28 days of dominating basketball in February, this much is clear: The only thing that can slow down Russell Westbrook is a literal dent in his head.
The Oklahoma City Thunder guard just rattled off a month for the ages, averaging 28.5 points, 8.1 rebounds, and 9.1 assists per game as he helped lead his team to a 12-9 record for the month despite losing reigning MVP Kevin Durant to another foot injury. He also took command of the exhibition season, earning the All-Star Game MVP award after leading the West to victory on the strength of his 41 points (on a comical 28 field goal attempts). Of the 27 triple-doubles recorded in the NBA this year, four of them were logged by Westbrook last month. And three of them happened in a row.
Quite simply, it was the greatest month of the young guard's already outstanding career.
But let's not just focus on February—Westbrook has been great all season. In fact, he's in some extremely rare company when it comes to his statistical output.
Durant is a free agent after next season, after all. Could this pave his way out of OKC?
There are only two players in the history of the NBA who have averaged at least 26 points, six rebounds, eight assists, and two steals per game: Westbrook this season, and Michael Jordan in 1988-89. If you remove the steals criterion, Westbrook is still in rare company as LeBron James and Oscar Robertson were the only other players to average such figures.
While he's still a high-volume shooter that can sometimes be too aggressive, Westbrook has nevertheless thrust himself into the conversation for NBA MVP along with LeBron, James Harden, Steph Curry, and Anthony Davis. This figures to be one of the closest MVP races in a while, and with so many games left to play this season picking a winner right now is virtually impossible. Yet regardless of whether or not he wins, Westbrook has put to rest any notion that the Thunder can't be a playoff team without Durant.
And really, that's the most fascinating question concerning Westbrook's solo ascent: What does this mean for his relationship with Durant? How will they mesh together when KD is finally healthy and back on the floor? Durant is a free agent after next season, after all. Could this pave his way out of OKC?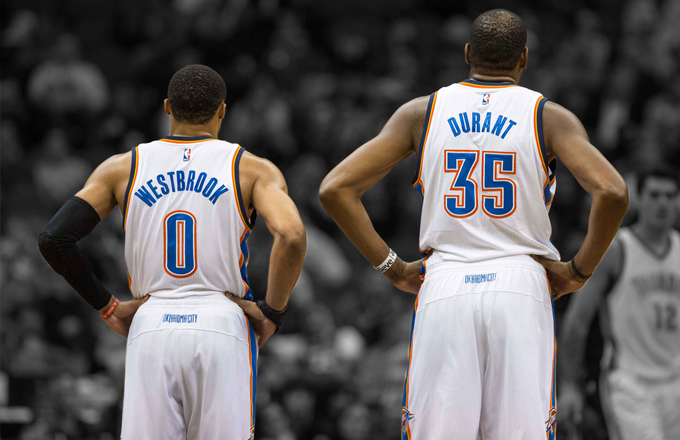 The only historical precedent for a Westbrook MVP this season would require us to go back to 1957 and 1958, when Boston Celtics teammates Bob Cousy and Bill Russell won consecutive MVP awards. Since then, nobody has really come close. It would seem insane for OKC to consider breaking up this kind of powerful duo. Westbrook and Durant are an historically good pair, and it's incredibly rare for a team to have the opportunity build around two of the eight best players in the entire league. The notion that they could have KD and Westbrook yet somehow never win a title during their run is almost unfathomable, and for that reason alone they owe it to themselves to keep them together. 
The other hard truth is that if the Thunder let one guy go, there is no second scoring option to be found. Presumably they'd get one back in a trade, but there's a zero percent chance they would get anything in the neighborhood of fair value. And, really, they'd be entering some very unknown territory if they decided that Westbrook was the one they'd keep.
Westbrook's current 2014-15 season is really the first time he's seen extensive action without KD on the floor beside him. It would be a dicey proposition at best if OKC were willing to part with Durant based on this small sample size from one season:
Indeed, prior to this year Westbrook had barely played without Durant. Here are his shooting numbers from 2013-14:

And 2012-13:

This is all to say, we honestly have no idea if Westbrook can sustain his current torrid pace if Durant is permanently removed from the equation. He could keep on humming right along, but he may also flop spectacularly. Regardless of the outcome, it seems like a highly risky and unnecessary bet for the Thunder to make at this stage of the game.
The jury is definitely out as to whether there's an actual long-term benefit to not keeping them together even if Westbrook wins the MVP this year. Many will cite some supposed "alpha dog battle" that would continue to escalate after Westbrook's tremendous solo act this season, but the data is simply not there to back up that claim.
Interestingly, in 2012-13 (the last full season in which both Durant and Westbrook were healthy), they both took a lot of shots in close and late situations when they were on the court together. (For the sake of this exercise, we're defining "close and late" as the Thunder either winning or losing by five or fewer points, with three or fewer minutes to go). Here's the breakdown for both shooting output at that pivotal stage.

And Durant:

Westbrook took 37 shots, Durant 50. That's been a ratio that has clearly worked for them, and based on this year's limited stats, it doesn't seem like it's changing all that much despite Westbrook's ascension.


Given that consistency over the years, there's no reason to think these two wouldn't be able to keep with that ratio in future seasons. They both—at least publicly—have always been nothing but committed to co-existing on the floor, and no personal accolades for Westbrook will change that. When you've got two of the best players in the sport, you simply find a way to make it work.