The biggest Lakers fan in the entire world isn't actually a Lakers fan at all.
Back in 1962, a short time after relocating from his hometown of Milwaukee, Wis. to Los Angeles to attend graduate school at UCLA, James Goldstein purchased his first Lakers season ticket. It cost him just $15 and gave him a front-row seat to all the action inside of the Los Angeles Memorial Sports Arena. Since then, a lot has changed—the Lakers have won 11 NBA titles and Goldstein has witnessed everyone from Jerry West, Wilt Chamberlain, and Kareem Abdul-Jabbar to Magic Johnson, Shaquille O'Neal, and Kobe Bryant leading the team—but Goldstein has remained loyal to the Lakers, even as ticket prices have skyrocketed and forced him to pay $2750 per game for each of the two season tickets that he currently owns.
But the funny thing is that Goldstein—who also owns two Clippers' season tickets and has reportedly made millions of dollars in his professional life, though he refuses to reveal how he did it—doesn't even like the Lakers. Given his history with the team, that may surprise some people. And even we have to admit that, when we reached out to him recently, we were under the impression that we were going to be talking to a guy who lives and breathes Lakers. But Goldstein is a self-proclaimed "anti-Lakers fan" who loves to watch the purple and gold lose. When the Staples Center is at capacity and 18,996 fans are cheering their hearts out for the Lakers, Goldstein is the one guy openly rooting against them. It's sort of an odd stance for him to take, especially when you consider how much money he spends to attend games every year, but it's also kind of refreshing. The Lakers have more than a few bandwagon fans in Los Angeles, and Goldstein is most definitely not one of them.
With that in mind, we thought it'd be fun to talk to Goldstein about the Lakers' 2014-15 season. Since Byron Scott's bunch have played so poorly this season—there's a very good chance the team could finish with the worst record in franchise history—we imagined that Goldstein would be ecstatic with the way things are going. But as we quickly found out, even the biggest "anti-Lakers fan" is getting tired of the team's losing ways.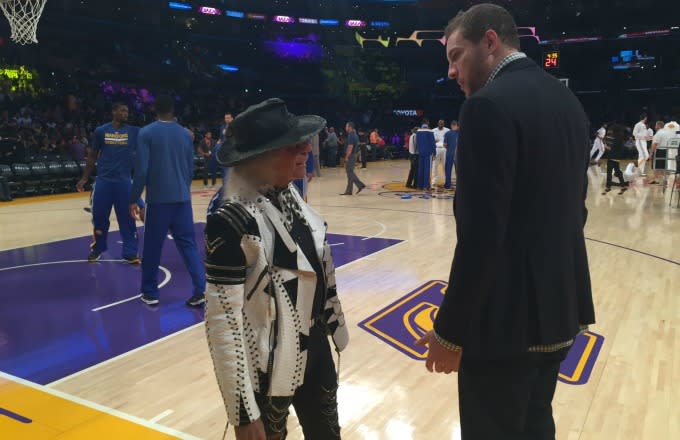 When we first contacted you to set up this interview, we were under the impression that you loved the Lakers because you're always at their games. But that's not actually true, right?
So many people make that mistake. When I tell them I'm not a Lakers fan, they say, "Well, why do you go to the games?" They just don't get it.
It is a little confusing. Can you explain why you hate the Lakers so much?
It actually dates back to when I first moved to Los Angeles. Having grown up in Milwaukee as a diehard Hawks fan—before the Hawks moved to Atlanta—I arrived in L.A. rooting for the Hawks, not the Lakers. I didn't grow up in L.A., so I thought, "Why should I be a Lakers fan?" That's the way I looked at it.
The people I see sitting courtside at games now are people I've never seen before. Lakers fans are so fickle that they've stopped coming to games.
No one would have blamed you for switching sides, though, especially since the organization had just moved to Los Angeles in 1960. So was there something else that made you dislike the team?
I am such a student of the game. I don't go to games with a cheerleader mentality. I go to study the game [Ed. note: Goldstein was hired to keep statistics for the Milwaukee Hawks when he was a teenager]. So when I came the L.A. and saw everyone around me being so biased in favor of the Lakers, it turned me in the opposite direction. And then, having to deal with the Lakers fans' smug attitudes over the years of feeling like they deserved to have a champion every season and seeing all these top players flock to join the Lakers so that the Lakers had such an advantage over the other teams in the league, those things contributed to my anti-Lakers sentiment.
The Lakers have been historically bad this season. They were eliminated from the playoff race on March 10, the earliest they've been eliminated from the postseason picture since moving to L.A. Because you're not a fan of the team, has it been a fun year for you?
I'm not getting any satisfaction out of seeing the Lakers lose when they're trying to lose. I still go to their games. I'm just not enjoying them very much, because when it's the front office's decision to lose games, it sort of takes the fun out of it. It's obvious that Byron Scott has been told not to play to win. He's been playing the young guys. He hasn't been playing the best players. So it really takes the excitement out of the game. I resent the fact that I'm paying more than $5000 per game for tickets when the team isn't trying to win.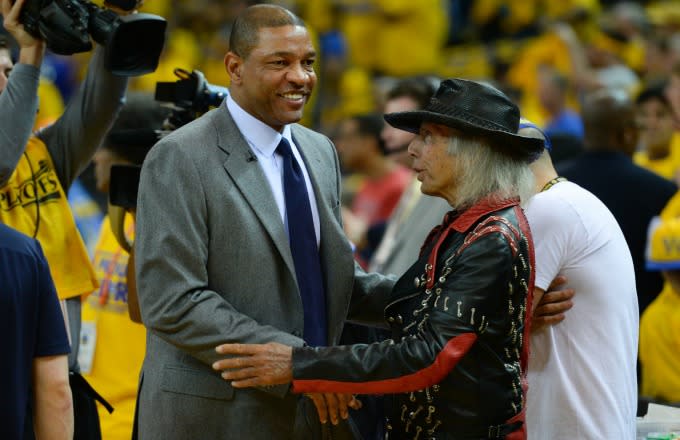 You're also a regular at Clippers games. What's the difference between a Clippers home game and a Lakers home game in 2015?
It's night and day. Sunday [March 15] was a perfect example. The Clippers and Rockets played in the afternoon, and it was fantastic. It was like a playoff game. Very intense. But then, during the Lakers game against the Hawks that night, even though it was fairly close because Atlanta didn't even bother playing three of their starters, you knew Atlanta was going to win. So there was no excitement to that game.
Have you thought about not going to Lakers games until they start showing signs of improvement or selling your tickets so you're not paying to watch games that aren't exciting?
You're actually not supposed to sell courtside tickets. But even if I wanted to, here's how bad things are right now: A friend of mine from Sweden who was visiting Los Angeles recently went to a ticket broker to buy courtside seats for a Lakers game. He was offered two courtside seats for $500 each when the face value of the tickets is $2750 each. That shows you what's happened. And the people who own courtside seats for Lakers games, I would say more than 90 percent of them have stopped coming to games. The people I see sitting courtside at games now are people I've never seen before. Lakers fans are so fickle that they've stopped coming to games. Most of the people sitting courtside at Lakers games today have been given tickets by the season-ticket holders.
Have all the celebrities who routinely make appearances at Lakers games stopped showing up, too?
Yes. Jack Nicholson, the so-called "superfan," hasn't been to a Lakers game in months. Lakers fans think they deserve to have the best team and that all the best players should be playing for the Lakers. That's their attitude. So they can't deal with what's going on right now.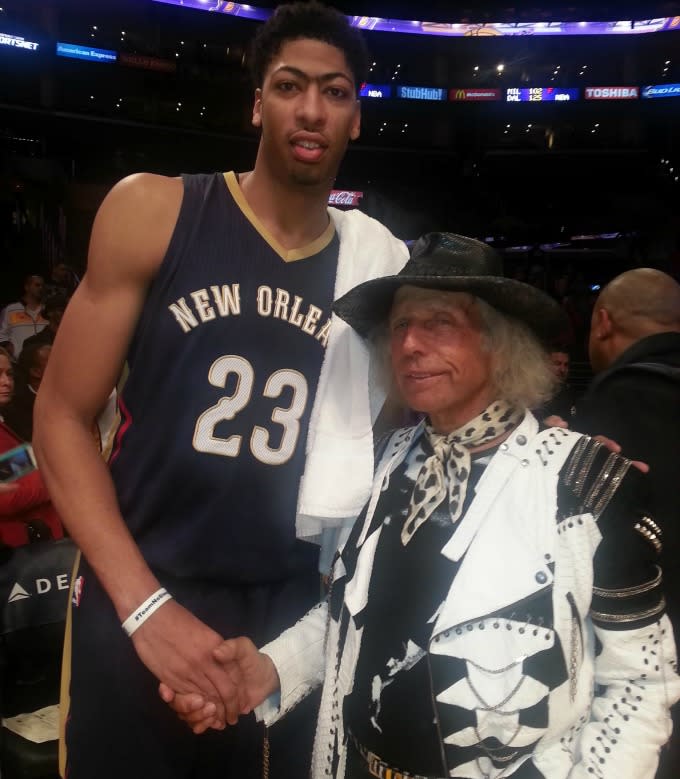 Why do you think so many big-name free agents have elected not to sign with the Lakers in recent years? Some, like LeBron James and Chris Bosh, haven't even considered doing it.
I believe that it's a combination of players not wanting to play with Kobe Bryant plus the knowledge that the Lakers' front office isn't as astute as it used to be. That didn't used to be the case. So that's why I think the Lakers' future is somewhat iffy.
I talked to some of the other Lakers players before games at that time.... They obviously resented what Kobe was doing.
You mentioned Kobe, and he's obviously been such an important player for the Lakers franchise for almost two decades now. But at this point in his career, do you think he's hurting the Lakers more than he's helping them?
It was very interesting at the beginning of this season. When Kobe was playing, it was so obvious that he was just playing for himself and had no interest in helping his teammates, particularly prior to him scoring more points in his career than Michael Jordan. I talked to some of the other Lakers players before games at that time. They're all pretty friendly to me, even though they may know that I root for the other team. They obviously resented what Kobe was doing. And there was an amazing game, the first time that Kobe sat out a game this season, where the Lakers were playing Golden State in late December. They played this inspirational game and beat Golden State without Kobe. It was clear that the Lakers players were so relieved not to play with him. They played a phenomenal game. Of course, they couldn't sustain that. But on that particular night, it was amazing to see.
The Lakers' plan seems to be to give Kobe one more year to try and make a run at his sixth championship. Having watched the team this entire season, do you think that's a realistic goal?
Before Kobe got injured, the Lakers had a decent team. Maybe not a playoff team, but they had a respectable team, in my opinion, at least when Kobe played team ball. But I think next season is pretty much going to be a repeat of this season. The Lakers are still going to be signing players on a one-year basis and waiting for 2016 when they have room under the salary cap and some outstanding players like Kevin Durant on the market.
Is that the only way you see the Lakers turning things around?
Well, there's the Kevin Love situation. I was amazed to read recently that Alonzo Mourning said that Kevin Love is so unhappy with Cleveland and will probably go to the Lakers next year. I really thought that Kevin Love would be so thrilled with being on a winning team that he would be happy. But it doesn't sound like he is and it sounds like he might be interested in leaving the Cavaliers. If he comes to the Lakers next season, that obviously changes everything. But I'll be surprised if it happens.