"The point guard is there to serve others."
With each passing night, that quote—attributed to Hall of Fame coach Larry Brown—seems to inch closer to becoming a reminder of a bygone era.
Brown, who became an NBA coach in the '70s, stuck around the league until 2010. Since his departure from the Bobcats five years ago, the point guard position has changed. Brown's conception of the selfless distributor has been challenged by the rise of the combo guard—players who seem more concerned with creating shots for themselves than for others. It's a trend that can be seen across the league.
"The demands of the position have changed," ESPN.com's Kevin Arnovitz said back in 2013.
This positional flux is the backdrop for Chris Paul's career. But while many of his fellow point guards are straying from the position's roots, Paul seems to have the itch to serve in his genes. (After all, it is his twin brother Cliff who, after a record-breaking year of assists, was recently recruited into the State Farm National Bureau of Assists.)
Ever since Chris entered the NBA as the fourth overall pick in the 2005 draft, he's been a distributor. As a rookie with the New Orleans Hornets, the Wake Forest product averaged 7.8 assists per game. The next year he bumped his clip to 8.9. By his third season—at just 22-years-old—Paul was averaging 11.6 dimes, putting him atop the NBA.
In his 10 years in the league, it's a spot Paul has gotten used to occupying.
Three times now the six-foot guard has finished as the league's top distributor. And midway through the current season, Paul, at 9.7 dimes per game, sits third in the NBA, well positioned to make another run for the No. 1 spot.
More impressive than the success of any of his individual seasons, though, has been his consistency: Since his sophomore campaign, Paul has never averaged fewer than 9.1 assists. Year after year, Chris Paul sets up his teammates for success.
So how does he do it?
The answer isn't simple. It's not only a product of his quickness or his ball handling or his vision. Rather, it's a feel for the game—a natural instinct.
Sure, Paul is fast and he can dribble, but he doesn't need to rely on those assets to puts his teammates in a position to score.
Take a look at this clip: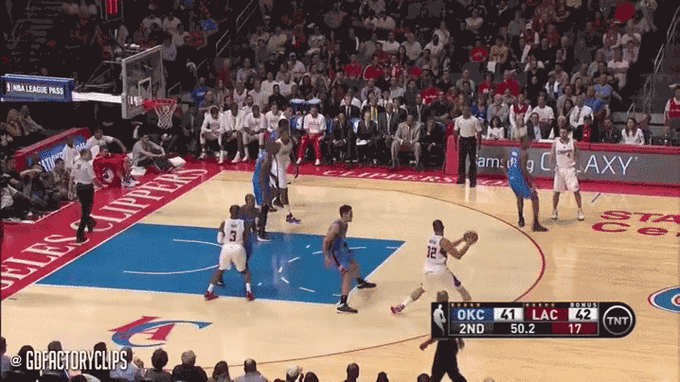 Chris doesn't pull off any complicated maneuvers. He doesn't outrun anyone. Yet Blake Griffin ends up with a wide-open jump shot. How did it happen? Well, coming off the screen, Paul recognizes that he's drawn two defenders. But he doesn't try to rush a pass. Instead, he waits until the perfect angle appears. And when it does, he finds Griffin for the open shot.
Just like Cliff is known for making "no-ask assists" to clients, it's as if Chris, before anyone else, knows exactly when and where the gap will appear. The result is a simple pass from the visionary that leads to a big result.
Paul's ability to find these opportunities pays off in other ways as well. By making smart, timely passes—as opposed to shooting for a home-run play on every possession—Paul reduces the risk of turning the ball over. Not surprisingly, his current assist-to-turnover ratio of 4.37 is far and away the best in the league.
And even when Paul's passes don't generate immediate baskets, they help the Clippers score. No player posts more secondary (or "hockey") assists—passes that lead to an assist—than Paul. It's not even close.
Paul's feel for the game helps out on defense too. Four times Paul has been named to the All-Defensive First Team, and six times he's led the league in steals per game. This clip shows how he gets the job done.
Paul certainly needs his quickness to get to this pass, but the only reason he's got a chance is because, before the ball leaves the hands of Draymond Green, Paul foresees the play and jumps into the lane. In this instance, Paul finishes the play himself. But more often than not, the point guard uses his vision to turns steals into easy—and often rim-rattling—transition buckets for his teammates.
These days the game is being played as fast as ever. But Paul still manages to see plays before they develop. And luckily for his teammates, they're the ones that benefit, because Chris Paul, just like his twin brother, is there to serve others.